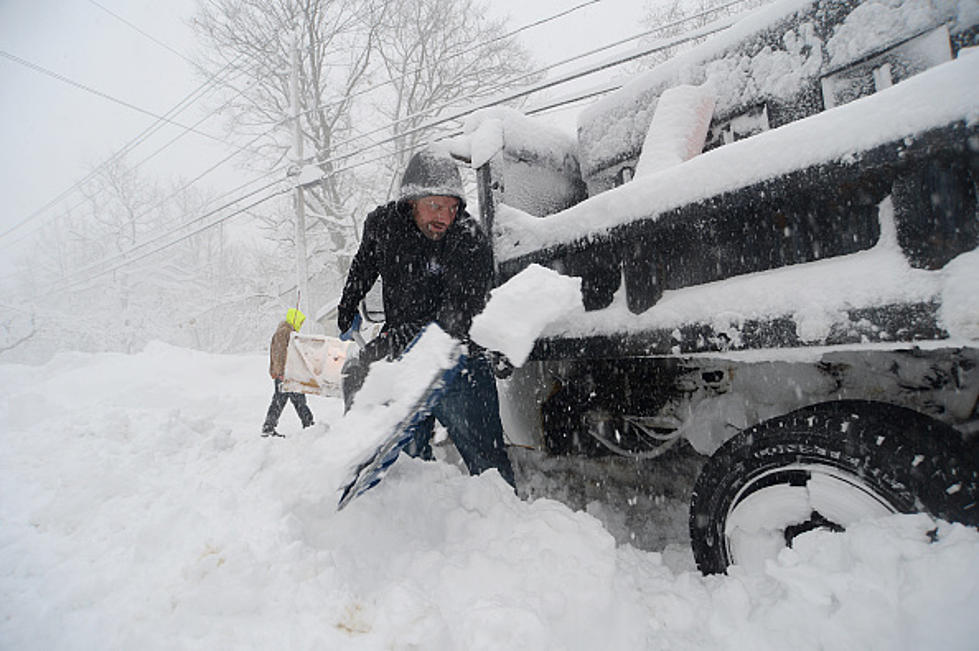 Buffalo To Albany Expecting Blizzards In New York State
Getty Images
It's not the news we wanted to hear, but we can't really say we're surprised. 
According to the Farmers' Almanac, it looks like Western New York is in store for a brutal, cold, and snowy winter with even some blizzards in store in the near future. 
Listen to Clay & Company, Every Weekday Morning On 106.5 WYRK
The newly released "Winter 2024 Extended Weather Forecast" predicts that most of New York state will get hit, but Western New York is going to see the bulk of it. 
First Sign Of Snow In Buffalo, New York
Everyone knows that Buffalo is the snow capital of the
On average, the first flake in Buffalo is Oct. 24, according to the National Weather Service. The earliest we have ever seen snow was Sept. 20, and that was back in 1956. The latest first flake we ever had was Nov. 22 in 1946 and 1985.
However, this year meteorologists are predicting an early snowfall, with the first flake expected to fall in Buffalo on October 5, 2023. 
You can read more about that initial storm here, but we are going to have quite a few snow encounters this year. 
Based on the Farmers' Almanac, at least….and yes, there is room for error when you predict the weather that far in advance, so take it with a grain of salt. It's always better to know than to not know, so here's the recent findings according to the Farmers' Almanac. 
Winter Weather Will Be Back In Full Force in New York
As you can see from the map above, the Farmers' Almanac is predicting the winter snow and cold conditions will return for the 2023-2024 winter.
According to the FA, "Winter weather is making a comeback. After a warm winter anomaly last year, traditional cool temperatures and snowy weather conditions will return."
I'm already chilled just thinking about it. 
Some weather experts are predicting an El Niño, which often shifts cooler air in the southern U.S. and warmer in the northern U.S. The shift in air can cause wetter and cooler weather to migrate to the South while the North becomes drier and warmer. 
The Farmers' Almanac report touches base on what an El Niño means. 
"Cold temperatures should prevail throughout the country and bring snow, sleet, and ice."
Expect Blizzard Conditions In December
Winter officially starts on Thursday, Dec. 21, 2023, but according to meteorologists around the country, we are going to feel the winter effects as early as December 1, bringing potentially "blizzardy" conditions. 
The Farmers' Almanac states that their extended weather forecast, "calls for some blizzard conditions blowing snow into areas over northern New England." 
Snow-Stormy January In Western New York
In New York State, like most of the East, we're expected to see a "stormy, snowy, and wet" January.
And in Western New York, we're going to get hit even harder, seeing potentially "below-average temperatures and lots of snowstorms, sleet, ice, rain."
This weather is expected to continue into February. 
Severe Snow Storm Expected For February
The Northeast states, including New York State, will see "snowfall, cold rain and then frigid temperatures."
A Winter Mix For March
Not only will we see more winter conditions this year, we're going to experience the season for a little longer this year, with the Farmers' Almanac predicting – what they call – a "wintry mess" for those regions in the East Coast during the first week of March. 
There are even mentions of a "possible late-season snowfall" in the Western New York area during the third week of April. 
You'll definitely get the opportunity to build some snow sculptures this year. Maybe you could try to make a snowy Buffalo Bill sculpture, like talented WNY snow artist Eric Jones. 
I doubt my work would turn out as good, but a gal can try! 
15 Things To Look Forward To Before Snow Flies In Western New York
Snow Shoveling Etiquette For People In Buffalo, NY
Best Town For Snow In Western New York