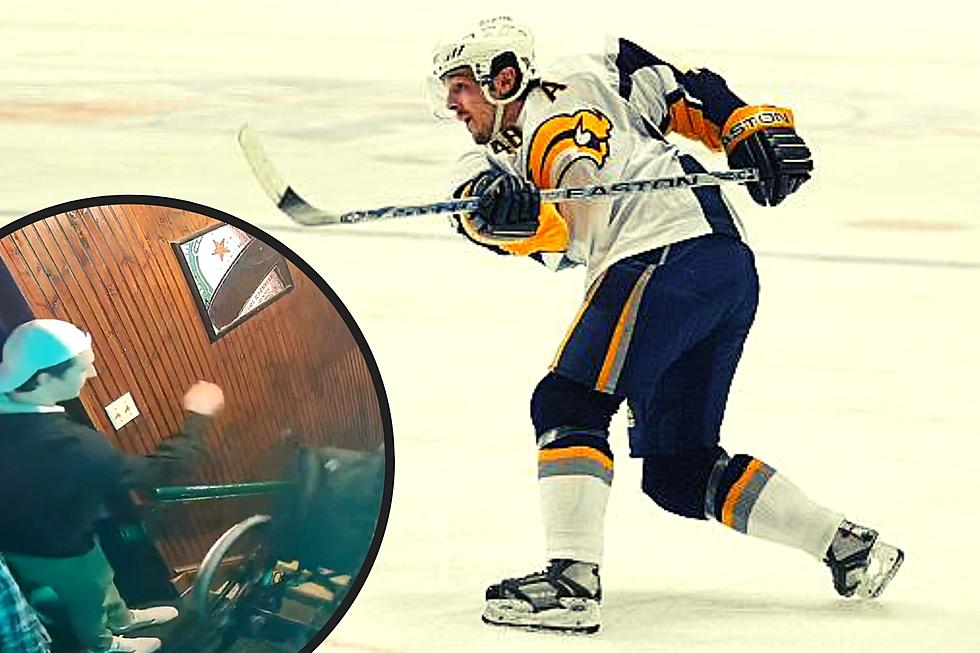 Daniel Briere And Son Release Statement After Disturbing Viral Video
Getty Images/Twitter via juliazukowski/Canva
Daniel Briere is a beloved figure of Buffalo. The fan-favorite former hockey player and current GM of the Philadelphia Flyers is considered a savior of sorts by Buffalo Sabres fans. After Briere was traded to the struggling team in 2003, he helped put the Sabres back on the map, bringing them to back-to-back Eastern Conference Finals and earning an All-Star MVP title. 
After leaving the Sabres in 2006, he remained just as adored in the eyes of fans. There was even hope recently that Briere would rejoin the Buffalo Sabres organization as a front-office member. 
Unfortunately, the same can't be said for Briere's son. A recent video that has surfaced has the potential to cost Carson Briere his future hockey career and reputation. 
Daniel Briere's Son In Disturbing Viral Video
Daniel Briere's son, Carson, is now embroiled in controversy after a video was released showing him committing an act that upset thousands on social media. A concerned Twitter user posted the disturbing incident on Tuesday night, which seems to be taken from security camera footage at the club where Briere was hanging out over the weekend.
In the video, we see Briere (in the white hat) chatting with two fellow club-goers in a doorway in front of a flight of stairs. After a moment, we see Briere sit in a wheelchair by the staircase before standing up, pushing it down the stairs, and entering the club.
According to the Twitter user who posted the video, the wheelchair was left by the top of the stairs because the owner physically had to be carried downstairs to use the restrooms at the establishment. She has since created a GoFundMe to buy the owner a new chair. 
Soon after the video went viral, Mercyhurst University, where the younger Briere is a junior and hockey team member, released a statement, calling it "disturbing" and revealing they are investigating.
Daniel And Carson Briere Apologize For The Incident
Both Daniel and Carson Briere have now released statements responding to the video.
Daniel Briere:
I was shocked to see Carson's actions in the video that was shared on social media yesterday. They are inexcusable and run completely counter to our family's values on treating people with respect. Carson is very sorry and accepts full responsibility for his behavior.
Carson Briere:
I am deeply sorry for my behavior on Saturday. There is no excuse for my actions, and I will do whatever I can to make up for this serious lack of judgment.
This isn't the first time Carson Briere has been in hot water. As a freshman at Arizona State University, Briere was kicked off of the hockey team due to a "violation of team rules." He later told College Hockey News,  "I was just going out; I wasn't taking hockey seriously. It wasn't anything bad, it was just not being committed to hockey, I was more committed to having fun at school… Too much partying, that's probably the best way to put it."
6 Best Trades in Buffalo Sabres History
Taking a look at the absolute best trades in Buffalo Sabres history.
Buffalo Sabres Captains Since 2000