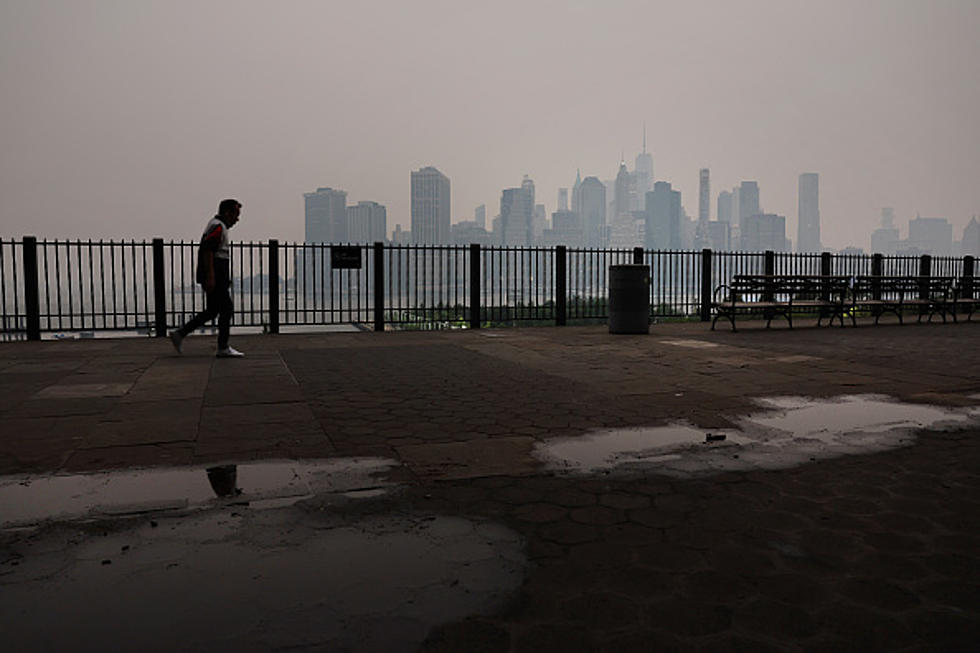 Ash is Falling From the Sky In New York State
Getty Images
It's June and this should be the time of the year that everyone is itching to be outside. Even if it's just to run errands or eat on a patio, being outside once the weather gets warmer is something we all want to do.
Unfortunately, hardly anyone wants to be outside anywhere in New York state.
That's because of the Canadian wildfire smoke that has infiltrated the air in Western, Central, Upstate and Downstate New York since Monday. Tuesday was poor air quality but Wednesday morning has been even worse.
You can smell the smoke outside. It almost feels like you're across the street from someone having a bonfire. There is also tiny particles of ash falling from the sky, which is the case in the City of Buffalo on Wednesday morning.
This from Patrick Hammer.
The good news is that Wednesday morning is the worst of it, for those in Western and Central New York. This is when the wildfire smoke will be the most dense, as evidence by the map.
The air quality is unhealthy and the NYSDEC is recommending people don't spend any significant time outdoors because of that air. Those with poor respiratory should absolutely avoid or limit time being outdoors until this smoke clears the area.
The Air Quality Health Advisory is still in effect, according to the National Weather Service.
Hopefully, things improve on Thursday and we can get back to normal by the weekend. It's best to alter your outdoor activity plans on Wednesday.
16 New York State Cities Among Most Miserable In America
Even though New York State might be home to
one of the happiest cities
in America, we are also home to 16 of the most miserable cities too. Business Insider identified the
50 most miserable cities in the US
. Some how, New York State didn't make that part of the list. Business Insider did expand their research to over 1,000 cities and that's where New York shows up. You can take a look at the
Top 50 online here
. If you want the rest of the list, you can
go here
.
Here's where all the New York State cities ranked:
25 Worst Paying Jobs in New York State
Here's the 25 worst paying jobs in New York State. Is your job on the list?
65 Obnoxious Banned License Plates In New York State
Here are some of the crude, hilarious, and off-the-wall personalized license plates that were denied in New York state in 2022.