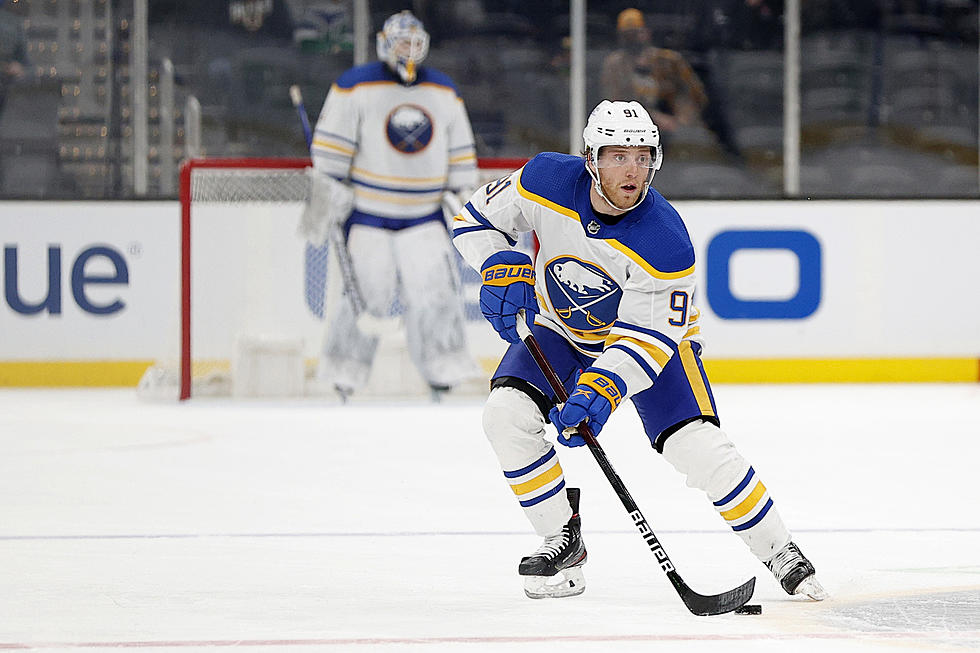 It's True! Buffalo Sabres Are At The Top of This NHL List
Getty Images
Buffalo Sabres fans aren't used to seeing their hometown team ascend to the top of any lists these days that don't begin with "Worst..."
But there's one list where the Sabres have cracked the top ten.
When it comes to style, the Sabres rank pretty high.
The website Uni Watch ranked the best jerseys in the National Hockey League, and have placed the Sabres at #7.
List author Paul Lukas praised the return to the Blue & Gold, but reserved some harsh words for previous iterations of the team's logos:
He writes, "Another team that looks better in white, although the home blues are nothing to complain about. Either way, after all the years of visually painful nonsense — the red design, the bison's head, the front numbers and apron strings, and of course the buffaslug — it's great to see the Sabres getting back to basics and reclaiming their position in the league's top 10."
The rankings took the looks of each teams' standard home and road uniforms. Uni Watch evaluated alternate and Reverse Retro (ЯR) jerseys in cases of awarding bonus points or settling a tiebreaker in their list.
So Who Beat Out The Sabres?
Not everyone! The teams that took places 1-6 include:
1. Boston Bruins
2. Montreal Canadiens
3. Minnesota Wild
4. New York Rangers
5. Vegas Golden Knights
6. St. Louis Blues
Rounding out the top 10 Best Jerseys in the NHL list after the Buffalo Sabres were:
8. Pittsburgh Penguins
9. Toronto Maple Leafs
10. Detroit Red Wings
The Sabres were most definitely at the bottom of the list when it comes to 2021 season standings in the NHL, this year they were dead last, earning only 37 points in the season.
22 Famous Buffalo Sports Phrases Every Die-Hard Bills and Sabres Fan Knows
Being a sports fan in Buffalo is sometimes like knowing a different language. Here are 22 of our favorite Buffalo sports phrases you already know if you're a huge fan! And if you're new here, here's how to catch up.
Watch These 6 Former Buffalo Sabres In The Playoffs This Year
Once again the NHL playoffs are here and once again the Buffalo Sabres are on the outside looking in. The good news is that if you are a Buffalo Sabres fan, there are plenty of ex-Sabres players on playoff teams this year.
Buffalo Sabres Goalie Masks
LOOK: See the iconic cars that debuted the year you were born