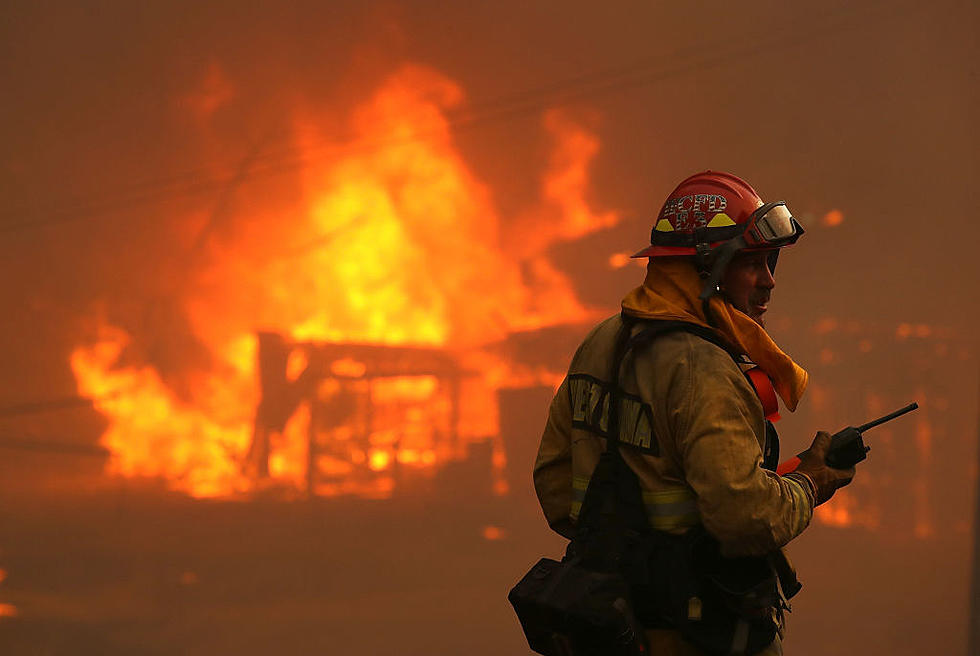 Parts Of New York State Have High Risk Of Fire Danger
Justin Sullivan / Getty Images (Stock Photo)
This holiday weekend part of New York State has a high risk of fire danger. Much of the rest of the state has moderate risk. The New York State Fire Risk Danger Rating is considered high in all of the yellow areas (see map below) for Saturday, September 3  through Tuesday, September 6, 2022.
According to the New York Department of Environmental Conservation, a high-risk rating means,
All fine dead fuels ignite readily and fires start easily from most causes. Unattended brush and campfires are likely to escape. Fires spread rapidly and short-distance spotting is common. High-intensity burning may develop on slopes or in concentrations of fine fuels.
The blue or teal areas on the map have a moderate fire risk during the same period. The NYDEC warns that with a moderate fire danger risk fires can start accidentally, but the number of starts is low. Grassland fires can spread quickly on windy days.
Smokey Bear offers many tips to prevent fires when camping, burning yard debris, or doing other activities that involve open flames.  You can get preventative tips here.
NYDEC says that people are the main cause of wildfires in the state,
Wildfires, often called forest fires, damage thousands of acres of natural resources most every year in New York. Although wildfires naturally occur from lightning, human activities are the cause of most wildfires. To protect our natural resources and communities from wildfire damage, residents, visitors, and municipal jurisdictions must contribute to wildfire prevention and fire containment.
If you do create any fires this weekend, including campfires, BBQs or burn piles, keep an eye on them since the risk is high.
New York State Banned Marijuana Smoke In 6 New Places
These Are The 8 Signs And Symptoms Of Heat Stroke