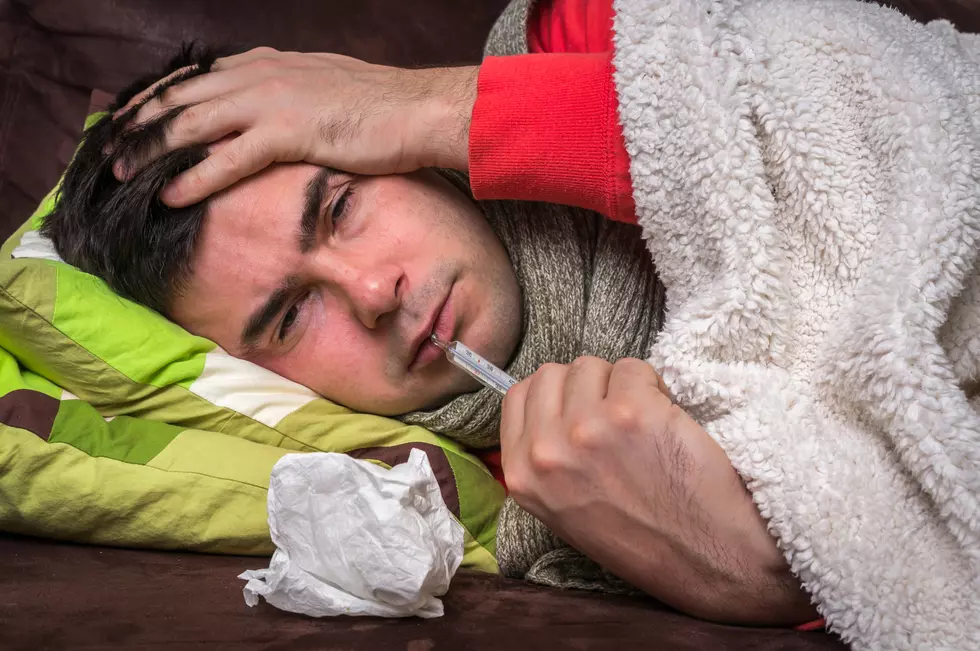 Health Warning: Triple Threat To New York State Residents This Winter
Getty Images/iStockphoto
The New York State Health Department and Governor Kathy Hochul are warning New Yorkers to protect themselves against a triple threat to their health this winter. Cases of influenza, COVID-19, and respiratory syncytial virus are increasing around the state and we haven't even gotten into the weeds of winter yet.
Governor Hochul said,
We are not backing down in our fight against deadly respiratory illnesses — we have been preparing for the winter, and we are ready. New York State is taking action to provide guidance to hospitals and local health departments to ensure that we keep New Yorkers safe and healthy. Our best shot at protecting ourselves and fellow New Yorkers from respiratory illnesses continues to be getting vaccinated, staying up to date on boosters, and practicing good hygiene.
The New York Department Of Health Issued A Health Advisory About Respiratory Viruses
Respiratory syncytial virus (RSV) infection is a common respiratory illness caused by a virus. Anyone can be infected, but RSV most often causes serious illness in infants and very young children. The virus can also cause serious illness in older adults or those with a weakened immune system.
A health advisory was sent to hospitals, local health departments, laboratories, emergency rooms, family medicine, pediatrics, adolescent medicine, infectious disease, neurology, infection control practitioners, and primary care providers warning them about recent increases in severe respiratory illness requiring hospitalization in children.
New BQ COVID-19 Variant Is Spreading Super Fast In New York State
The new BQ COVID-19 variant is spreading very quickly in New York State. You may not be familiar with the new Omicron variant BQ, which includes BQ.1 and BQ.1.1, but it is certainly getting familiar with New Yorkers.
The new BQ Omicron variant of COVID-19 is spreading very quickly in New York State. It is moving fast and could potentially become the dominant variant soon.
Between October 16 and October 22, 2022 CDC's program for HHS Region 2 (New York, New Jersey, Virgin Islands, Puerto Rico) estimated 100% of samples were the Omicron variant. During this time period 2.1% of sequences were BA.2.75, 2.0% were BA.2.75.2, 0.2% were BA.4, 10.9% were BA.4.6, 49.8% were BA.5, 6.6% were BF.7, 17.1% were BQ.1, and 11.3% were BQ.1.1.
The BQ variant is now more than 30 percent of cases as of October 16. That's a 10 percent increase from the previous reporting period from October 9 and October 15, 2022, when BQ was almost 20 percent of the COVID cases (11.6% were BQ.1, and 8.0% were BQ.1.1).
Add all that in with the fact that flu season has been called aggressive and widespread here in New York. According to the NY Department of Health,
Influenza activity level was categorized as geographically widespread. This is the third consecutive week widespread activity has been reported this season. Laboratories tested 40,346 specimens for influenza, of which 1,521 (4%) were positive, a 51% increase over last week.
There is some good news. COVID-19 rates are down from where they had been hovering for a while. The statewide positivity rate is Statewide 5.41 percent. Make no mistake though, even though these rates are lower, many regions are still considered high. Here's a snapshot of the positivity rates across New York, as of October 26, 2022 (the most recent data available):
Capital Region - 7.60%
Central New York - 7.08%
Finger Lakes - 6.44%
Long Island - 6.09%
Mid-Hudson - 4.91%
Mohawk Valley - 7.78%
New York City - 4.51%
North Country - 7.96%
Southern Tier - 7.17%
Western New York - 9.92%
CDC Says You Should Mask Up In These 12 Upstate New York Counties
The
CDC
has designated these 12 Upstate New York counties as currently "high-risk" for COVID as of October 12, 2022 and is recommending residents wear masks because of that designation. The designation is based on the number of hospital admissions per 100,000 residents in a 7 day period. 8 of the 9 counties below are in Upstate New York with 5 In the Capital Region receiving the "high" designation.
READ ON: See the States Where People Live the Longest
Read on to learn the average life expectancy in each state.