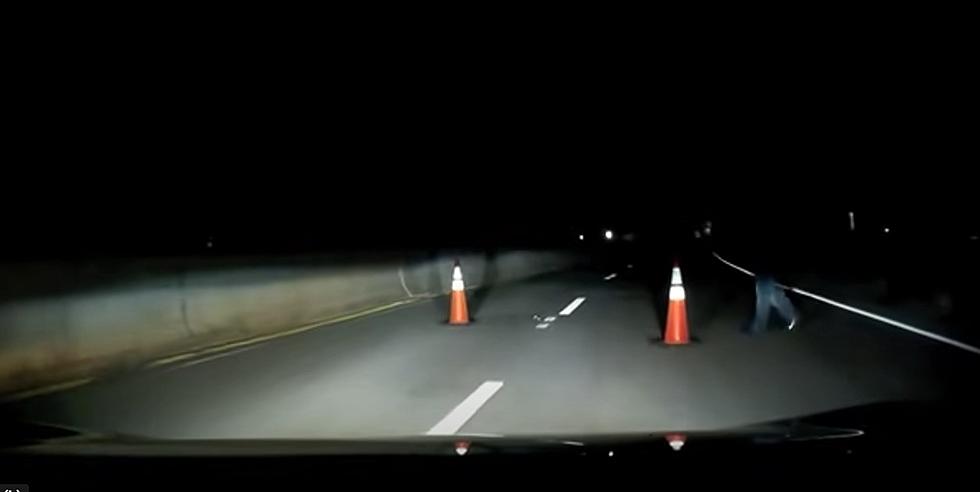 Are Criminals Using Fake Road Blocks To Harm Drivers In New York?
Ivan Tukhtin via Youtube
With many questions still swirling about the young woman who went missing in Hoover, Alabama, it seems that possible criminals may have their own ruse in New York. It's horrible that people will use schemes and scams to potentially harm innocent drivers.
In the case of Carlee Russell, she called 911 to report a toddler walking along the side of the road. While the details haven't been released by police, many people suspect it was a scheme used by kidnappers to get her to stop in an effort to help the child. Is another sinister scam being used by criminals in New York State to get unsuspecting drivers to stop?
Our "cousin" website, the HudsonValleyPost.com recently shared a story from a local woman who said she encountered a creepy roadblock. The alleged incident happened at Palisades Center in West Nyack, New York. The woman said that a man, whose car appeared to have broken down, created his own roadblock. She got a bad vibe and left without stopping to help the man, so thankfully she was unharmed. But it could be a worrisome new trend in New York.
Man's Dashcam Captures Scary Illegal Roadblock
While there doesn't seem to be a widespread warning in New York State, a similar incident happened back in 2014. According to AutoBlog.com, a man driving in New Jersey encountered an unofficial roadblock set-up along the New Jersey Turnpike. The man was creeped out by the whole situation and did not stop to help, but did call the police. Apparently, the roadblock was set up by two men whose vehicle ran out of gas. The driver ended up being charged with DWI and the passenger was charged with hindering traffic. The driver who encountered the roadblock, Ivan Tukhtin, caught the whole incident on his dashcam (video below).
Credit: Ivan Tukhtin via Youtube
A Youtube user, @stevenschuyler9527, commented on the video, sharing his experience,
Had this happen a few years ago when a guy had the road blocked and his blinkers on. Couldn't get around him. I was with a friend of mine and we were both packing. I was driving, so my friend stepped out and made sure the guy saw his pistol in his hand. Suddenly, the guy decided he didn't need our help, jumped in his car, and drove off. We gave the cops the car make and tag number. Cops said he'd stolen cars and robbed 4 people in the last 2 weeks. He was caught a day later. Don't trust anyone.
Another user @terrycrichton said they read about a sketchy roadblock in California,
I remember reading a story I think on reddit where a guy was driving backroads in the middle of the California desert at night and came up on an accident scene blocking the road that looked weird, people lying in the road, no apparent damage. So he carefully threaded his car around it all, went like 30 feet further, and looked back in his rearview mirror. All the people in the road, plus another like 30 or so hiding in the bushes on the sides of the road, were sitting up looking at him, so he peeled the f*** outta there.
Police Have Warned Drivers About Fake Roadblocks
In Evans County, Georgia, police had to issue a warning about a fake roadblock. A woman who encountered it said it seemed suspicious and called the police to verify the roadblock before approaching. As it turns out, the Evans County Sheriff's Office said they were not aware of any official roadblocks. They were unsure if it was teens playing a joke or something more nefarious.
In Colorado, a police impersonator set up fake coronavirus roadblocks. A woman, pretending to be a police officer, was questioning drivers about why they were violating the pandemic stay-at-home order.
What To Do If You Encounter A Suspicious Roadblock
- If you can, stop or slow down safely before getting too close.
- Look for warning signs that you are approaching a roadblock. Generally, official roadblocks use signs, police vehicles, and multiple safety cones prior to the roadblock to warn drivers.
- Call the police to verify that the roadblock is official.
- Do NOT exit your vehicle. Call the police if someone appears to need help.
- Be prepared to drive away from the scene.
Nearly 50 Children Have Recently Gone Missing From New York State
In just a few months around 50 children from New York State and the Hudson Valley went missing