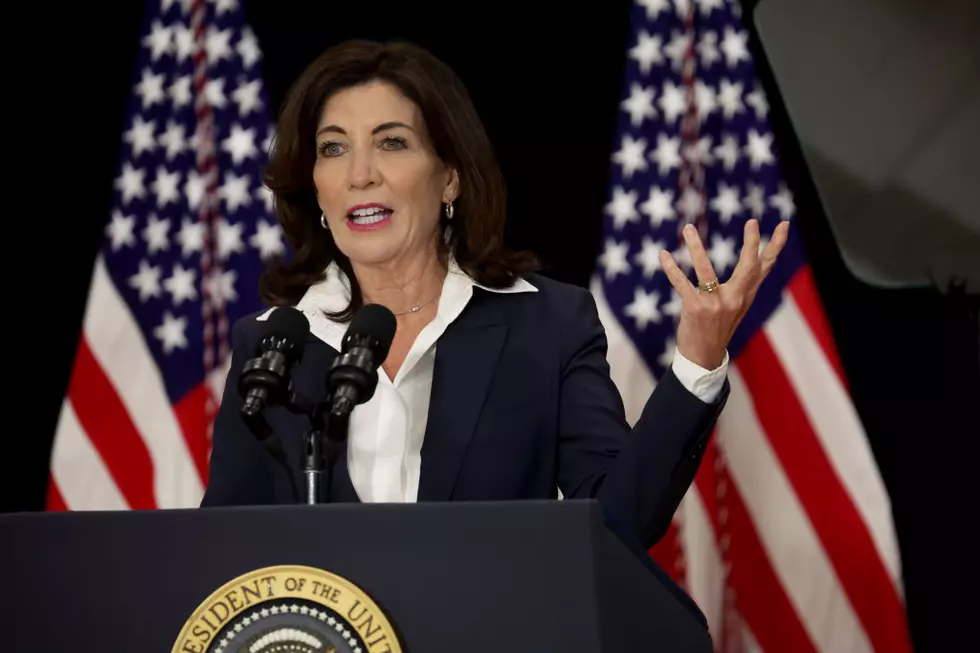 Gov. Hochul Warns Snowstorm Is Extreme, Major Event In Buffalo And WNY
Getty Images
Governor Hochul warns Western New Yorkers that this snowstorm is a major, extremely threatening event. During a live press conference, she mentioned that the National Guard is ready to be deployed.
Gov. Hochul has already shut down commercial travel on the New York State Thruway, saying that tractor-trailers can jack-knife and put lives at risk. She said that it is the rate of snow that is alarming. We could see up to 4 to 6 feet of snow. She warned that motorists should stay off the roads. The Gov. said that even though there are 350 plows, it is almost impossible to clear the roads to make it safe to travel. Erie County Executive Mark Poloncarz said a travel ban could be put in place if needed. Buffalo Mayor Byron Brown said this is a potentially deadly storm.  If you need to do anything or get anything, you need to do that now before the storm starts. He said no one should be on the roads unless they are an essential worker.
Credit: Governor Kathy Hochul via Youtube
New York State Thruway To Close To Commercial Traffic Due To Snowstorm
The New York State Department of Transportation has issued a full commercial vehicle ban starting Thursday at 4 pm.
Interstate 190 - Route 62 to I-90 Interstate 290 - full length Interstate 990 - full length Route 33 - full length Route 219 - Route 39 to I-90 Route 400 - full length Buffalo Skyway Route 5 - full length I-81 - Exit 33 to Canadian border - trucks use right lane only.

 
Gov. Hochul said, "be smart, be ready for the worst." WNYers should be ready to check in on their neighbors as the storm could go on for a number of days. She warned residents that the cleanup is going to take a while. Almost 4,000 personnel will be working on this event.
New York State has 14,000 generators to help critical infrastructure, should they lose power. Officials warn that if you are using a generator in your home, it should remain outside to avoid carbon monoxide poisoning.
Gov. Warns: Hazardous Conditions Due Snow Storm In New York State
The National Weather Service of Buffalo issued a Lake Effect Snow Warning for WNY starting today, Thursday, November 17, 2022, at 7 pm through Sunday, November 20, at 1 pm. The storm will affect 11 counties, winds will be 25 to 35 miles per hour.
New York has declared a State of Emergency ahead of the potentially historic snowstorm rolling into many parts of the state. I've seen a number of models up to several feet of snow possible. According to the National Weather Service, Thursday through Sunday could be potentially dangerous and hazardous. Western New York, the Finger Lakes, Central New York, and the North Country are expected to be hit pretty hard by lake-effect snow. Governor Hochul said,
Parts of Western New York, the Finger Lakes, Central New York and the North Country are about to get their first snowstorm of the season, which means we need everyone in these impacted regions to be ready for dangerous travel conditions. My team and I are deploying emergency response assets ahead of the storm, remain in constant contact with local officials, and are laser focused on the forecast. New Yorkers should remain vigilant ahead of the storm and avoid any unnecessary travel during these hazardous conditions.

 
Erie County Executive Warns People To Work From Home During Snowstorm
Erie County Executive Mark Poloncarz recommends that residents stay home and work from their house, if possible, during the snowstorm. Poloncarz told WGRZ Channel 2 that due to the severity of the storm, working from home is the safest option.
It is going to be a very significant snow event with snow falling at rates of up to three inches per hour. You should stay home on Friday. You should consider Friday to be a work from home day if you can work from home. I fully expect most of the school districts will probably hede the advice if the weather forecast doesn't change, then they'll be closed. This is not a time you want to be driving on the streets. This is a time you want to be in a safe location and the safest location you can be is home.
You Know a Snow Storm is Bad if These 15 Places Close in Buffalo
Snow doesn't stop the people of Western New York and its business. If these close, though, you know it's a bad snowstorm.
5 Snowiest Days In New York State History
Here are the Top 5 snowiest days in New York State history.
Best Rated Snow Plow Services In Western New York
Now is the time to plan for snow in Western New York. Check out the best-rated snow removal services in Western New York according to Yelp!