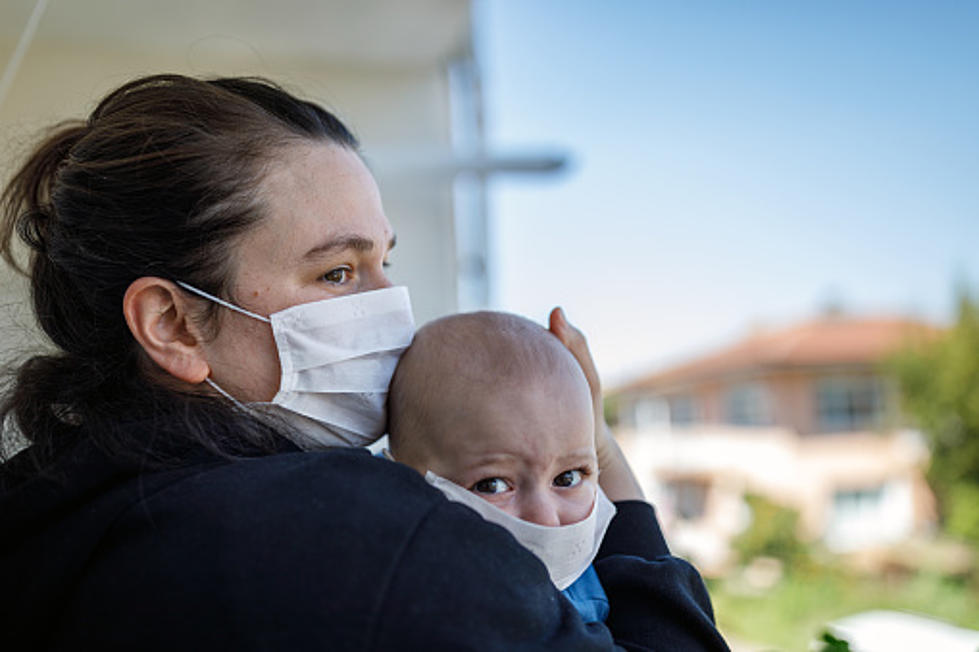 Our COVID Baby Is Turning 2 Years Old, Here's The Fear We Now Have
Getty Images
Happy birthday to our youngest son, Gus. Gus was born was born just days prior to when the official COVID-19 pandemic began and there are some things that his generation will take with them for the rest of their lives. The world as we all knew it changed nearly overnight and as a parent of three kids, we didn't even realize what that meant. To say we have learned some things raising babies in a pandemic is a large understatement.
Even though we have learned so much and have grown as a family, it would be foolish to say that we don't have a few fears about Gus's future and what lies ahead for the kids born in a pandemic.
It seems to me that the anxiety level in the world has gone up dramatically since our son was born. True, there has always been an element of worry about things that happen around us throughout history. But this feels different. It's as if we all are waiting for something bad to happen daily in our lives. During the pandemic, we saw dramatic numbers of people either getting sick or dying, and shutdowns, and lock downs and shortages every single day. Social media was exploding with hate and violence and we can't forget about the civil protests and issues that shaped the headlines.
My worry for kids of the pandemic is that this last two years will define what they think about of their first years on earth.
My goal for our sons, Gus has two older brothers-Teddy (3) and Hank (5), is that they see beyond the bad and understand the good things that wait for them and happening around us. Throughout the pandemic we saw heroes emerge in so many places.You had to fight to see it, but even in the two years of the COVID pandemic, we saw some amazing things happen that proved their is still good in the world and beauty around us if we take time to recognize it.
Shortly after Gus was born, I wrote this letter to our boys and reflecting on it now, the last two years have been equally as much of a whirlwind as they have been slow. I truly hope that we were able to give Gus the best start we could have, given the distractions and circumstances that every human has faced.
OPEN LETTER TO OUR BOYS:
Hank, Teddy and Gus,
It may be hard to understand what has changed since before you were born. As a matter of fact, your mom and I are still struggling with putting it all together. But one thing that has remained the same is our love for you and our dedication to giving you the best upbringing possible in this new world we are living in.
Before "the virus" changed things, people would gather together in groups and share moments together. Some large and others small. But people would assemble to watch competitions and performances on stages and even have dinner in the same building just a few feet away from each other!
I know it's hard to imagine in today's world. But there was a time when we hugged our friends and threw caution to the wind when we shook the hand of a stranger!!
Your mom and I had friends that we would see on occasion and share drinks together, in person, not on a video or screen chat.
It was a scary time during the year of "the virus." People wore masks from place to place and most of America was asked to stay at home. This meant most Americans, who didn't lose their job or get laid off, had to change how they worked. Instead of the buildings they would drive to each day, workers stayed in their houses and started what we now call working from home. Kids even attended school from home!
So many things have changed in the first few years of your lives. But what has not changed, and this is what I want you boys to always keep in mind, are certain values that make this the greatest country on earth. Family, freedom and the willingness to fight for what is right. We stick together. Everyday the news would show common people doing extraordinary things for their neighbors in need at the most vulnerable time. Just like I pray you boys do, Americans stuck together, even in the darkest and hardest days of the pandemic, Americans stayed strong in our resolve.
Boys, just like your grandparents did and our founding fathers had done, I want you to know that we came together to beat a common enemy that threatened not only our livelihood, but also the very thing that keeps us together, faith in each other and a dedication to give the next generation a better life than we had. It was amazing to see how many people stepped up in the face of a very contagious virus to help others survive even at the risk of losing their own life!
We learned so many things in early 2020 and I want to make sure you understand the lessons we all took away daily as we learned what many call our "new normal."
Always remember to fight for what is right and what you believe in! Be willing to lend a hand to a stranger, and volunteer when you can! Be generous!! Always stick together as a family and be willing to make the sacrifices necessary to keep America strong!
KEEP READING: Get answers to 51 of the most frequently asked weather questions...
Answers to 25 common COVID-19 vaccine questions
Vaccinations for COVID-19 began being administered in the U.S. on Dec. 14, 2020. The quick rollout came a little more than a year after the virus was first identified in November 2019. The impressive speed with which vaccines were developed has also left a lot of people with a lot of questions. The questions range from the practical—how will I get vaccinated?—to the scientific—how do these vaccines even work?
Keep reading to discover answers to 25 common COVID-19 vaccine questions.