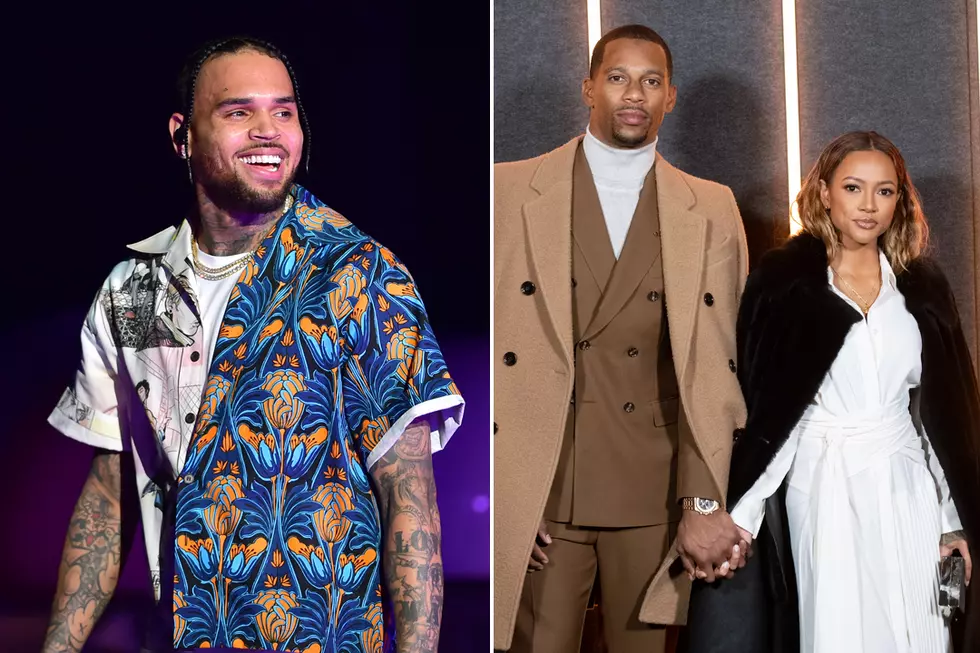 Chris Brown Goes After Ex-Girlfriend Karrueche Tran's Boyfriend Victor Cruz: "Upgrade Him Sis"
Prince Williams / Noam Galai, Getty Images (2)
Yesterday Chris Brown—or someone purporting to be Chris Brown—used his Instagram account to shade Victor Cruz in the comments section of the former NFL player's IG post that included an image of Cruz with Brown's ex-girlfriend Karrueche Tran. Now, Brown is saying he was hacked.
In an Instagram story posted this morning (June 14), the Indigo singer explained that a hacker allegedly took over his Instagram account yesterday and wrote the comments on Karrueche's page. He called the hackers "lame asf" for creating unnecessary drama.
"People going out they way. leave them people alone and stop creating unnecessary drama! Whoever's been DM any of my followers or commenting as me is lame asf," Brown wrote.
Check out Chris Brown's side of the story below.
On Thursday (June 13), Breezy slid into Cruz's comment section after the former NFL player posted a photo of himself and Karrueche on his Instagram page.
"Nothing bad or major. UPGRADE HIM SIS. I'll take him around to style him. NOT HATE. He just need some game spirit," he wrote, adding, "Peace love and joy. JUST PLEASE UPGRADE YA MAN BOO."
Brown continued to call out Cruz's style choices with another couple of comments. "He look like he shopping of the manikin[sic] and trying to bargain wit the sales manager. Retired wrestler pants. I'M FUCKING AROUND… good bless."
Brown then added, "No shade...just minor."
The Grammy-Award winning singer would eventually delete all of his comments but several gossip websites were able to screenshot his comments directed at Cruz.
Brown also hopped on posted on Instagram Stories and seemingly revealed that he still pines for Karrueche. "Is it a sucka move to think about your ex?" he asked before deleting the post.
While Brown seems to be saying his comments are meant to be playful, his comments still mark the latest entry into what has been a publicly tumultuous co-existence with Tran in the public eye—even after they split up years ago. In early 2017, Tran filed a restraining order against Brown after she alleged that Breezy had told people he was planning to physically harm her.
Check out Chris Brown's comments about Karrueche's boyfriend Victor Cruz below.
See 20 of the Most Important Hip-Hop Rivalries