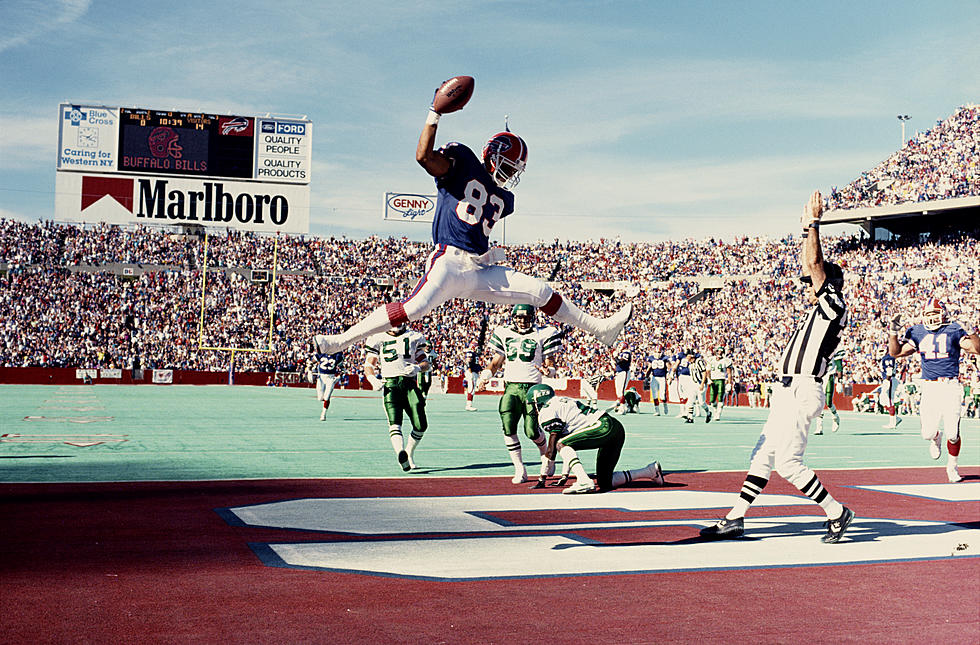 Check Out The Top 10 Receivers In Buffalo Bills History [PHOTOS]
Getty Images
The Buffalo Bills are set to kick off their 2021/22 season tomorrow night with their first preseason game against the Detroit Lions.
This year's team is looking to light up defenses using the strong arm of Josh Allen tossing TDs to an amazing group of wide receivers. This year's group includes Stefon Diggs, Cole Beasley, Gaberial Davis, and Emmanual Sanders to name a few.
So how do this year's group of TD catching wide receivers stack up against Bills of the past? Currently, based on receiving yards, Diggs and Beasley are not even in the Top 30 in Bills' history. During his Bills career, Cole Beasley sits at #31 on the all-time receiving list for Buffalo Bills players grabbing 1745 receiving yards as a Bill. Stefon Diggs who has played in Buffalo for only one season is currently #34 on the list with 1535 receiving yards as a Buffalo Bill.
Both those players are expected to skyrocket up the list this season, but how many yards would they need to crack the Top 10? Both would have to have career years and then some if they want to make it into the Top 10 this season.
Will Stefon Diggs become the next Andre Reed? Will Cole Beasley be the next Peerless Price? Can Gabe Davis blow up in year 2 and end up high on the list like Lee Evans?
With a new 17 game regular season, this year's group of wide receivers will have an extra game to pad their stats.
Using the stats from Pro Football Reference, here are the Top 10 wide receivers in Buffalo Bills history based on receiving yards.
Top 10 Receivers In Buffalo Bills History
The Bills have had some amazing wideouts. Here are the Top 10 based on reception yards in Bills history.
"[carbongallery id=""61092942f8ee9607c312fd46""]
"
The Winningest Head Coaches In Buffalo Bills History
Top Rated Buffalo Bills Players In Madden 22
Here are the top-rated Buffalo Bills players in this year's version of Madden football.