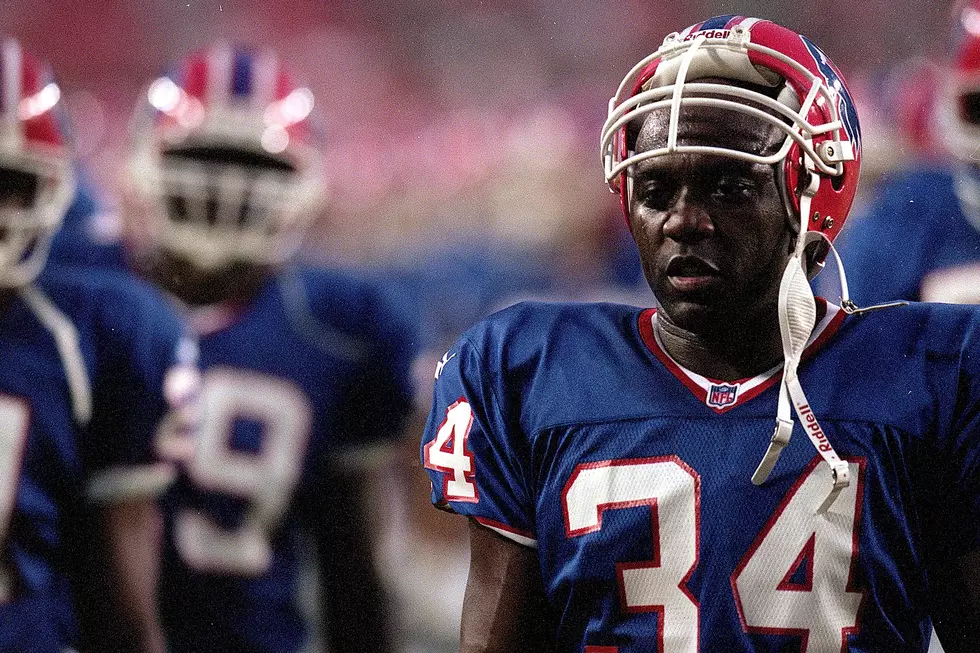 8 Famous People Who Married People From Buffalo [List]
Getty Images (Mandatory Credit: Doug Pensinger /Allsport)
We often see lists of celebrities who are from Buffalo or went to school in Buffalo, but what about the famous folks who fell in love with a Buffalonian? It definitely wasn't easy to put this list together, since oftentimes there isn't a lot known about celebrities' spouses, especially if they are not well-known in the public eye. If you know of any celebrities with spouses from Buffalo that aren't on the list, tweet me a message (@937WBLK)!
1. Thurman Thomas & Patti Thomas
While Thurman Thomas is basically a Buffalonian now, he wasn't always. The former Buffalo Bills running back was born May 16, 1966, in Houston, Texas. He played high school football in Texas and college football at Oklahoma State University. He met his wife, Patti Mariacher, while in college. She was a member of the Oklahoma State University golf team and just happened to be from Buffalo. So I'm sure it was great news for her when he actually got drafted by the Bills in 1988.
2. Kirk Cameron & Chelsea Noble
Actor Kirk Cameron was born on born October 12, 1970, in Los Angeles, California. He is most famous for his role on the hit 80s sitcom Growing Pains. He played Mike Weaver, a role that would lead him to his future wife, a Buffalonian. Chelsea Noble played his on-screen girlfriend Kate MacDonald, and then became his real-life wife. She was born Nancy Mueller on December 4, 1964, in Cheektowaga.
3. Vanessa Williams & Jim Skrip
Vanessa Williams made history as the first African-American woman to become Miss America. She is also a popular singer and actress. She's a native New Yorker; born Vanessa Lynn Williams on March 18, 1963, in New York City. In 2015, she married Buffalo businessman Jim Skrip at St. Stanislaus Catholic Church in the Queen City.
4. Grover Cleveland & Frances Clara Cleveland Preston
Stephen Grover Cleveland, who has deep ties to Buffalo, was born on March 18, 1837, in Caldwell, New Jersey. Prior to becoming the 22nd and 24th President of the United States, he held many elected positions in Buffalo. He was the Sheriff of Erie County from January 1, 1871, to December 31, 1873, and the Mayor of Buffalo from January 2, 1882, to November 20, 1882. Cleveland also served as the 28th Governor of New York from January 1, 1883, to January 6, 1885. Born Frank Clara Folsom on July 21, 1864, in Buffalo, New York, she became the youngest first lady of the United States at the age of 21. She met Cleveland through her father, who was the then President's friend.
6. Marsha Ambrosius & Dez Billups
Floetry singer Marsha Ambrosius was born on August 8, 1977, in Liverpool, England. Ambrosius met her husband in 2015 during a Floetry reunion tour. He was working as a roadie. The couple got married in 2017. Dez is from Buffalo and grew up here.
7. Jim Kelly & Jill Kelly
Like Thurman Thomas, Jim Kelly is basically a Buffalonian even though he was born Pittsburgh, Pennsylvania and raised in East Brady. Kelly played college ball at the University of Miami before getting drafted to the Houston Gamblers in 1984. Even though he was initially drafted by the Bills, Kelly ended up in Houston,
Although he believed that team owner Ralph Wilson would not bring in the right players to build a championship team, Kelly was resigned to playing for the Bills. While meeting with the team to negotiate his contract, however, a Bills secretary mistakenly let Bruce Allen, general manager of the rival United States Football League's Chicago Blitz, reach Kelly on the telephone; Allen persuaded Kelly to leave the meeting. Kelly later claimed that the USFL offered him his choice of teams because of the league's interest in signing quarterbacks. He signed with the Houston Gamblers, who played in the climate-controlled Houston Astrodome, and said, "Would you rather be in Houston or Buffalo?"
In 1986, Kelly did join the Bills, which would be life-changing for him, as he met the love of his life, Jill. She grew up was born Jill Marie Waggoner, just outside of Buffalo in Attica, New York. The couple met in 1992 at a post-game party hosted by Kelly.
8. Hazel E & De'Von Waller
Hazel E rose to national fame on the reality TV show Love & Hip Hop Hollywood. Born Arica Adams-Waller, Hazel is a publicist, brand consultant, entrepreneur, and rapper. She was born on April 25, 1980, in Cincinnati, Ohio, but claims Houston, Texas. Her husband, De'Von Waller is a Buffalo native. The couple, who met on Instagram, got married on On October 6, 2019.
12 Famous People Who Attended College in Buffalo
16 Highest Paying Jobs in Buffalo (2021)