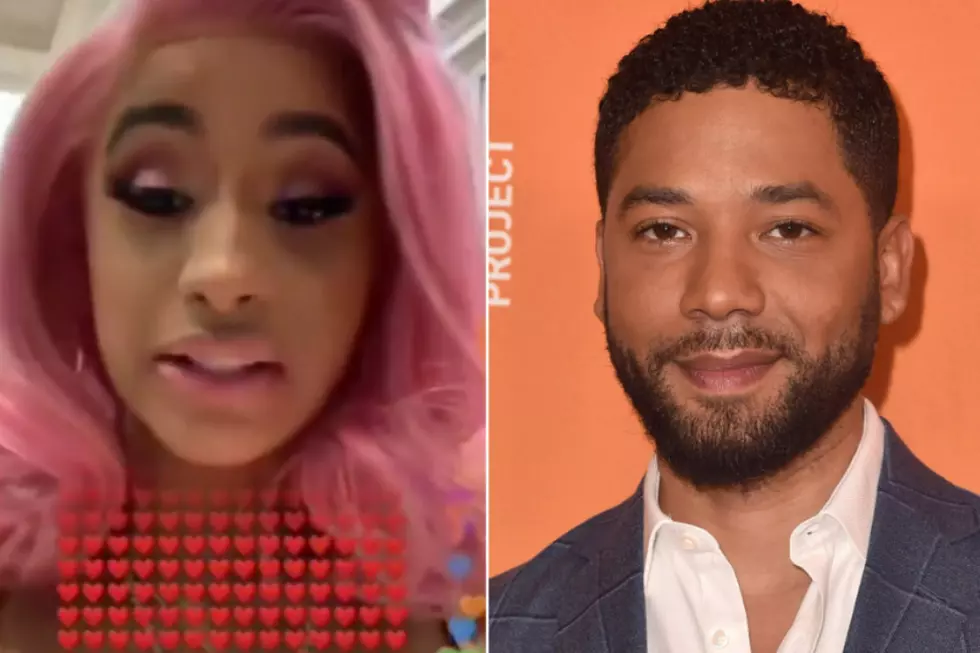 Cardi B Thinks Jussie Smollett "F!*ked Up Black History Month"
IAmCardiB via Instagram / Alberto E. Rodriguez, Getty Images (2)
The Jussie Smollett situation is turning out to be one of the most head-scratching incidents of 2019, full of plots twists and intriguing bits of information. The Empire actor claimed he was assaulted by President Trump-supporting attackers who poured bleach on him and left a noose around his neck, but new information points to Smollett possibly orchestrating the whole thing. Cardi B thinks it is an altogether bad look during a month when we are supposed to be celebrating Black people's achievements.
Bardi assessed the situation on Instagram Live on Monday (Feb. 18). "I'm really disappointed in him, bro," Cardi said. "I feel like he fucked up Black History Month, bro. Like, damn. I'm not gonna say, yet. Until he say it out his mouth that it was fake and the shit was staged, I don't want to completely blame him, because somebody I was talking to they said police in Chicago are racists. So they might probably try to frame him and make him look like he's a liar. But if he's not, than bro you fucked up, for real. Like, why would you do that?"
Cardi isn't the only rapper to not totally be convinced of the authenticity of Smollett's story. Joe Budden has also weighed in with some doubts.
New reports have come out that two brothers who previously worked with Smollett were paid by the actor to stage the attack. Smollett has maintained his initial story. He even told a crowd during a performance following incident that he was the "Gay Tupac."
Listen to Cardi B assess the Jussie Smollett situation below.
See Cardi B's Different Looks Over The Years