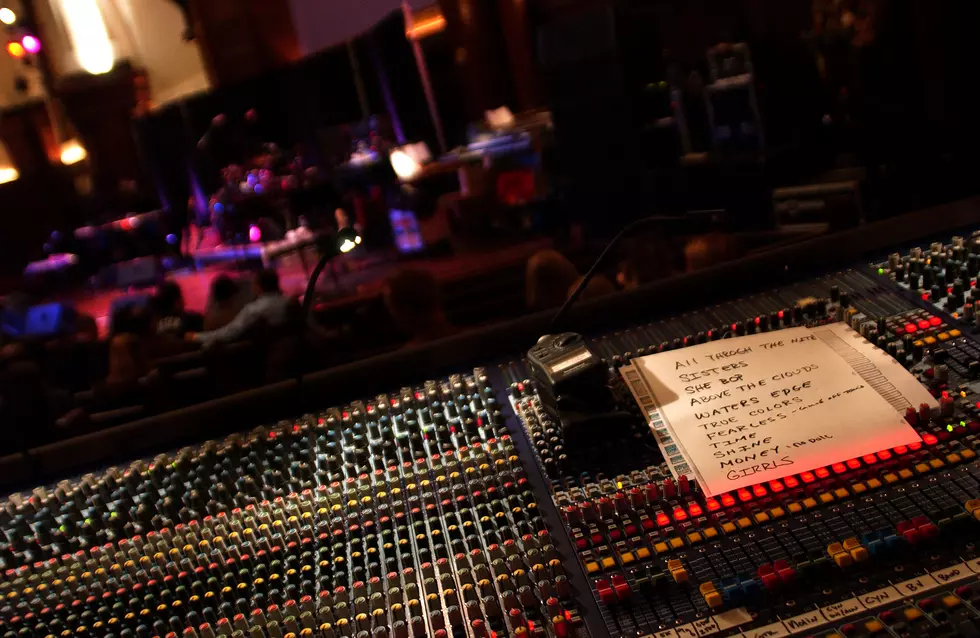 Buffalo Serial Entrepreneur Tony "Solo" Hearst Launches New Record Label, Solo Group Entertainment
Getty Images
He's a Buffalo, NY businessman who refused to live his life as a mere statistic in the inner-city streets. At an early age, Tony "Solo" Hearst decided to change his life around and devote his energy to building several successful businesses and give back to the very community he almost fell victim to. As a youth, he spent time in detention centers and spent years going in and out of jail, which led to him surviving a shooting but once again fighting for his freedom. In 2004, his close brush with death and entanglement with the justice system set him on a path to entrepreneurship and he never looked back. Now the owner of several businesses in Buffalo and Texas, he's embarked on another venture that takes him into the world of music. I sat down with Solo to talk about his journey up until now and what's to be expected from his latest venture, Solo Group Entertainment. 
REDDROXX: Thank you very much for sitting down with me! Introduce yourself to the readers and let us know where the nickname 'Solo" originated from? 

 

SOLO: My family handed down the name "Solo," but it also fits me. My father had the nickname "Big Solo" because he enjoyed being alone. I also prefer to be by myself. Even when I go to a party, I find a way to be by myself.  When I was on the streets, I felt if I did everything alone, it would be better. I always thought that I wouldn't tell on myself, but others might.  At that time, the only person I trusted completely was me.  It wanted my businesses to be named Solo because it fits my vision and how I operate. I believe in being a thinker and listener.

 

RR: Interesting! Now the nickname make sense. So you own several businesses, that's major! For those who don't know, what are they?

 

S: I own a restaurant called Solo Eats, Solo Unisex Salon, a collection agency, a trucking company and a lingerie store in Buffalo. My real estate investments are both in Texas and New York. I am excited to announce some new ventures to you as well.  My new recording studio is opening in Buffalo in April. I am starting a sports agency and a clothing line called OG Thirty Three.

 

I have some big news to share with you that is an opportunity for me personally. I landed a part in a movie that will be filmed in Atlanta in June. I can't tell you the title, but I was selected as one of the main characters. My character is a guy that is coming home from prison and trying to do what right but encountering many temptations pulling him back on the streets.  I can identify with this character, and the people doing the casting knew this right away.

 

RR: Wow that's major! So I got an exclusive lol can't wait to see your new ventures develop especially seeing you in an upcoming movie. It seems like you have a lot on your plate, each business and venture requires a lot of time and dedication.  What made you choose each business?

 

S: Due to my background, I knew I had to work for myself. When I decided to change my life, I had to learn how to "hustle" legally by building local businesses while always giving back to the community. I believe that it is better to have a lot of companies as a backup plan.  I always felt that you couldn't rely on just one company. I also believe in being diversified, doing a lot of research before you start and selecting services that are responsive to the community's needs.  When I see an opportunity, I grab it.

 

RR: I agree, you definitely have to have multiple streams of income especially today. Out of all the business you chose to venture into, being a woman of course the salon peaked my interest. Being born and raised in Buffalo, I know first-hand that Solo Unisex Salon has been a staple in the University area for some years now. What made you want to start a business in the salon industry?

 

S: I am announcing here that after 20 years, we will be closing the Solo Unisex Salon in Buffalo and reopening it in Texas.  Solo Unisex is unique because it is a barbershop and salon but also had a pool table and darts. It is one of my favorite social places to hang out, and many of my customers feel the same way. I became interested in this business as a young man because my first cousin, Hakeem Hicks, had a barbershop called Styles of Man Unisex that was very successful. I like that it is a social place in the community. 

 

RR: WHAT?! I can't say that I'm not sad to hear that! But I know that sometimes change is the key to growth though and Texas is definitely a much bigger market to expand into. With that said, 20 years is a major milestone in business. What are some of the challenges you've had to overcome, and what's the key to your longevity?

 

S: I have had many challenges as an entrepreneur, but now, the biggest issue is finding the right people to work for my businesses.  It's easy to put the plan together, but it's hard for others to see the same vision that I have. The investment is the easy part, but I can do only so many things as one person.  I need to hire people that see my vision.

 

RR: As the saying goes, "Sometimes you have to risk everything for a dream nobody can see but you". Although that's true, you seem to have found a winning formula. You've seem to have been able to find a team that can see your vision enough for you to reach the level of longevity and success that you have. With facing those obstacles however you've decided to embark on yet another pretty tough industry, the restaurant business. What made you want to get into the game with Solo Eats?

 

S: I got involved in restaurants for a basic reason. I like food and cooking. This week is my fourth year in business. People know I love to cook, especially BBQ. My friends would always ask me to bring BBQ at parties  and it took off from there. Solo Eats is famous for our deep-fried taco.  I came up with this idea when I traveled out of town. After trying a version of it, I knew I could improve on it. I put my take on it with a sauce, seasoning, and batter.  I am proud that Solo Eats is known as the "Home of the Deep Fried Taco."

 

RR: See now you're making me hungry! lol the Deep Fried Tacos are definitely a hit if I should say so myself. You make it all sound so easy though! How has the journey been so far? Are you thinking of expanding or franchising?

 

S: I am considering franchising Solo Eats in Texas and maybe Atlanta. One part of the journey is a program I worked on to help men and women find employment after being released from prison. I give them work in the restaurant, barbershop or my other businesses if I can. I had the same issues when I got out of jail and I understand how hard it is. I wanted to give them a chance.  While it can present challenges, one of my employees has been with me for over four years. He recently told me that I was the only person who gave them a chance.

 

RR: That's amazing. I'm sure your desire to give back to community is one of the things that ensures your success and it's admirable. I'm sure there's lots of people who ask you for business advice given your success, so what piece of advice would you give someone looking to get into either industry?

 

S: I would advise new business owners and entrepreneurs to have a team behind them. You can't do it on your own. I also recommend that they take some courses and thoroughly research before you get started.  I learned many things the hard way.  One example is how to portion food correctly. It is often the little things that will put you out of business.

 

RR: That's interesting because the man who's named after going things alone also knows the importance of building a team and that's powerful. Now in addition to the salon and restaurant, you also have your hand in retail, real estate, and trucking. So it's safe to say you're a busy man! What made you want to get into music as well? 

 

S: I always wanted to get into music. I had a recording studio and founded a record company called Solo Productions in 2001. I closed in 2008 because we didn't have the right artists. My primary artist was on the streets and got locked up. I lost a lot of money because I told him that he needed to clean up his act and he didn't listen. They say you should always go with a founder that has failed once. From that experience, I realized that I needed to pick hard-working artists this time and make the right strategic investments carefully. For Solo Group Entertainment, I have great talent as part of the label. What sets us apart from others is that we care about our artists and their long-term success in business and life. These artists are telling the story of our community and we are going to treat them fairly. In return, I expect them to work hard.  I am seeking talented emerging artists with character and drive. I also made great connections in the industry that I have continued to develop.

 

RR: Congratulations! Solo Group Entertainment really sounds like a great home for emerging artists. As you continue to develop talent and connections, what's your overall vision for Solo Group Entertainment?

 

S: I have a big vision and it is moving fast. Our brand is about providing our followers with music that matters - music with real stories, substance, and lasting power. We want our followers to keep coming back for more. I love cars, so I say I am putting my foot to the pedal on this business.  2021 will be an important year and we will take over a lot of things. In 2021 I am planning to land a major distribution deal with another label.  My vision is to have at least ten artists signed. I have two now and another in the works. We currently have one artist located in New York, one in North Carolina and hopefully soon, one in Texas.

 

RR: It sounds like you have a rock solid plan in place and on the track to being successful with yet another business venture! But sometimes even with a great plan in place there can be some unforeseen hiccups. Have there been any obstacles you've had to overcome getting your label off the ground?

 

S: I have found that you have to have the right team in place. A lot of people say they can help you out but they have their hand out. They want money to put you in the right position. Also, COVID slowed things down for us because we couldn't produce concerts. We had a lot planned and had to put brakes on it. In one case, a venue closed down because of COVID and we lost our investment. I know we would have been already booming if it weren't for COVID. Of course, it's a challenging time for emerging artists. There is an attitude that music should be free and that is why we are here to help the artists make their music a profitable business.

 

RR: I could imagine how tough it was having the pandemic slow things down significantly before things could even take off and I'm sorry to hear about your investment loss. Happy to know that things are back on the right track though and that Solo Group Entertainment is here to stay.  With that being said, would you step into the booth? Or are you more focused on signing and developing talent?

 

S: Anyone who knows me can tell you. Rapping is not me. Besides, my artists don't want competition, so I had to turn to acting instead. Lol. My favorite part is finding and developing talent. I am driven to helping young people succeed, especially those that have had it hard in our communities.  Solo Group is a different approach to entertainment that is more than music and more than a successful business. We plan to lift up our artists. Music has the power to change lives and our communities. I want to drive this change for our kids' future.

We have the opportunity to change the stories and mindsets of the people in our community. Our artists' music and stories change the lives of our listeners, especially the younger generation.

 

RR: That's an amazing vision and I'm excited to watch you see it through.Who's on the roster currently and what can we expect from them? 

 

S: My artists are Qua Savv from Buffalo, and I am Tune from North Carolina.  We are planning releases for both in April. I am Tune will be dropping a single and Savv, an album. We are achieving some important radio interviews (HOT 97, Shade 45) and planning a major tour with some very large concerts. We just issued a great interview with I am Tune on the Off the Porch Show in Atlanta. 

 

RR: That's major! So you workin' workin' lol You definitely are extremely business minded and good hearted as well. Give a word of advice to anyone looking to get into the music game

 

S: I would tell someone starting that they need to have a significant budget. I always recommend a lot of research to learn what you need to know.  Of course, connections in the industry are everything as well.

 

RR: That's great advice. So question, did or do you have a mentor?

 

S: I have a lot of mentors and industry connections that are helping me bring my vision to life. I am learning every day. I'm also in contact with a lot of prominent artists who share what is working for them. My connections and networking skills have come in handy. It's crucial to have close friends and colleagues in the music industry. Buffalo is becoming known for our music scene and we help each other.

 

RR: Buffalo is most definitely becoming a music hub! It's amazing to see the transition. I think it's important for upcoming artists and those seeking to work in the music industry to know that even some of the greats, if not all, had a mentor at one point or another. Speaking of mentoring, you also have several organizations that help the youth as well, correct?

 

S: I believe it is essential to help the next generations. I put in place the Boys to Men Mentoring Program for at-risk African American and Latino youth. We have seen success here, but being a consistent presence matters.

RR: It absolutely does. I want to personally thank you for all the you do for our community! Let us know how/where we can support your entire movement? Especially Solo Group Entertainment.

 

We are just starting and I invite you to keep checking our website at www.sologroupentertainment.com. Of course, our social media (Facebook @SoloGroupEnt, Instagram @sologroup-entertainment and YouTube Channel (@SoloGroupEntertainment) are the perfect places to follow our progress.  You can also support local musicians, and many of them are hurting due to the inability to play concerts during COVID. You can check out our artists on iTunes, Spotify, and all major platforms.  

 

I am always looking for artists that are the right fit for our record label.  We are planning a  showcase to help us find new emerging artists. Artists will audition, and we will sign the winner to our label. Plus, I am committing $75,000 to help the artist I select get started.  This can be used for marketing, creating a lifestyle look, or professional productions.

 

I also invite you to watch out for the fashion label OG Thirty-Three and the merchandise we plan to make available to support our artists and our label.  All this news is just the beginning, so stay tuned.

 

I would like to give a big shout-out to Redd Roxx.  We appreciate what she does in the community and know we can count on her to keep us up to date on what is happening with music in our community.

 

RR: Thank you so much and thank you for supporting my movement as well! I really appreciate that. I'm definitely looking forward to further supporting your movement and wish all the success with your current and future endeavors.

 
.