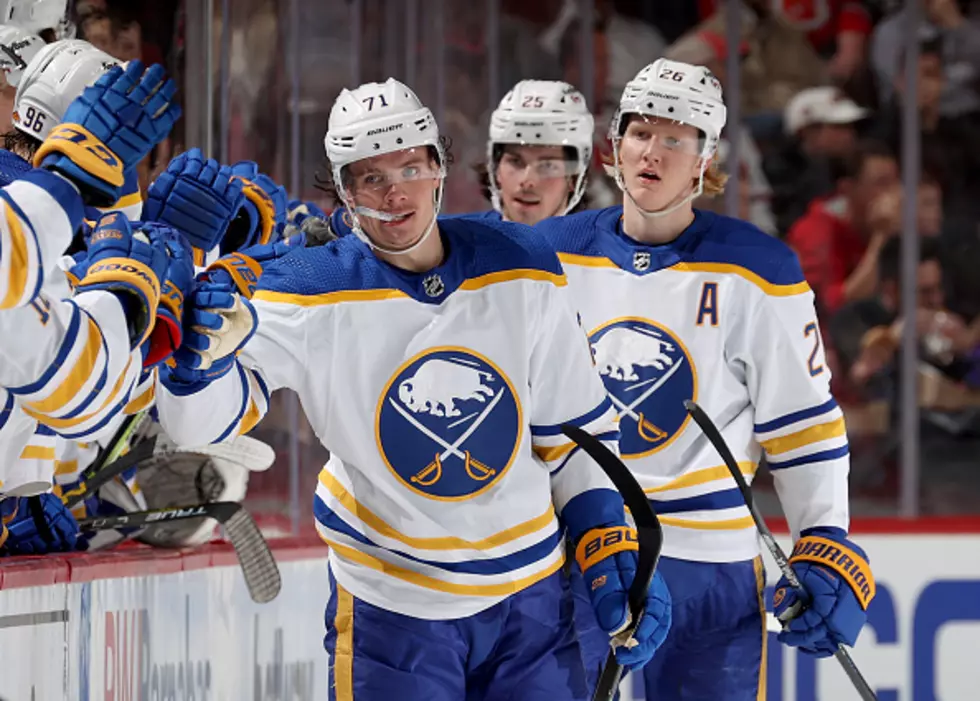 Future Up In The Air For Buffalo Sabres Forward
Getty Images
The Buffalo Sabres have missed the playoffs for 11 straight seasons, but things are finally looking up for the franchise.
Buffalo has arguably the most stockpiled collection of prospects, especially at forward, and are preparing to make a playoff push in the next year or two.
Center Tage Thompson had a breakout season in 2021-2022, scoring 38 goals and 68 points in 76 games. Thompson will enter next season as the number one center on the top line for Buffalo.
The team has high hopes for the likes of Dylan Cozens, Alex Tuch, Peyton Krebs, Jack Quinn and JJ Peterka, but they also have relied on winger Victor Olofsson.
Olofsson was a 7th round draft pick in 2014 and proved teams wrong by scoring 30 goals in his only season with the Rochester Americans and then scoring 20 goals twice in his three full seasons with the Sabres. He also was on pace to score 20 goals in 2020-2021, which was cut short by the pandemic.
Injuries and some inconsistent play have been Olofsson's downfalls, but he's been one of the Sabres best goal scorers since 2019.
On Monday, the Sabrea announces they extended qualifying offers to four players: defenseman Brett Murray, forward Arttu Ruostalainen, goaltender Ukko-Pekka Luukkonen and forward, Victor Olofsson.
However, players can choose to file for salary arbitration, which will let an independent mediator decide on an average salary for a player. The Sabres narrowly avoided that in 2020, signing Olofsson to a two-year contract worth $3.5 million per season, but now could face it again in 2022.
According to a tweet from Lance Lysowski from February, Olofsson's arbitration award would likely be around $4.5 million.
Olofsson is still a restricted free agent, which means the Sabres own his rights and have the right to extend a qualifying offer. If the team decides not to, the player becomes a free agent, but they can also file for arbitration.
This summer's deadline is July 17th at 5 pm. If Olofsson decides to file for arbitration, it has to be before that date and time. In arbitration, a player cannot be awarded less than 85 percent of the player's previous year's combined base salary, along with signing and performance bonuses.
We have to wait and see what happens, but at some point, the Sabres can't keep all their current forwards long-term and maybe Olofsson will be an odd man out. For now, Buffalo wants him back with a qualifying offer, but will that feeling stay the same after an arbitration award?
6 Best Trades in Buffalo Sabres History
Taking a look at the absolute best trades in Buffalo Sabres history.
Top 10 Most Underrated Buffalo Sabres of All-Time
CHECK IT OUT: 100 sports records and the stories behind them