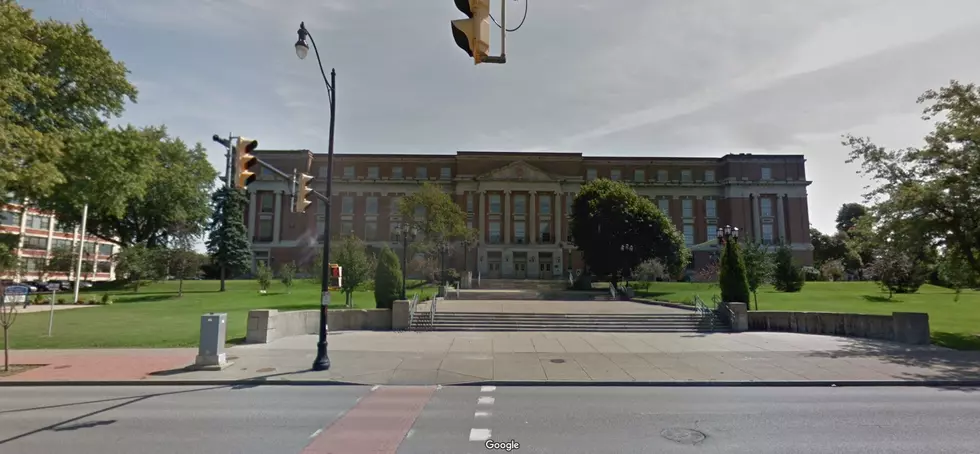 Buffalo High School Football Team Has To Forfeit Games
Google Maps Street View
Officials from the school blame a clerical error for allowing a student, who was later deemed ineligible to play, to make the team.
The number 1 ranked Lewis J Bennett Tigers High School Football team has been forced to forfeit the first 6 games it's played this season.
According to an article by the Buffalo News, a student played JV Football last year as an 8th grader in the Sweet Home School District didn't complete a form that is required to transfer to another school. Because that form wasn't completed the player, who is now a freshman, was considered ineligible to be on the team.
Now the defending NYSPHAA Section 6 Class AA defending champions are 1-6 and have been nearly knocked out of playoff contention.
The penalty is being handed down by officials from Section 6 after they were told that Bennett might have an ineligible player on the team. After an investigation was completed, officials stated that Bennett violated New York State Public High School Athletic Association rules and thus needed to forfeit the games. In addition to the forfeiture of games, Steve McDuffie, the coach of the Bennett High School Football Team was suspended for 1 game.
Listen To Ed-Nice Every Monday Through Friday At 10 AM on Power 93.7 WBLK
Buffalo Public School officials have said the student is a true freshman and Bennett lives in the City of Buffalo, and they were unaware that he played Junior Varsity while in 8th grade in another district.
Unlike other smaller schools in Western New York, Buffalo has 18 high schools that take in hundreds of freshmen every year from all over the area. Officials from the BPS said they don't have the resources to investigate the background of every student who wants to play a sport to determine if they played a sport while in elementary school.
Some BPS officials and the schools union are demanding an investigation be done to determine exactly what Section 6 knew and when it knew it. Also, many people connected to Bennett High School have called foul, claiming the penalty does not fit the infraction. A petition has been created to urge NYS officials to reverse their decision.
Most Popular NFL Players from Buffalo
Western New York has had its share of great athletes go into the NFL, here are some of the most popular ones
Top 10 WNY Public High Schools According To US News and World Report
Check out the latest ranking of Public High Schools in WNY according to US News and World Report.
The 10 Top Sports Teams Based in New York State