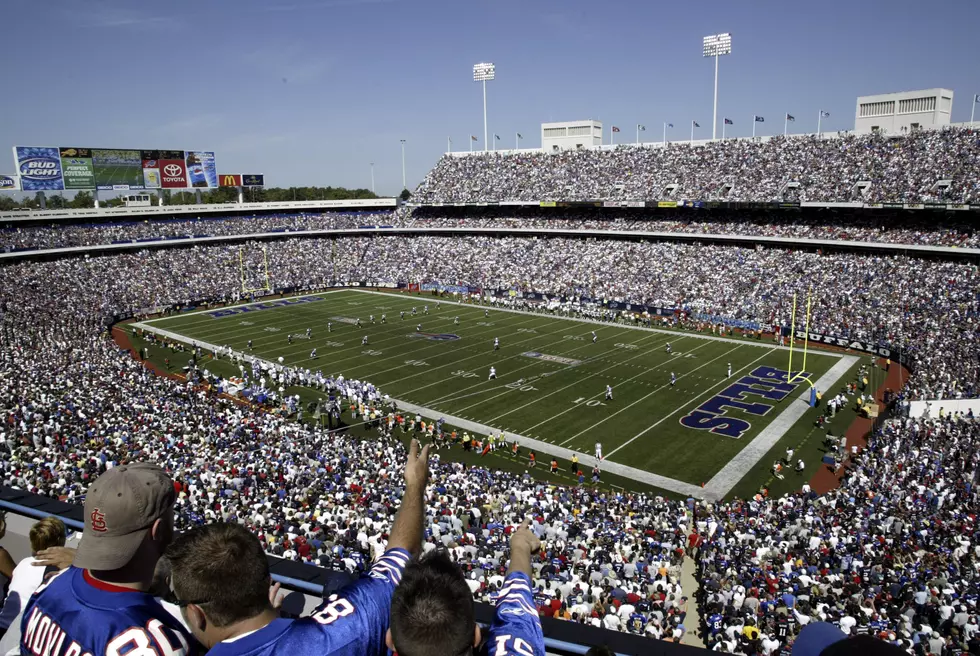 6 Names Western New Yorkers Call Bills Stadium
Getty Images
As we get ready to head into the final season of football at the current Bills stadium many people in Western New York have called the place many different names.
Feel Good Mornings With Dave Fields Mon-Fri 6am-10am
What you call the stadium is really dependent on when you became a Bills fan. If you were there in the beginning, you know the Old Rockpile, and of course, you remember when the Bills moved to Orchard Park.
If you were a fan in the 90s and early 2000s you know the stadium by a different name and if you just hopped on the bandwagon, you might have called the stadium by two different names already.
Check out 6 names Western New Yorkers Call Bills Stadium
1. Rich Stadium - If you were a Bills fan in the 1970s and 80s, you still call the home of the Buffalo Bills, Rich Stadium. It was named after the Buffalo company Rich Products which bought the naming rights in 1972.
2. The Ralph - After the naming rights for Rich stadium were not renewed in 1997, the owners of the Buffalo Bills, the Wilsons wanted to name the stadium after the Bills' original owner Ralph Wison. The stadium's official name was Ralph Wilson Stadium, but fans just called it the Ralph.
3. New Era - When the Buffalo Bills were sold to the Pegulas, they wanted some of that sweet naming rights money and made a deal with New Era Cap Company which is based in Buffalo. Newer fans of the Bills still call the stadium New Era.
4. Bills Stadium - Citing money issues, New Era asked to pull out of the naming rights deal and the stadium was left nameless. Fans started calling it Bills Stadium. Simple and direct, most people still say they are headed to Bills stadium while on the way to tailgate.
5. Highmark Stadium - The latest and current name for Bills Stadium is Highmark Stadium even though most fans just call it Highmark and leave off the stadium part.
6. The Stadium That Allen Built - Coming soon the Buffalo Bills will be building a new stadium across the street from "The Ralph" and while it will be officially known as Highmark Stadium, most fans will call it the House that Allen built because if Allen hadn't led the Bills to the playoffs the past several seasons, taxpayers might not have approved the funding for the stadium.
Predicting How Many Wins For The Buffalo Bills
The Buffalo Bills schedule has been officially released and how is the perfect time to predict how well the team will do this upcoming season.
One Sentence That Will Immediately Enrage Buffalo Bills Fans [LIST]
6 Names Western New Yorkers Call Bills Stadium
The Buffalo Bills have been around for a long time and ever since they moved to Orchard Park, Western New Yorkers have called the stadium several different names.