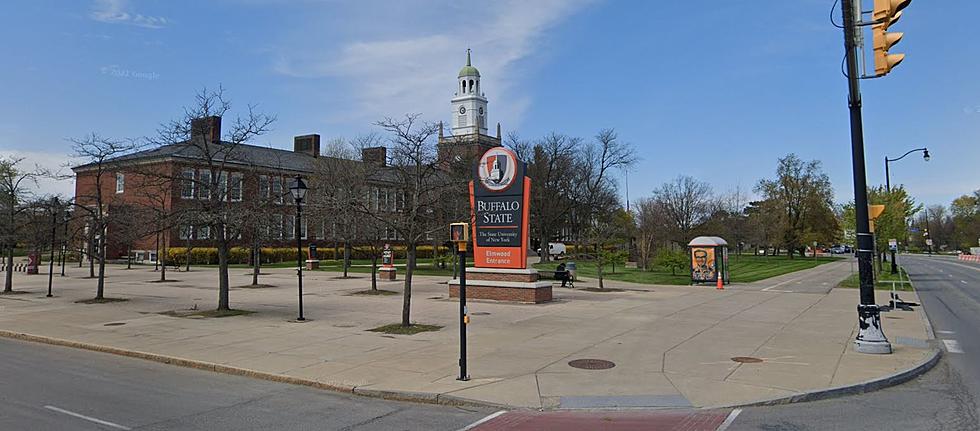 No Credible Evidence Found For Buffalo State Bomb Threat
Credit: Google Maps
Another bomb threat occurred on Thursday at a local college, but the evidence that we have regarding the potential threat is concerning.
Buffalo State College canceled their classes and closes the entire campus (including any extracurricular or club meetings) on Thursday to investigate, what appeared to be, a bomb threat.
The bomb threat was made around 10:45 a.m. and it caused a bit of heightened panic. Those who are investigating the threat had said that it was especially unsafe in the academic buildings because that was the reportedly main target when it came to the threat.  
Anyone who is a commuter or anyone who was considered a non-essential employees were inform to leave the campus immediately.
Residential students were told to head back to their residence halls, but now they no longer need to stay confined to their dorms.
As of Thursday evening, Buffalo State Police said they've found no evidence that proves the threat credible. However, University Police wants to exercise caution, so classes are canceled on March 25. Spring break for Buffalo State students starts March 28, so classes and regular daily activities will resume as normal after spring break on Monday, April 4. 
The Campbell Student Union and Dining Services will reopen on March 25, which means meals will no longer be delivered to residential students beginning on Friday, March 25. 
Employees will resume daily operations beginning on March 28.
University Police are still looking to resolve the threat and uncover any evidence on the matter. If you have any information about the threat is asked, you can call University Police at (716) 878-6333 or the anonymous tip line at (716) 878-3166.
26 Colleges To Consider If You Grew Up In WNY
There are 26 college campuses in Western New York that are close enough (but also far away enough) to come home for a spur of the moment visit, all while having a new sense of independence.
Read the full list before you rule out these possibilities.
Kadie's Kalendar - Weekend of 03/25 - 03/27
Take a look at the top 10 events happening this weekend in Western New York for the last weekend of March!
What Is This Boulder In The Falls? Wrong Answers Only
After looking for confirmation as to whether or not this big boulder-looking thing in Niagara Falls was in fact ice, there were some other very wrong answers that were provided to suggest the « Boulder » may have been something else. See the top 30 hilarious responses below.