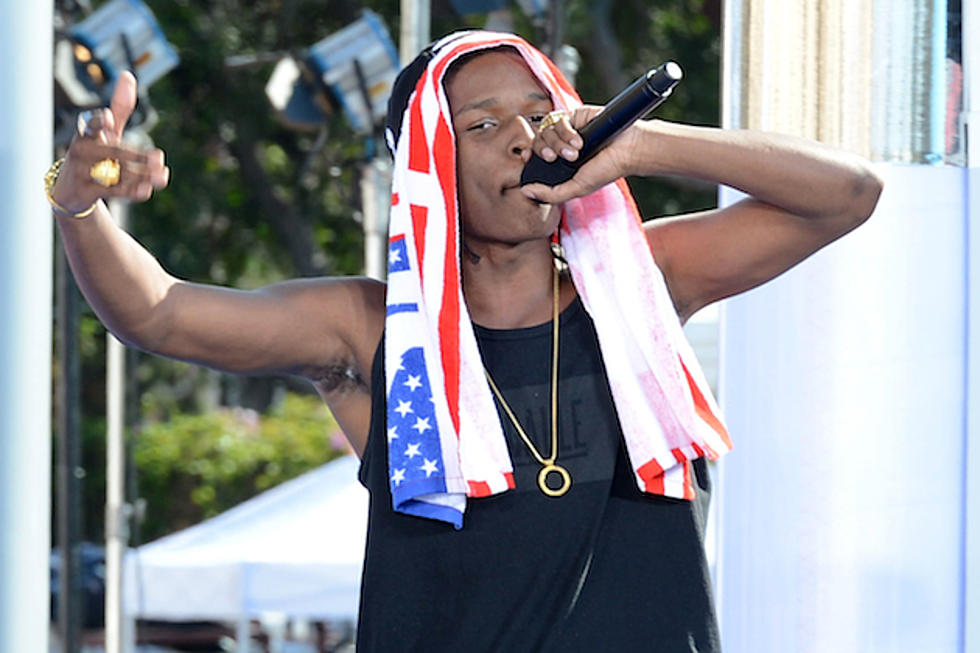 A$AP Rocky Enlists Kendrick Lamar, Joey BadA$$,Yelawolf + More on '1 Train' Track
Earl Gibson III, Getty Images
A$AP Rocky grabs seven of the hottest emcees in the game for the biggest posse track we have ever heard in 2012. The banging '1 Train' features Kendrick Lamar, Joey BadA$$, Yelawolf, Danny Brown, Action Bronson and King B.R.I.T. Whoa!
This colossal song appears on Rocky's 'Long.Live.A$AP' album, which hits stores on Jan. 15. Producer Hit-Boy delivers a concrete-heavy beat with stirring violins that helps build the intensity of the rapper's dizzying rhymes. All the emcees did a fantastic job on the song, but the ones who had standout verses (in our humble opinion) were Rocky, Lamar, BadA$$ and K.R.I.T.
Rocky kicks things off with a couple rap zingers. "I've been thinking about all the o's in my bank account / Next to the h-s in my bed around the same amount / After since all this new star fame came about / Ever since me and Drizzy started hanging out," he spits.
K. Dot follows with a fiery verse, rapping "If I'm not the hottest then hell must've frozed over / You thought it was safe then forgot what the code was / I carry traits of a traumatized soldier / Don't look in my face, I might snap, I might choke ya."
Meanwhile, Joey BadA$$ hints at signing with Jay-Z's Roc Nation on his verse. "Just got back to the block from a 6 o'clock with Jigga / And I'm thinking 'bout signing to the Roc / But my n----s on the block is still signed to the rocks," he raps. Interesting.
We will be here all day reciting verses from this much talked-about posse track. If A$AP Rocky's 'Long.Live.A$AP' album sounds anything like '1 Train,' then the Harlem rapper is starting off 2013 with a sonic bang for your eardrums.
Listen to A$AP Rocky, '1 Train' (Feat. Kendrick Lamar, Joey BadA$$, Yelawolf, Danny Brown, Action Bronson and Big K.R.I.T)