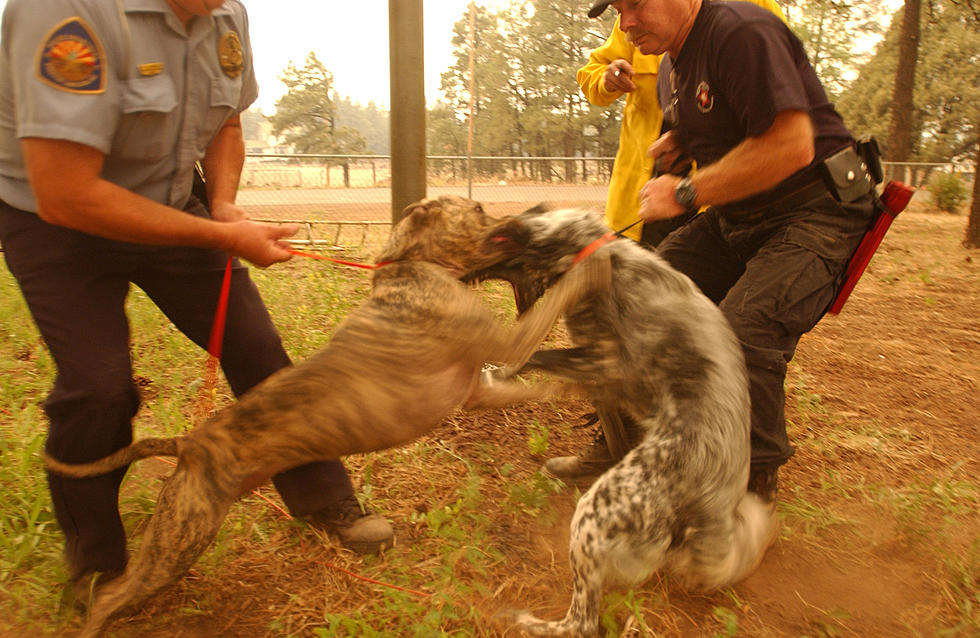 These Are All The Registered Animal Abusers In New York State [Photos]
Getty Images
These registered animal abusers around New York State are banned from owning pets or even watching an animal for other people. Various governmental entities keep a list of those convicted of abusing animals. According to the National Humane Education Society,
Failing to provide for an animal's basic needs to the degree that the animal experiences intense suffering or death also qualifies as animal cruelty, regardless of the offender's intent. For instance, continuous dog chaining, failure to supply an animal with necessary food, shelter, and veterinary care, confining an animal for long periods, leaving an animal in a hot car, and having more animals than be adequately cared for, all cause an animal intense suffering and death – even when the offender lacks to awareness to recognize it.
Anyone who gives an animal away or sells it must check the animal abuse registry, if there is one, in their county prior to the transaction.
New York State laws identify various forms of abuse, including aggravated cruelty,
Aggravated cruelty to animals. 1. A person is guilty of aggravated cruelty to animals when, with no justifiable purpose, he or she intentionally kills or intentionally causes serious physical injury to a companion animal with aggravated cruelty. For purposes of this section, "aggravated cruelty" shall mean conduct which: (i) is intended to cause extreme physical pain; or (ii) is done or carried out in an especially depraved or sadistic manner.
Other forms of animal abuse and cruelty include:
- Neglect
- Hoarding
- Fighting
- Beating
- Mutilation
- Burning
All of the counties below have animal abuse registries. Some counties have registries, but no offenders are listed. New York City has a registry, but you must be a registered user to view it.
Albany County
1. Tina Yerden
2. David Enberg
3. Ta'Von McCall
4. Desirae Fantroy
5. Maria Gudz
6. Lawrence Johnson
7. Deric Peterson
8. Sekou Smith
9. Dawn Bink
10. Robert Caserta
11. Linda Mellin
12. Brandon Reploeg
13. Alan Littlejohn
14. Gregg Solomon
15. John Gehrlein
16. Deron Richardson
17. Nancy Wright
18. Daniel Toress
19. Elijah Cooks
20. Larry Fuller
21. Howard Petersen
22. Rachel Fasnacht
23. Floyd Meggs
24. Mentor Demiraj
25. Anthony Walker
26. Corey Squires
27. Khadijah Hopkins
Not Pictured
28. Najee Collins-Coleman
29. Claudia Ricci
30. Chris Fournier
31. Fannie Hoestetler
32. Meli Lopez
33. Elliot Torres Jr.
Broome County
1. Tanisha L. Banks
2. John D. Elmer
3. Daniel L Martin
4. Kenny M Thomas
Dutchess County
1. Sam Brickell
2. Selina Brooks
3. Barbara Colao
4. Flavio Crespo
5. Dane Helmer
6. Holly Stanley
7. Alex Tor Thomassen
Nassau County
1. Hector Hernandez
2. Joseph Kemp
3. Anthony T. Reddick
4. Reginald V. Smith
5. Bing Jie Yang
6. Thomas C. Skuza
7. Marianne Manzitti
8. Peter Granath
9. Michael Gallagher
10. Christopher Koenig
11. Lee F. Hughes Jr
12. Shawanna Dearing
13. Tamara L. Copeland
14. Mian Q. Siddique
Oneida County
1. Brenda Kunze
2. Horst Kunze
Onondaga County
1. Richard M. Gerharz
2. Andrew D Coy Jr.
3. Jane M. Richards
4. Brian L. Person
5. Cheryl L. Bowens
6. Joanne Ruggireo
7. Scott Cooper
8. Howard Bethea
9. Rennie Rall
10. Anthony McCauliffe
11. Michele Piper
12. Laura Briggs
13. Yolanda Williams
14. Tyler T. Simon
15. Jennette Filicia
16. Trent L. McMillan
17. Nieisha Howington
18. Stephen Clemons Jr.
19. Cassandra Jones
20. Shon Barbee
21. Joann Osier
22. William Osier
23. Corey Hudson
24. Stacey Hand
25. David Fudge
26. Brandon LeMire
27. Wanda McKee
28. Cassandra Harris
29. Kelly Dunn
30. Jessica Gadson
31. Christina Tyler
32. Venus Godley
33. Antonia Wright
34. Michael Ryan
35. Jeremy Taylor
36. Justin O'Hara
37. Ivan Medina-Otero
38. Austin Dooley
39. Shenandoah Gilbert
40. Myra Edwards
41. Jermaine T. Scott
42. Joseph Judware Jr.
Orange County
1. Briant Carter
2. Deejay Atkins
3. Joselina Brucelis
4. Betsy Comacho-Morales
5. Paul Cox
6. Kevin Gould
7. Damarie Orfila
8. Jeanne Rogers
9. Jeanne Ryan
10. Jeffrey Scott
11. James Scott
12. Emiliano Zapata
Putnam County
1. Omer Fahim
2. Nuno Gouveia (AKA Nuno Afonso-Gouveia)
3. Caleb Shuk
4. Leslie V. Soto
5. Tammy Williams
Rensselaer County
1. Shaqkira K. Cole (No picture available)
Sullivan County
1. Jamie Coney
2. Ashley Young-Henderson
3. Francis Young-Henderson A/K/A Jeual Young
4. Anita Young
5. Kristy Young
6. William McKinzie
7. Gerard Kingeter
8. Rahiem J. Brown
9. Shameikc R. Sinclair
10. Anthony Nunnally
11. Natasha Nunnally
Ulster County
1. Michael Oramas
2. Eric Napoli
3. Gary Wayne Vogt
4. John Lewis Helmbold
5. Jessica Natalie
6. Ben Gary Treistman
7. Ramon L. Bruno
8. Nelson Ayala Diaz
9. Anthony Gonzalez (No picture available)
Westchester County
1. Joshua Burgo
2. Alex Thomassen
3. Alexander Cuevas
4. Michelle DiGennaro
5. Elton L. Skinner
6. Elizabeth A. Martin
7. Jaequann Gibbs
8. Alexander Petrov
Registered Animal Abusers In WNY