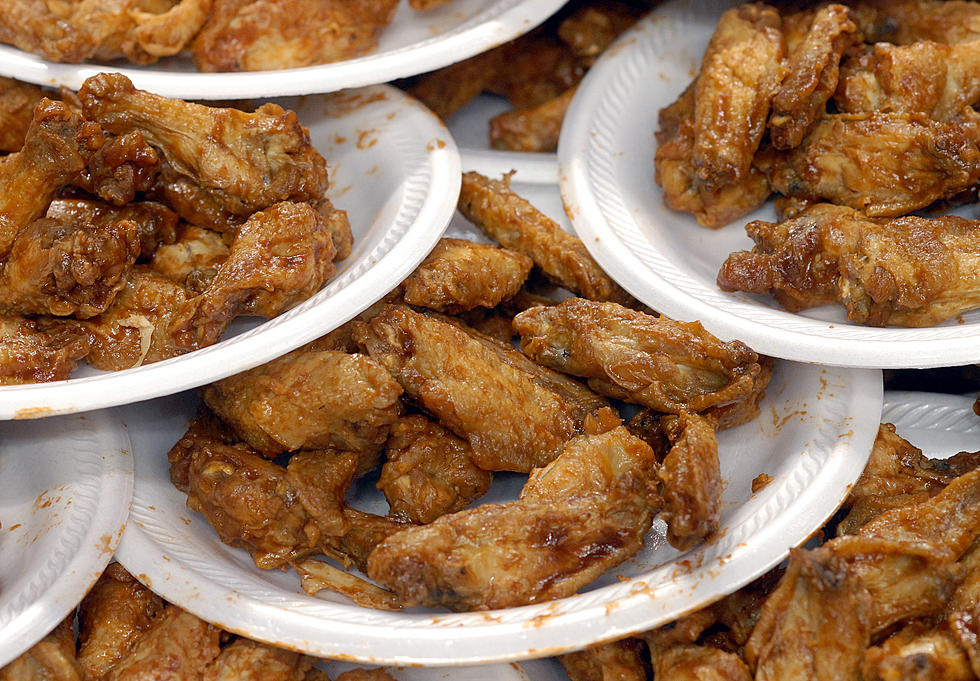 6 Wings Spots Buffalo Loves That Are Better Than Buffalo Wild Wings
Getty Images
With so many Buffalonians upset with Josh Allen's betrayal of authentic Buffalo wings, by posting a picture to his Instagram page of him at Buffalo Wild Wings, I figured I'd drop a list of some of the true Buffalo wings joints that we love! Josh captioned his picture with,
Putting the Buffalo back in Buffalo Wild Wings. There's no better place to hang with your friends than at @BWWings ! #GreatestOfAllTimes #BWWPartner
But these restaurants have ALWAYS had the Buffalo in their wings, so check them if you haven't already.
This list is in no particular order:
1. Kelly's Korner, is located at 2526 Delaware Avenue in Buffalo. It has a 4.4-star rating on Google. Some of the reviews say:
Jared Beam
Kelly's Korner was freaking awesome. Best hot sauce I've ever had. Wings as big as turkey legs and tenders like dinner plates. Good simple atmosphere. Good cold beer.
Angel Burns
The drinks excellent and the wings you can't go wrong. The atmosphere is great from the patrons to the staff. Ms. Tina was our barmaid and she was great too! Definitely going back.
RKP
Some of the best wings in Buffalo. Get the hot bbq and you won't be disappointed. Beef of weck is really good too. Has a dive bar atmosphere but it's part if the experience.
2. @ Eleven Wings & Cuisines, which is located at 3225 Main Street in Buffalo, has a 4.4-star Google rating. The restaurant serves more than wings, but if you're looking for some good ol' chicken flappers, it's a great place to stop in, according to the Google reviews,
JacQUEENa B.
Good country fried wings, my son is in love with them.
Kali Hash
From the chicken fingers, to the wings, green beans, to the fries... all 10/10! Flavor, makes your belly feel good after... better then Theresa's Anchorbar downtown. Will return, also very kind customer service, worth the wait for some delicious food. Will be returning 👏🏻
3. La Nova Pizza, located at 371 W Ferry Street in Buffalo, serves up pizza and wings. It has a 4.2-star rating on Google. Western New York-native Tony Boncore raved about the wings in his Google review,
I've been away from Western New York's best in the world Pizza & Wings for too long. This visit in to WNY I made it a must stop to enjoy a couple of Cheese and Pepperoni Pizza slices and a bunch of Buffalo sauce crispy Chicken Wings. Of course when you order wings from LaNova, they are unbelievable. Flavor galore, crunch on the outside and tender meat inside. Hey....One word.... Perfection!
4. Fat Bob's Smokehouse, located at 41 Virginia Place in Buffalo has a 4.5-star Google rating. Jay Josker, a lifelong Buffalo-native, recommends Fat Bob's in his article on the Visit Buffalo Niagara website,
Buffalo's BBQ joint serves up the biggest wings I've ever seen, straight off the pit, and evenly coated with a layer of thick sauce. Take your pick between the standard hot, medium and mild or one four different BBQ sauces.
5. Buffalo Wing Kings is located at 484 Elmwood Avenue in Buffalo. It has a 4.3-star Google rating. Here are some of the Google reviews,
Devin Finan
Wing Kings takes customer service and food quality to the next level. Their staff is really communicative and friendly, and it's really clear that they put tremendous effort into each order to make sure everything comes out perfect. Since ordering for the first time a couple weeks ago I've ordered from Wing Kings three more times and my food has been hot, fresh, and delicious each time.
Roberto Morales
Staff is always friendly and the wings are always amazing. We ordered wings for lunch and it was ready in 15 minutes
Nicholas Fetzner
Best wings I have ever had! Stopped here on a road trip and it was well worth the detour. The wings were cooked to perfection, nice and crispy with juicy chicken inside. They had more flavors than I have ever seen, and the ones we picked were better than any of the big chain equivalents.
6. Nine-Eleven Tavern is located at 11 Bloomfield Avenue in Buffalo. It boasts a 4.5-star rating on Google. In his Visit Buffalo Niagara article on wings Buffalonians love, Jay Josker said,
The secret is out, South Buffalo. No place received more votes in my unofficial social media poll than Nine-Eleven. Oh GAWD, People are so passionate about Nine-Eleven they sent me pictures of wings from this place. And they didn't disappoint.
Some of Google reviews second that sentiment,
A.R. T
The wings were definitely the star!! They are truly delicious and crispy, saucy. Finally excellent wings in Buffalo !! And yes I've tried Andchor, Wingnutz and Duffs.
Erick Mock
Some of the best wings in the Buffalo area! Get the Finn Fries!
Ashley Favata
Hands down, best wings in Buffalo. I moved away years ago and every time I fly back this is my first stop.
Mike Decker
Visited 6/23. Top quality wings in size, flavor and crispness. Unique fresh cut fries. Great staff and experience. I will be back soon.
7 Buffalo Restaurants That Serve All Day Breakfast
7 Restaurants on Delaware Ave. in Kenmore to Try Soon
11 Buffalo Restaurants With Water Views
11 Restaurants in the Buffalo area with water view dining.