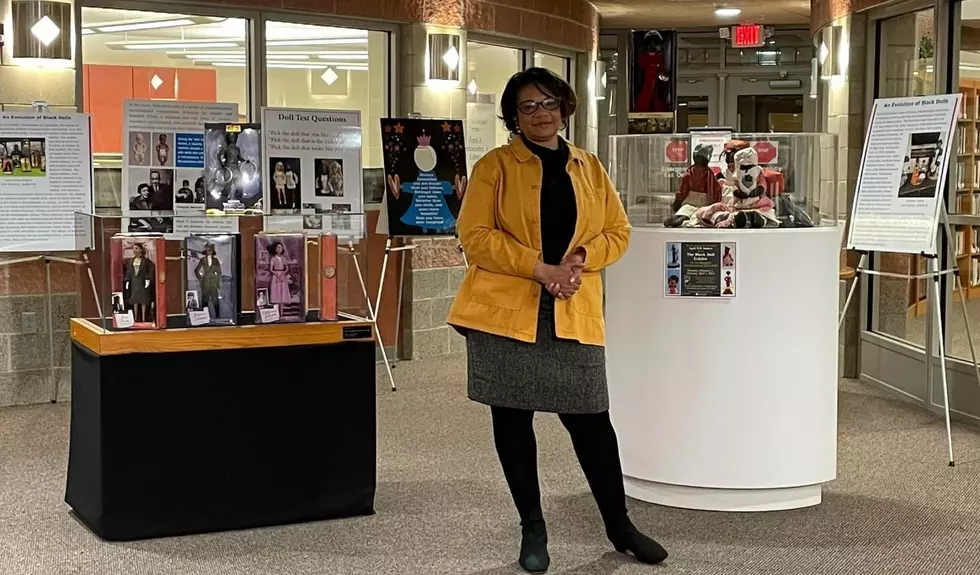 You're Invited To The Free 2023 Black Doll Exhibit In Buffalo
Buffalo & Erie County Public Library
You're invited to visit the annual Black Doll Exhibit at the Frank E. Merriweather, Jr. Branch Library, 1324 Jefferson Avenue in Buffalo. The exhibit is free to attend and open to the public from now through Saturday, April 1, 2023. This year's exhibit celebrates Black History and Women's History months with the theme "We are Beautiful: An Evolution of Black Dolls." The curator of the exhibit, whose personal collection has provided all of the dolls on display, Lisa Jacobs-Watson, said,
---
This year when planning the exhibit, I knew it was important to stress the beauty, strength and empowerment we – young girls, teens, adult and senior women - all have within ourselves. I hope the dolls can bring encouragement and joy to our community.

---

 
The exhibit kicked off with an opening presentation ceremony on Thursday, February 2 at the Merriweather Branch featuring Lackawanna native Connie Porter, author of the award-winning American Girl historical fiction Addy books.
The Merriweather Branch Library is open:
Monday, Friday and Saturday from 10 a.m. – 6 p.m.
Tuesday, Wednesday and Thursday from 12 noon – 8 p.m.
Sunday 12 noon – 5 p.m.
The Library will be closed on Presidents' Day, Monday, February 20.
For more details call: 716-883-4418 or visit www.BuffaloLib.org.
The Buffalo And Erie County Library Has Tons Of Black History Programs
- Feb. 3 at Central Library: Together as One Speaker Series: Buffalo African American Museum and
Michigan Street African American Heritage Corridor
- Feb. 7 via Online: SCORE Webinar: How to Find Funding Opportunities for Black-Owned Businesses
- Feb. 7 at Merriweather Library: Freedom is not Free: Letters from African American WWII Soldiers
- Feb. 10 at Central Library: Together as One Speaker Series: Michigan Street Baptist Church and Nash
House Museum
- Feb. 10 via Online: USPTO Webinar: 2023 Black Innovation & Entrepreneurship, Part 1
-Feb. 11 at Merriweather Library: Buffalo Genealogy Association of the African Diaspora Meeting
- Feb. 11 at Central Library: Arts for Learning WNY: Greetings from Guinea w/ Mohamed Diaby
- Feb. 14 at Lake Shore Public Library: Zeneta & Zaire's Book Club
- Feb. 14 via Online: USPTO Webinar: 2023 Black Innovation & Entrepreneurship, Part 2
- Feb. 14 at Merriweather Library: Lecture: Andrew Jackson Smitherman: A Pen Warrior In Defense
of his People
- Feb. 17 at Hamburg Library: Director's Book Club: Their Eyes Were Watching God
- Feb. 17 at Central Library: Together as One Speaker Series: Colored Musicians Club
- Feb. 18 at Merriweather Library: Colored Musicians Club Community Meeting
- Feb. 18 at Clarence Library: Lecture: Race: The Power of an Illusion
- Feb. 19 at Merriweather Library: African American Read-In
- Feb. 21 at Central Library: Zeneta & Zaire's Book Club
- Feb. 21 via Online: IMAGINE Buffalo Series with Dr. Eva M. Doyle
- Feb. 21 at Merriweather Library: Lecture: WUFO 1080 Radio Sounds of the Civil Rights Movement
- Feb. 23 at Merriweather Library: Zeneta & Zaire's Book Club
- Feb. 24 at Merriweather Library: Honoring the Military Contributions of African Americans
- Feb. 24 via Online: USPTO Webinar: 2023 Black Innovation & Entrepreneurship, Pt. 3
- Feb. 25 at Lancaster Library: Zeneta & Zaire's Book Club
- Feb. 26 at Merriweather Library: Lecture: Old Time Religion
- Feb. 27 at Lake Shore Public Library: Book Club: The Underground Railroad
- Feb. 28 at Merriweather Library: Lecture: Colored Musicians Club: Preserving & Promoting the
Legacy of African American Music
5 Locations That Are Important to Black History in Buffalo
Black Lives Matter Art