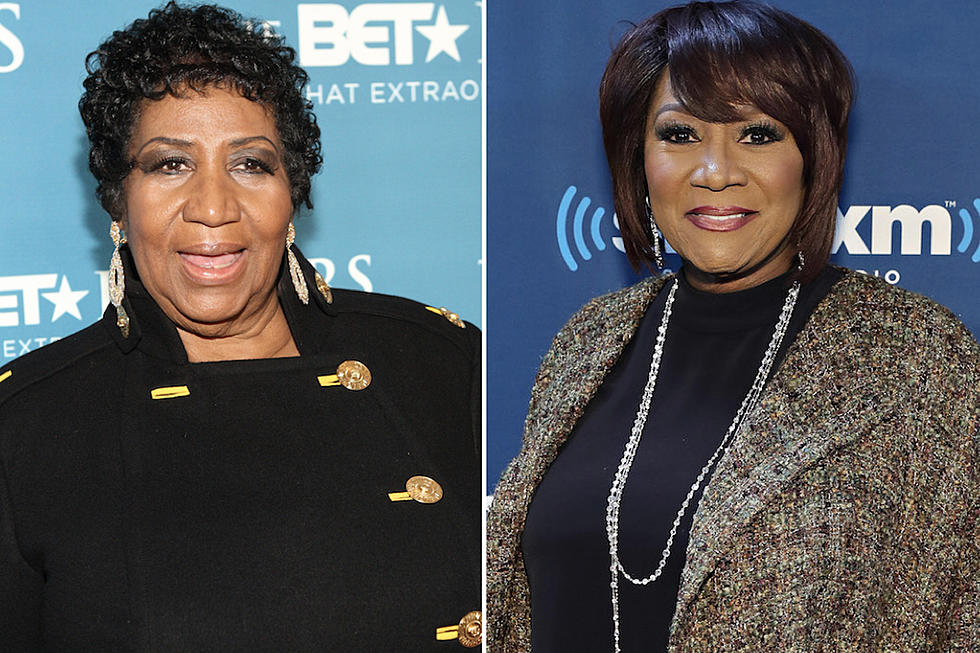 Was There a Feud Between Aretha Franklin and Patti LaBelle?
Bennett Raglin / Cindy Ord, Getty Images
On Friday (Aug. 31), the funeral for the undisputed Queen of Soul Aretha Franklin will be held at Greater Grace Temple in Detroit. A slew of artists have been tapped to perform at the memorial service including Stevie Wonder, Chaka Khan, Bishop Marvin Sapp, Jennifer Holiday, Fantasia, Yolanda Adams, Shirley Caesar, Jennifer Hudson and many others.
Since the legendary soul singer's death last week from pancreatic cancer, tributes have been pouring in from both fans and music artists alike. But Patti LaBelle's touching tribute to Franklin was full of love and compassion.
"I am deeply saddened about the passing of the Queen of Soul and my sister in song, Aretha Franklin," LaBelle wrote in a statement via Twitter. "Today the world has experienced a tremendous loss. Aretha was a rare treasure whose unmatched musical genius helped craft the soundtrack to the lives of so many. My sympathy, love and prayers go out to her family, loved ones and fans around the globe."
LaBelle's statement was a shock to some fans because the two divas reportedly had a long-standing feud with each other -- much of which was instigated by the media. Although both have publicly denied it, the internet never forgets.
No one seems to know how their feud initially started, but many are quick to point to Franklin delivering epic shade at LaBelle before her performance at the Women of Soul event at the White House in March 2014. In the video below, you can see Franklin walking out and waving to the audience but when she notices Patti, she refuses to shake her hand and walks away as if she didn't exist.
LaBelle brushed off the incident when asked about it by Andy Cohen on an episode of Watch What Happens Live. The "New Attitude" singer insisted that she didn't see Franklin's snub her and blamed it on another person who happened to be wearing a green coat.
Watch Aretha Franklin Deliver Epic Shade at Patti Labelle
The website reported that LaBelle was charged with assault and battery after confronting Franklin, apparently upset over how the Queen of Soul "threw epic shade" at her. Clearly, the outlet was satirizing the White House incident and there is a disclaimer at the bottom stating its posts are for "entertainment purposes only." But for Franklin, it was no laughing matter.
In a statement to the media, Franklin wrote, "I've never heard anything crazier – regarding myself and Patti allegedly fighting on March 20, in Atlanta. On March 20, I was in New York City readying for my birthday patty (Sorry. LOL. Laughing at my typo error). I meant PARTY, which we all had one fabulous time. Patti and I are cool and we always have been. I enjoyed her at the White House. Classic Patti."
For the record, Franklin and LaBelle are known for delivering major shade to other artists (like the true divas that they are) so it's not out of the realm of possibility that they might have a competitive - not vindictive - feud with each other.
But in the end, LaBelle's heartfelt tribute to Franklin squashes any notion of a riff between the soul icons. We don't see LaBelle's name on the list of performers at Franklin's funeral. However, we hope that Clive Davis extends an invitation for Ms. Patti to perform at the "Clive Davis Presents: A Tribute to Aretha Franklin" concert, which will take place on Nov. 14 at Madison Square Garden in New York.
Now that would be truly awesome.