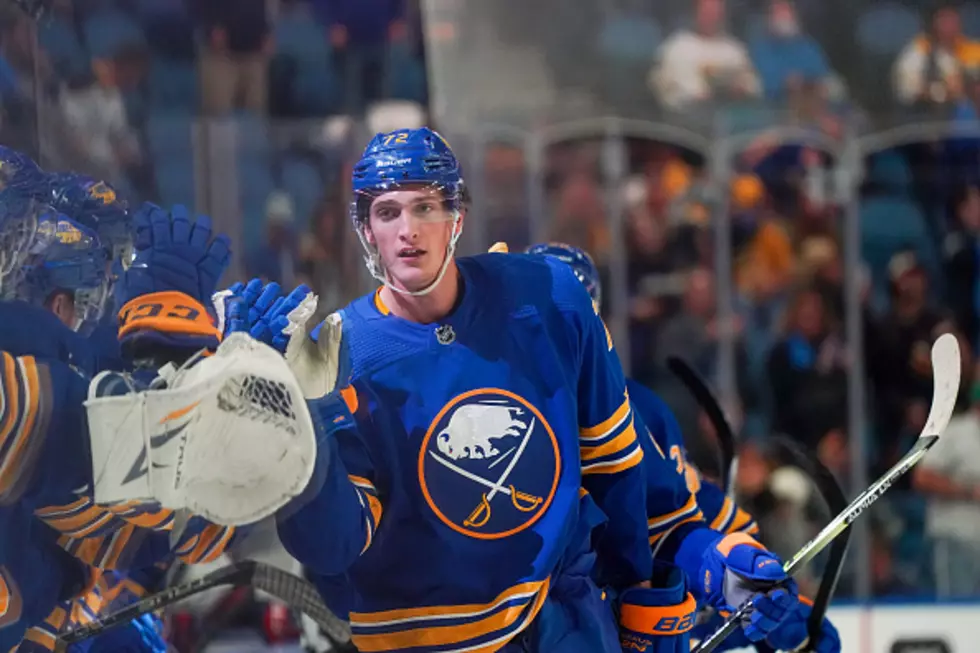 Best Game Ever For a Buffalo Sabres Player Happened on Halloween
Getty Images
The Buffalo Sabres are currently second in the Atlantic Division, after their impressive win over the Detroit Red Wings on Monday night, 8-3, in what was probably the most dominant game the Sabres have played in a few years.
The goaltending from Eric Comrie was excellent and the young Sabres forwards had their way with the Red Wings defenseman.
The big story from the game was the play of forward Tage Thompson.
Thompson scored a hat trick and totaled six points against the Red Wings. It's the most points scored from a Sabres player in a single game, since Pat LaFontaine in 1993 against the Winnipeg Jets. Thompson's game is tied for the most points scored by a Sabres player in one game with LaFontaine and a few others, which include Dave Andreychuk and Andre Savard.
It's one point short of the single-game record, set by Sabres great Gilbert Perreault back in 1976.
Thompson didn't just tally six points, he did so in amazing fashion.
Two of his three goals were highlight reels, especially his hat trick goal, which was so incredible it caused the best reaction ever from Sabres defenseman Rasmus Dahlin.
The goal also angered Red Wings goalie Alex Nedeljkovic, who slammed his stick on the crossbar and across the defensive zone ice afterward. It was signs of a very frustrating night for the Red Wings.
Thompson signed a seven-year contract extension for $50 million in the off-season, which right now looks like it will be a bargain for Buffalo.
Thompson has six goals and 12 points in just nine games and is looking to score 40-plus goals this season, as the Sabres appear to be ahead of schedule in battling for the playoffs.
Top 10 Most Underrated Buffalo Sabres of All-Time
22 Famous Buffalo Sports Phrases Every Die-Hard Bills and Sabres Fan Knows
Being a sports fan in Buffalo is sometimes like knowing a different language. Here are 22 of our favorite Buffalo sports phrases you already know if you're a huge fan! And if you're new here, here's how to catch up.
Buffalo Sabres Captains Since 2000