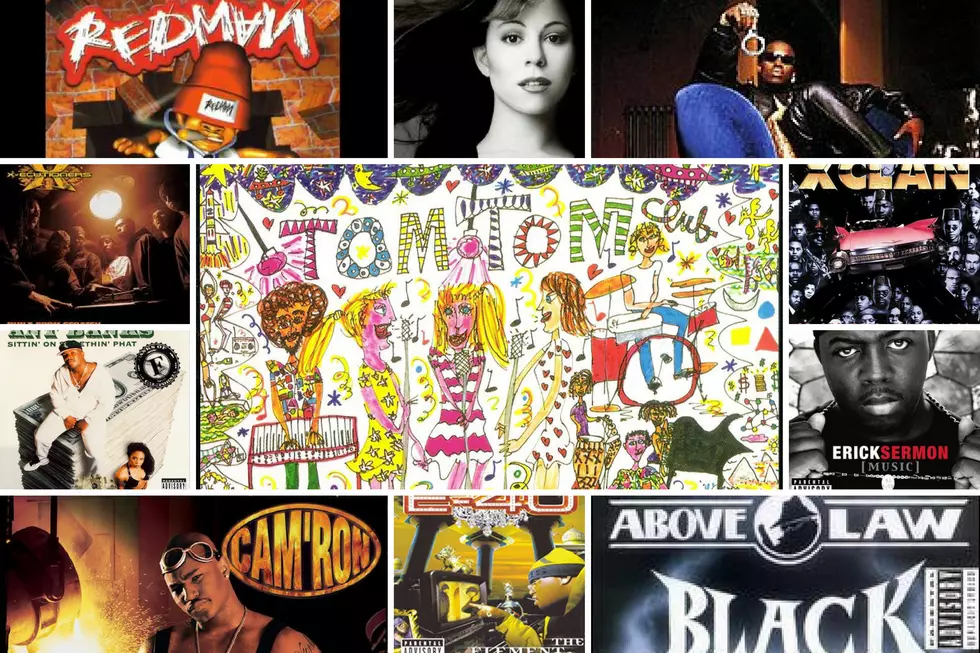 Sampled: Tom Tom Club, "Genius of Love" (1981)
iTunes
The sassy singing, rhythms and basslines of Tom Tom Club's most pivotal piece of music, "Genius of Love" was a crossover smash that hit the disco, soul and pop charts in 1981. The song later became firmly rooted in the American hip-hop lexicon after being sampled approximately eleventy-billion times — especially in the Nineties. The group, comprised of Talking Heads members (and couple) Chris Frantz and Tina Weymouth, love that their song became such a sample magnet, and definitely have their favorites.
"There's only one gangster-style version that we didn't allow, and it was just because it was so overtly horrible and violent," Chris Frantz told the now-defunct music magazine CMJ in 2000. "It was stuff like, 'it's all about the bitches' and 'throw the n***** in the trunk.' It was just too far beyond — I think that's the only time we denied approval. I think that we're pretty open-minded about it . . . in most cases we're delighted with the results."
"It's just paint," his partner Tina Weymouth added in regards to how they feel about sampling. "It's just that the colors are already mixed."
Let's take a closer look at some of the more notable songs that have sampled "Genius of Love":
X-Clan, "In The Ways of the Scales" 
To the East, Backwards  (1990)
Perhaps the most Afrocentric use of "Genius of Love," Brooklyn's X-Clan sampled Tom Tom Club's beats and looped the famous lyrics, "There's no beginning and there is no end" as a hook.
Ant Banks, "Roll 'Em Phat"
Sittin' On Somthin' Phat (1993)
Ant Banks produced a lot of Too $hort songs and sampled 1990's "Short Dog's in the House" along with "Genius of Love" saying, "Bohannon, Bohannon, Bohannon, Bohannon" in tribute to disco producer Hamilton Bohannon for "Roll 'Em Phat."
"I wouldn't really give him a lot of credit for his creativity — I just liked the minimalist nature of it," Frantz said.
Above The Law, "V.S.O.P."
"Genius of Love" and "I Can't Go for That" by Hall & Oates brilliantly collide on this Nineties G-funk classic from Pomona's Above The Law produced by the group's Big Hutch a.k.a. Cold 187um. It's the opposite of minimalist.
E-40 featuring Levitti, "Ballin' Outta Control"
The Element of Surprise (1994)
Producers Mike Mosley and Sam Bostic zeroed in on lesser used instrumental elements of "Genius of Love" to build a spitting soundtrack for Bay Area ambassador E-40.
Producer Dave Hall sampled "Genius of Love" for Mariah Carey's "Fantasy," a worldwide hit that was inescapable in 1995 — especially after Ol' Dirty Bastard hopped on the Puff Daddy-helmed remix.
"She must have been quite a little girl when the song came out, like eight or 10-years-old," Weymouth recalled of Mariah's affection for "Genius of Love." "I think it reminds her of a happy time in her life, and what she's done with it is very sweet."
Mark Morrison, "Return of the Mack"
Return of the Mack (1996)
Still a highly-requested song at parties, "Return of the Mack" was a No. 2 hit on the Billboard 200 and an international No. 1 for the controversial British R&B singer Mark Morrison, who faced criminal charges at the height of his Stateside fame.
"His badass persona was not simulated, let's say," Jake Nava, who directed the music video for "Return of the Mack," told Complex in 2016.
Cam'ron featuring Jim Jones and Fredericka, "Me, My Moms & Jimmy"
Confessions of Fire (1998)
Produced by Daven "Prestige" Vanderpool from Bad Boy's in-house production squad The Hitmen and featuring Cam's mom Fredericka, the late singer Kenny Greene from R&B group Intro and Jim Jones, "Me, My Moms & Jimmy" slows down the "Genius of Love" instrumental for some classic Dipset flamboyance.
Redman, "Brick City Mashin'"
Doc's Da Name 2000 (1998)
Hear "Genius of Love" as freaked in genius fashion by none other than Erick Sermon, who takes the first few notes, smacks them up, flips them and rubs them down for Redman to rock.
Erick Sermon featuring Olivia, "Genius E Dub"
The Green-Eyed Bandit wasn't done messing with "Genius of Love," which popped up as the basis for "Genius E Dub" with singer Olivia the next year on his solo album Music. The song was so nice, he had to use it twice.
The X-Ecutioners featuring Biz Markie, "Genius of Love 2002"
Frantz and Weymouth jumped on the X-Ecutioners remake of "Genius of Love," with Weymouth singing anew and Biz Markie taking the original song's post-jail activities over the top. Spurred by an idea from the late X-Ecutioners member Roc Raida, the renowned DJ crew used vinyl copies of the original record to scratch over their new cover version.
"Roc Raida came up with some initial ideas with the song using turntables — scratching the synths, vocals, drums etcetera and layering it all into a different mosaic," Rob Swift of the X-Ecutioners told The Boombox exclusively. "He passed the idea along to the rest of the group and we helped carry his vision for what he wanted to do with the song further."
Remembering the OTHER Female R&B Voices of the '90s