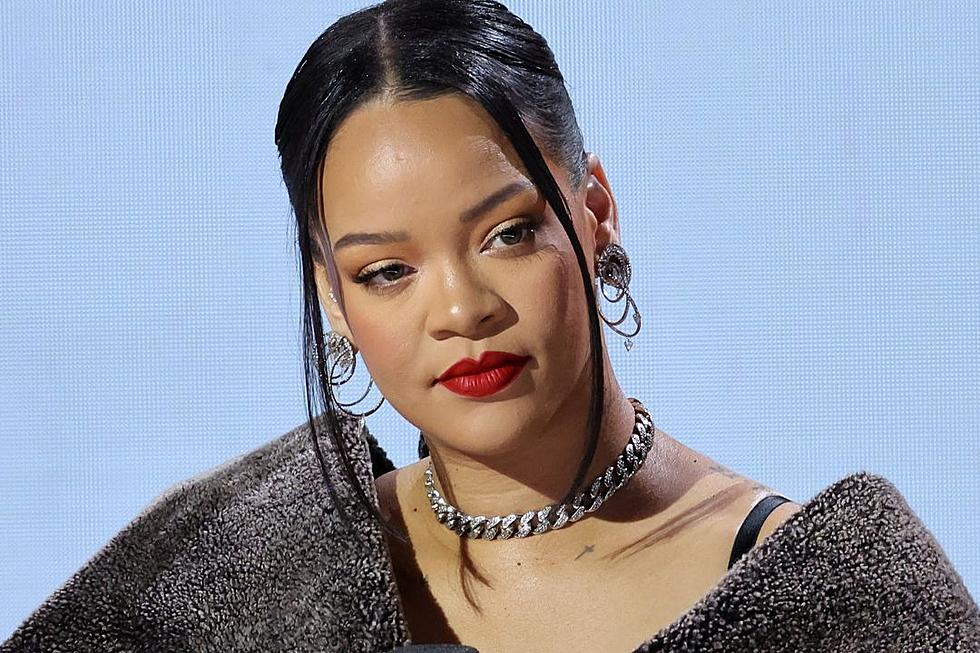 Rihanna Responds After Receiving Backlash for Calling Her Baby 'Fine'
Mike Coppola, Getty Images
Rihanna clapped back after some criticized her for calling her baby "fine" on Instagram.
On Wednesday (Feb. 15), the music superstar shared some photos from her British Vogue cover shoot featuring her baby boy.
The photos show Rihanna laying in bed with her 9-month-old son.
"my son so fine! idc [i don't care]," she captioned the post.
"How crazy both of my babies were in these photos and mommy had no clue," she added, referencing her second pregnancy.
In the comments sections, some users questioned the pop star's use of the word "fine" to describe her baby boy, accusing her of sexualizing the child. Some called it "weird," "crazy," "strange" and "not it," while one person implored the singer to "think of a different word next time."
"Is it just me or is it weird to describe a child as 'fine,'" one user commented.
"I love Rih... but imagine a father calling his baby girl 'fine'?! Weird AF," someone else wrote.
"Calling your baby fine is high key sick I don't get it," another shared.
"That caption is really problematic. I wish you were better," someone else wrote.

"Riri FINE ISN'T THE RIGHT WORD FOR A BABY," another claimed.

"Riri ik u did not just say 'fine,'" someone commented, which prompted Rihanna to double down with "AF [as f--k]" in a response comment.
When asked "who calls a baby fine," Rihanna allegedly responded, "His mother!"
According to screenshots on Twitter, she also allegedly told another user who commented to "keep your lil cougar paws away from him and we good!"
Meanwhile, others called out Rihanna and British Vogue for what they perceived to be a "satanic," "creepy," "gothic" and "dark" photo shoot.
"It's giving demonic," one person wrote, while another claimed it reminded them of Rosemary's Baby.
"The last photo especially creeps me out. definitely screams dark," one user commented.
"So what did you do for satan to allow this? How many sacrifices?" another asked.
"Anyone else get some dark vibes coming from these? For some baby pictures, usually parents like to go for bright and happy themes. This feels like the Adam's [sic] family," someone wrote.
"She has openly said she worships the devil, and if you ever needed proof.. here it is. They are not hiding anymore. Literally everything about this screams demonic," another claimed.
During the Super Bowl on Sunday (Feb. 12), Rihanna, who headlined the 2023 Halftime Show, revealed she is pregnant with her and A$AP Rocky's second child.
Speaking to British Vogue, Rihanna said her "wish would be I would like to have more kids but whatever God wants for me, I'm here."
Celebs Who Kept Their Children Away From the Public