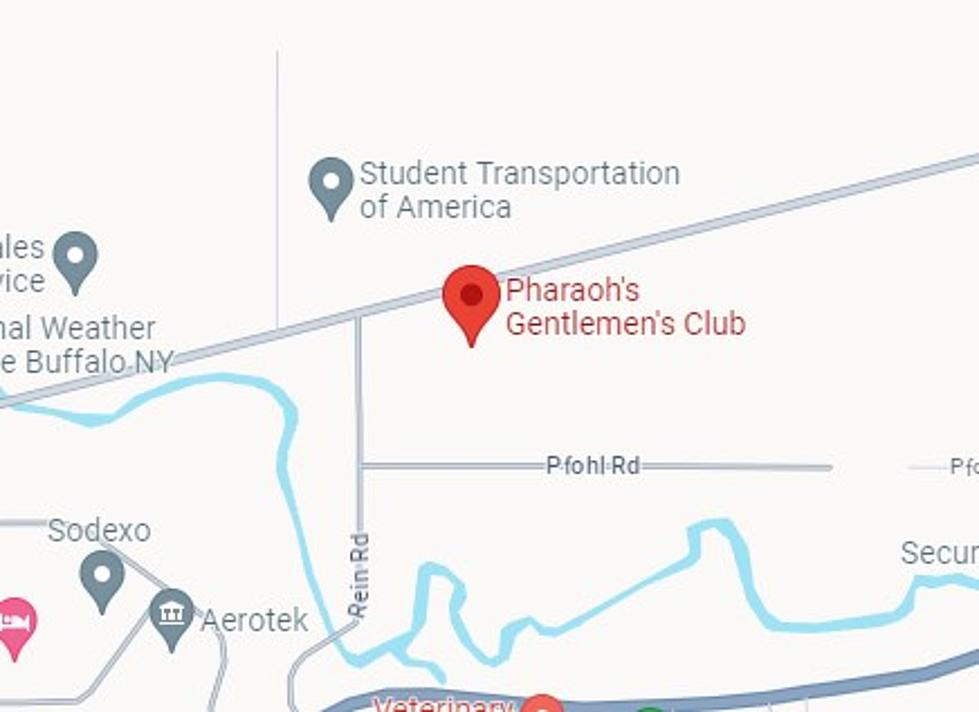 Multiple People Arrested At WNY Strip Club For Organized Crime
Google Maps
A strip club in Western New York is at the center of an investigation into organized crime. Multiple arrests have been made.
WNY Strip Club Owner, Alleged Mob Affiliate, Facing Federal Charges
On March 1, 2023, a Cheektowaga gentleman's club owner was in the hot seat. Peter Gerace, Jr., the owner of Pharoah's Gentlemen's Club, was arrested on federal charges.  Gerace was arraigned in Fort Lauderdale, Florida.  He is facing a charge of conspiracy to defraud the United States, according to WIVB. Federal officers raided the club in December of 2019.  The brothers are linked to John Bongiovanni, a Western New York Drug Enforcement Agent, who was implicated in another mafia incident.
Buffalo Judge Who Stepped In Front Of Train Found Dead, Commits Suicide
A Buffalo judge who stepped in front of a train was under investigation by the Federal Bureau of Investigation has committed suicide at the age of 61. It's unclear how he ended his life.
On February 28, 2021, acting Supreme Court Justice John Michalski allegedly attempted to kill or injure himself by stepping onto a train track and lying down. He was hit by the train, which was caught on video by train watchers. The judge suffered a serious leg injury in the incident.
On Thursday, March 24, 2022, the home he shared with his wife was raided by the FBI, Amherst Police, and officials with the New York Attorney General's Office were seizing items from the home of Michalski.
Judge Michalski has been involved in controversy in recent years. The Buffalo News reported that the feds were investigating his relationship with Peter G. Gerace Jr., the owner of Pharaoh's Gentlemen's Club, who was under investigation and has been charged with the distribution of drugs and conspiracy to commit sex trafficking. He also allegedly bribed former disgraced Drug Enforcement Administration agent Joseph Bongiovanni.
Both Gerace and Bongiovanni have been charged by the U.S. Attorney's Office with conspiracy to distribute controlled substances and defraud the United States. This story is very bizarre and we may never get the full scope of it now that Judge Michalski has killed himself.
Pharaoh's Gentlemen's Club At Center Of Organized Crime Scandal
Two additional people have recently been arrested in connection to alleged organized crime at Pharoah's Gentlemen's Club. According to WIVB, federal authorities made the arrests related to the high-profile investigation. Jessica Leyland, 36, and Andrew Clements, 35, were arrested. Leyland was charged with three counts of witness tampering and five counts of possession of cocaine with the intent to distribute.
Federal authorities arrested two more people in the continuing fallout related to a high-profile investigation of Italian Organized Crime in Buffalo, a Cheektowaga strip club owner, and a retired DEA agent accused of shielding criminals from detection for bribes. Clements is charged with four counts of possession of cocaine with the intent to distribute.
I have the feeling there will be more arrests in this ongoing saga!
The 8 Most Infamous Mafia Crime Family Bosses in Buffalo [List]
Everybody is in the Bills Mafia, but there were real mafia bosses and families right here in Buffalo. The Buffalo Crime Family, also known as the Magaddino Crime Family or The Arm, began in Buffalo in 1910 and may still be active today. Their territory was said to include Buffalo, Niagara Falls, Syracuse, Rochester, Utica, Ontario, Northwest Pennsylvania, and Las Vegas. The family was involved in extortion, bookmaking, drug trafficking, loan-sharking, prostitution, gambling, racketeering, labor racketeering, conspiracy, and murder.
Credit: Everything Network via Youtube
1. Angelo "Buffalo Bill" Palmeri - The First Known Mafia Boss In Buffalo
Angelo Palmeri, who was known as the first Mafia Boss here, was also known as Buffalo Bill. He was from the Sicilian town of Castellammare del Golfo. In 1912, he stepped down and became an underboss.
2. Stefano "The Undertaker" Magaddino - An Original Member Of The National Commission
Stefano Magaddino, also known as The Undertaker, was born October 10, 1891, in Castellammare, Sicily. After being shot at in Brooklyn by the Buccellato clan, Magaddino relocated to Buffalo. In Western New York, Magaddino set up shop and started a bootlegging business. He allowed the Cleveland Syndicate and Moe Dalitz's "Big Jewish Navy" to bring illegal alcohol through Buffalo to get to Canada. When any of his rivals or regular citizens got in the way and needed to be "disposed of," he also owned the Magaddino Memorial Chapel funeral home.
Video Credit: Jerry Genova via Youtube
3. John "Giovanni" Charles Montana - Buffalo's "Man of the Year"
John Charles Montana, was born Giovanni Montana, in Montedore, Italy. He wasn't your ordinary mobster, he actually was heavily involved in politics, and was even named Buffalo's "Man of the Year" by The Erie Club, which ironically, was an association of Buffalo police officers. Montana was elected to the Buffalo city council in 1928. He was re-elected in 1930. He owned the largest taxi company in WNY. His true mob background was exposed when police raided a mob ranch in Apalachin, NY, and uncovered one of the most notable Mafia meetings in history. He died in 1967.
Video Credit: Bill Yuhnke via Youtube
4. Joe "The Wolf" DiCarlo - Public Enemy Number One In Buffalo
Joe "The Wolf" DiCarlo had been arrested 26 times by 1945. He was labeled by the Buffalo Police Commissioner as "Public Enemy Number One" in Buffalo.
Video Credit: Thomas Hunt via Youtube
5. Albert and Vito Agueci
The Agueci brothers were born and raised in Sicily. They ran their racket in Buffalo during the early 1960s and were mainly involved in drug trafficking. Magaddino allowed them to operate in WNY, but they had to pay him a percentage of their profits. On November 23, 1961, Albert Agueci's body was found at a farm near Rochester - quite possibly murdered at the request of Magaddino. He was horribly mutilated, including having about 30 pounds of flesh carved from his body, his jaw was shattered, half of his teeth were knocked out, he was strangled, soaked in gasoline, and set on fire. Vito Agueci was convicted on the narcotics charges and sent to the pen in ATL.
6. Fred "Freddie Lupo" Randaccio
Fred "Freddie Lupo" Randaccio was born on July 1, 1907, in Palermo, Sicily. By the mid-1950s, Randaccio was the underboss of the Buffalo Mafia and was running the day-to-day operations of the Buffalo Mafia. He was promoted to capo in the 1940s and controlled the local and Southern Ontario rackets. He was one of the many key Mafia members arrested during the Apalachin raid by the FBI in 1967. He was later arrested on June 29, 1967, on charges of planning an armed robbery. He was convicted and sentenced to a 20-year prison term. He spent 12 years in prison and was paroled on June 28, 1979. After his prison stint, he was no longer a prominent member of the Buffalo Mafia.
7. Joe Bonanno
Joseph Charles Bonanno, Sr. was born in Sicily on January 18, 1905. He was Magaddino's cousin, was operating in Canada in the 1960s. Even though they were La Familia and blood family, Magaddino believed Bonanno was trying to creep into his Canadian territory. On October 21, 1964, Bonanno was kidnapped by Magaddino's brother, Antonino, and his son. He ended up being released unharmed. After the internal conflict, The Commission ruled that Bonanno had forfeited his position by not attending a meeting, leading to the "Banana War," which lasted from 1964 to 1969.
Credit: Daniel Torbitt via Youtube
8. John Cammilleri
John Cammilleri was born in Campobello di Licata Gigenti, Italy in 1905. His family moved to Buffalo when he was five years old. It was during the Great Depression that Cammilleri got into crime. In 1933, he was sentenced to 20 years in Elmira Prison. He got lucky and was paroled 6 years later in 1939. He returned to Buffalo and worked as a lieutenant for Stefano Magaddino. He was shot and killed On May 8, 1974, outside the Roseland, a popular Italian restaurant on Buffalo's west side. The FBI claims that his murder sparked 15 mob-related deaths and it remains unsolved.