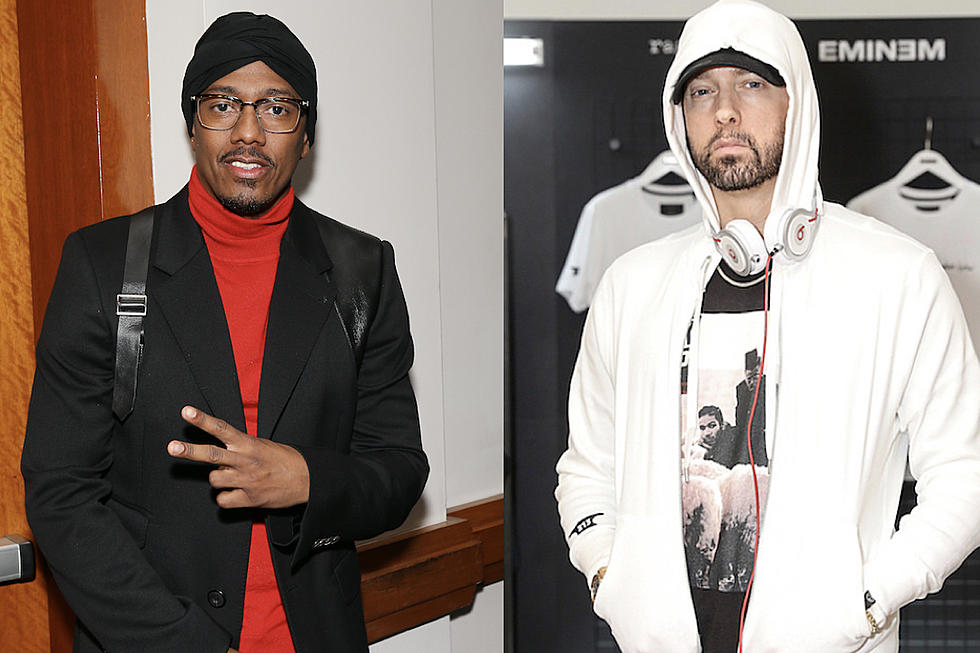 Nick Cannon Plays Eminem Diss Track on Repeat 20 Times During Taping of Wild'n Out: Report
Michael Tran / David M. Benett, Getty Images (2)
UPDATE:
Contrary to TMZ's report, Nick Cannon tells XXL he did not play his Eminem diss track on repeat upwards of "20 times" during a recent taping of his show Wild'n Out.
"I didn't do this!" Nick confirmed via Twitter. "But I should've! LOL."
Check out Nick's tweet below.
Nick is seemingly having fun going at Eminem, who first rehashed their decade-old beef on the new Fat Joe track, "Lord Above." According to a TMZ report published on Sunday (Dec. 15), Cannon recently played his Shady diss track, "The Invitation," on repeat during recent tapings of his Wild'n Out show in Atlanta. The celebrity news site captured footage of Nick on the ones and twos during one instance and, according to those in attendance, he played the song on repeat at least "20 times."
According to the report, Nick not only continuously ran the track back for VIP guests, staff and cast members, but he also played the track back to back for fans in attendance. The site's sources tell them they think it is likely Eminem accepts the challenge and will come on the show to compete. When he does, he will get a similar dose of the track.
"The Invitation" was one of two Eminem diss tracks Nick dropped this week with the help of his Black Team members and Suge Knight. The second was "Pray for Him." Shady has yet to respond on wax. He has hopped on Twitter to call out Nick for a particular line where Nick insinuates Em's chauffeur has a tape of him having gay sex.
"U mad bro? Stop lying on my dick," Marshall wrote in the tweet. "I never even have a chauffeur, you bougie f*ck."
"I demand an apology Nicholas," he continued in a later tweet, "you've made my gardener so jealous!"
See Hip-Hop Fans Name The Most Disrespectful Diss Track of All Time