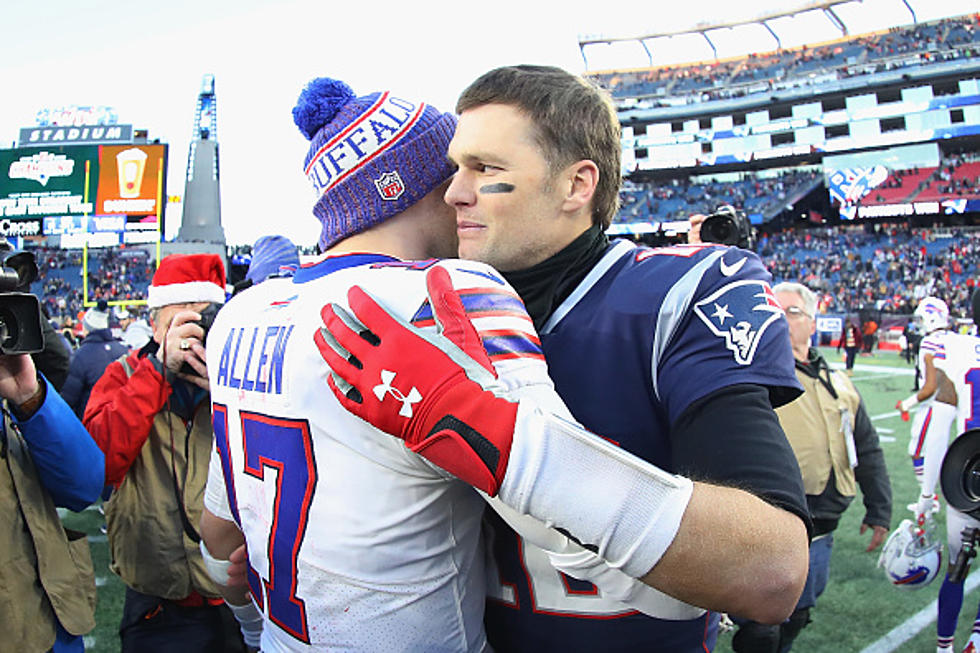 Josh Allen Calls Out Tom Brady With Adam Sandler GIF [TWEET]
Getty Images
We're a week away from Buffalo Bills quarterback Josh Allen teaming up with Kansas City Chiefs quarterback Patrick Mahomes in "The Match."
"The Match" is a two-on-two golf tournament between Allen and Mahomes against Green Bay Packers quarterback Aaron Rodgers and Tampa Bay Buccaneers quarterback Tom Brady on TNT next Wednesday, June 1st at 6:30 pm. The event will be held in Las Vegas.
Allen admitted after Tuesday's OTA practice that he "would be lying if he wasn't nervous."
All four quarterbacks love the game of golf and all four are pretty good players as well, so it should be fun for all NFL fans to watch them battle against each other on television.
The quarterbacks had some fun on Twitter on Wednesday.
Tom Brady tweeted out a video that shows him basically nailing a shot (maybe an eagle), but many people question the validity of the shot. A drone caught the golf shot from Brady as it happened.
Mahomes quote tweeted it saying that it was too bad Brady wasted it a week early.
Allen had a rather unimpressed response, using an Adam Sandler movie (Mr. Deeds?) to say "bull" on Brady's shot.
The shot doesn't appear to be that far away after re-watching it, so maybe it was real. Either way, Brady's form looked good on that swing, so it's clear he plays enough golf to give Josh and Patrick a run for their money.
Josh is clearly having some fun with Brady, but I love that he wasted no time to take a jab at him after that tweet.
Pro athletes having sun with social media is always a plus.
11 Pictures of Why We Love Josh Allen
Buffalonians Would Hate To See Josh Allen Endorse These Companies
57 Fun Facts You Might Not Know About Buffalo
You might know a lot of these, but there is no way you know all 57 things. If you did, I would be impressed.
Here's a list of 57 fun facts that single Buffalo out from the rest of the country.