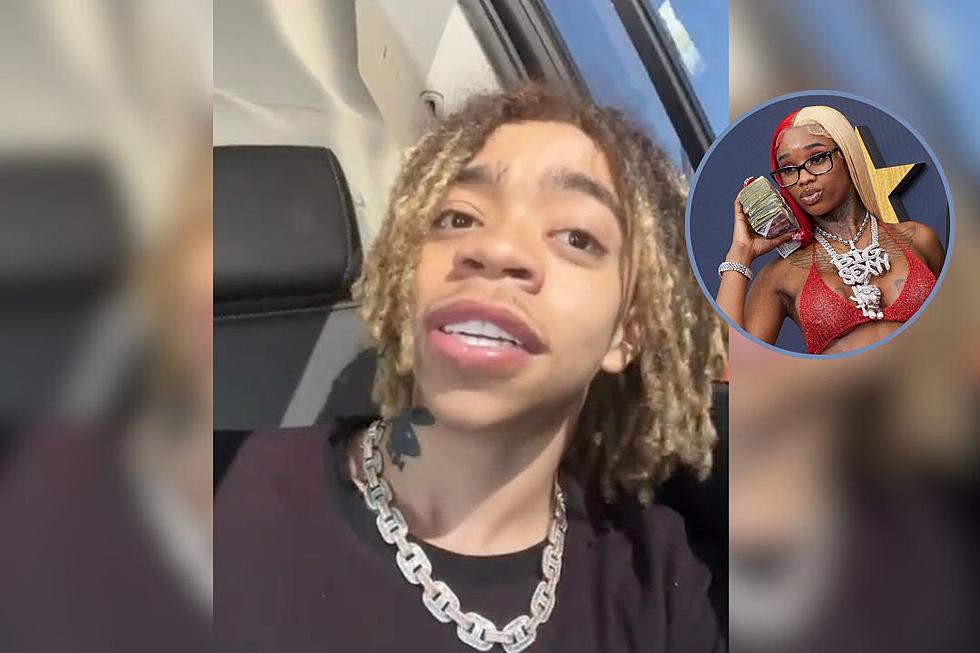 T.I.'s Son King Claims Sexyy Red Wanted to Charge Him $50,000 for a Feature
the_next_king10/Instagram/Bennett Raglin/Getty Images
T.I.'s son King Harris claims Sexyy Red and DaBaby wanted to charge him high prices for feature verses.
King Claims Sexyy Red and DaBaby Wanted High Prices for Features
On Saturday (Aug. 19), T.I.'s son King Harris hopped on Instagram Live to air out his frustrations about planning his upcoming 18th birthday party dubbed "Welcome to Wild Fest 2023." King claims that a lot of people are being flaky and leaving him hanging when it comes to helping him with his B-day bash. He also complained about people charging him high prices for various things he wanted for his event.
That's when King went into a tangent and claimed that Sexyy Red charged him $50,000 for a verse and then added that DaBaby wanted $100,000 for a feature verse.
"We hit up [Sexyy Red] but not her directly, but her people [tried to] beat me over the f**king head," he explained. "They are obviously not trying to f**k with a n***a. People just thinking goddamn too much about the money."
"Yeah, they tried to tax me on some $50K type bulls**t," he said about Sexyy's price.
"Like DaBaby tried to charge me for a 100K for a feature one time," he added.
King contends that he wouldn't overcharge anyone that he's friends with and that he often does favors for people without asking for money.
As for his birthday party, the young man has been able to secure performances by Boosie Badazz and his son, Tootie Raww, as well as his father, T.I., for the event, but he is still hoping to attract even bigger names.
Although King balked at Sexyy Red and DaBaby's high prices for features, their asking price appears to be on a low end.
Since the success of his songs like "Suge" and "Rockstar," DaBaby reportedly demands $300,000 for a guest feature. So if King's story is true, the North Carolina-bred spitter was actually giving him a discount.
Meanwhile, other rappers like NBA YoungBoy, Lil Baby and Lil Durk demand upwards of $400,000 for a guest verse. Finally, Nicki Minaj, who has multi-platinum songs and albums under her belt, demands $500,000 for a verse. When the Queens-bred MC hops on a track, the end result is music to her fans' ears.
See video of T.I.'s son claiming that Sexyy Red and DaBaby wanted to charge him high prices for a verse below.
Watch T.I.'s Son King Complain About Sexyy Red and DaBaby' Prices for a Feature
See How Much It Costs for a Verse From Your Favorite Rapper
Any guesses on dollar amounts before you look?