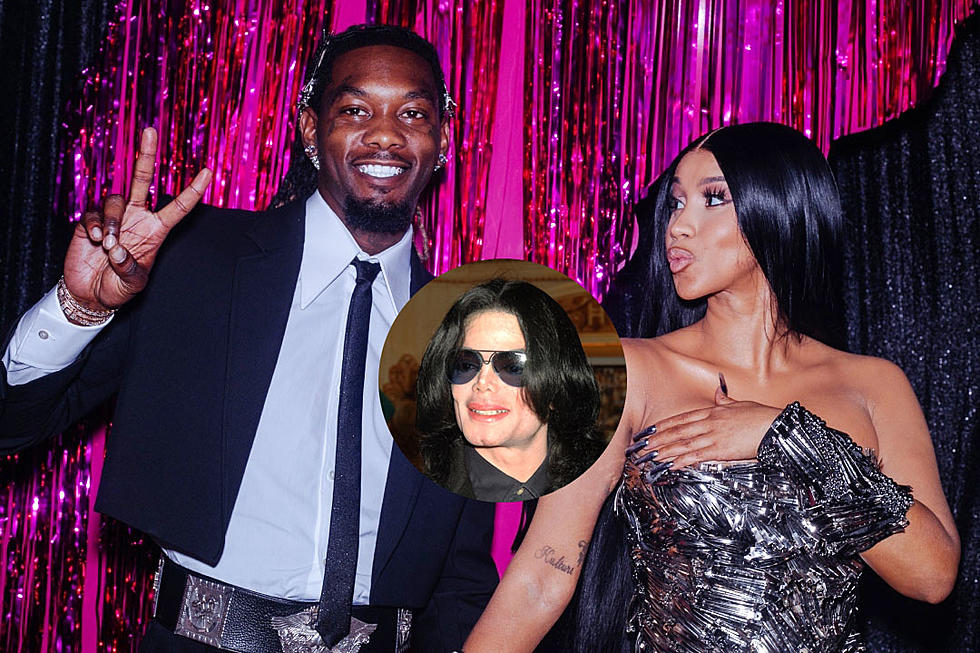 Offset Gives a Closer Look at the Michael Jackson Tattoo That Stares at Cardi B
Catherine Powell/Getty Images for MTV/Dave M. Benett/Getty Images
Offset has given his fans a closer look at the infamous Michael Jackson tattoo that Cardi B claimed stares at her while she performs oral sex on her husband.
Offset Gives a Closer Look at the Michael Jackson Tattoo That Stares at Cardi B
On Wednesday (Sept. 13), Offset gave in to a fan's request and posted a picture of the massive King of Pop tattoo on X, formerly known as Twitter. An X user who goes by @HighYellowHello had asked Set to reveal the tattoo in question during the former Migos member's #AskOffset segment on Wednesday. Offset's tattoo showcases Michael Jackson's face during his "Thriller" music video and sits right above Offset's left hip.
"Here you go guys," Offset wrote in reply alongside a picture of the tattoo, which can be viewed below.
Cardi B Tells Hilarious Story About Offset's Michael Jackson Tattoo
Offset's big reveal of his Michael Jackson tattoo comes after his wife Cardi B stopped by Hot 97 for an interview with Ebro Darden, Laura Stylez and Peter Rosenberg on Sept. 7. During the interview, Cardi told a hilarious story about how the positioning of Offset's ink throws off her performance in the bedroom when it comes to oral sex.
"I really need y'all to see the Michael Jackson tattoo he got on his stomach," she said. "I don't even wanna take it there. I will take it there, but it's just like, y'all really have to see it. Because every single time I, you know like, [imitates oral sex], it just be looking at me. I swear to God. You gotta see that tattoo. The tattoo really be looking at me like, 'Yeahhhh.' I swear to God, y'all gotta see it. I'm not capping. Y'all gon' see when he show it."
Offset was later asked by TMZ if he'd ever get the tattoo removed, which he said would never happen.
Check out Offset's Michael Jackson tattoo below.
See Offset's Michael Jackson Tattoo
Read 10 Wild Stories That Took Place During Hip-Hop Tours