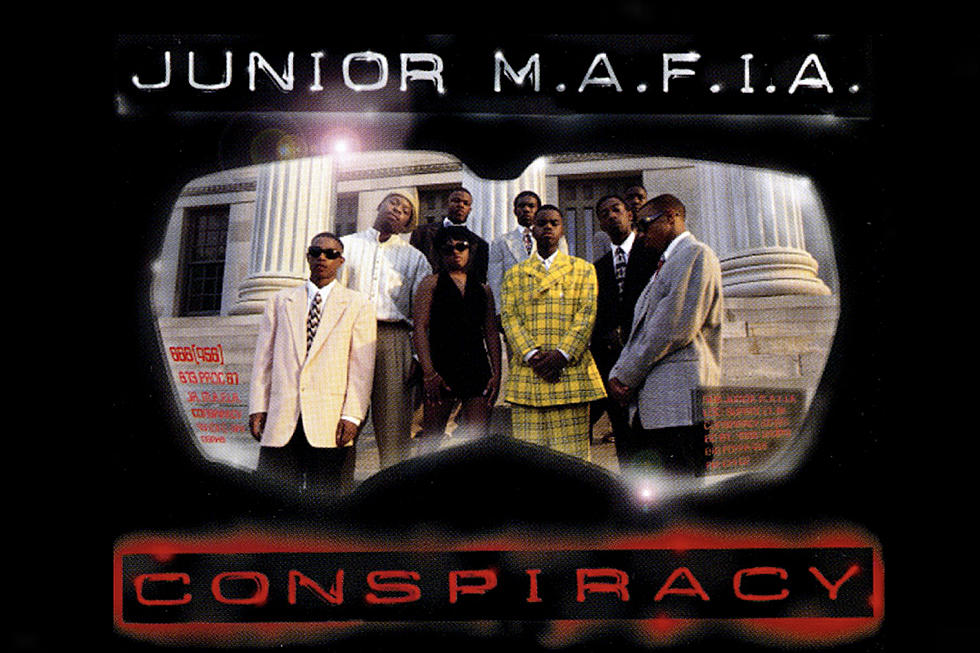 Junior M.A.F.I.A. Drop Their Debut Album Conspiracy – Today in Hip-Hop
UNDEAS Entertainment/Atlantic Records/Big Beat Records
XXL celebrates 50 years of hip-hop with this moment:
Aug. 29, 1995: After releasing his debut album, Ready to Die, in 1994, The Notorious B.I.G. wanted to share his fame and fortune with several of his friends from his Brooklyn neighborhood. Initially, he just wanted to keep his teenage friends off the streets and out of trouble, but his goal evolved into turning them into a successful rap group so they could escape the penitentiary traps of the hood. That group was Junior M.A.F.I.A. and on this day in 1995, they released their debut album, Conspiracy, via Undeas Recordings and Big Beat Records.
Junior M.A.F.I.A. consisted of three separate groups and four solo artists. Lil' Cease, Bugsy, Capone, Chico and Nino Brown were childhood friends who formed the group the 6's; cousins Larceny (aka Banger) and Trife (aka Blake-C) were from the Snakes crew; and Klepto (aka Kleptomaniac), Mr. Bristal, Lil' Kim (the only female artist in the group) and the late Chico Del Vec were the rappers.
"M.A.F.I.A. stood for Masters At Finding Intelligent Attitudes," Trife told XXL in 2002. "We were never into music. Big was the one in music, and he was always dropping our name in songs and onstage. It was Big's way of stating his love for his little guys."
After forming like Voltron to create the supergroup, they started working on their Conspiracy album. With Biggie overseeing the project, the late rhymer ensured the beats were on point and the group's lyrics were tight. After an eight-month recording process, the album was finished.
Conspiracy's first single was the Clark Kent-produced "Player's Anthem," a huge hit featuring Biggie, Kim and Cease. The second single, "I Need You Tonight" features Klepto, Trife, Kim and Aaliyah, was a club banger. The third single, "Get Money," a battle of the sexes track between Biggie and Lil' Kim, became their most popular song.
The album reached gold status (selling under 700,000 copies) on Dec. 6, 1995, according to the Recording Industry Association of America, with "Get Money" and "Player's Anthem" receiving platinum and gold certifications, respectively.
But sadly, tragedy struck at the height of Junior M.A.F.I.A.'s success. On March 9, 1997, Biggie was shot and killed. The group couldn't move forward without Biggie's leadership after his death, so they disbanded. Of the group members, Lil' Kim and Lil' Cease were able to pursue successful solo careers, with the former becoming a major hip-hop icon.
Junior M.A.F.I.A. was a memorable rap group whose impact was short-lived but nonetheless significant.
Watch Junior M.A.F.I.A.'s "Get Money" Video Featuring The Notorious B.I.G. and Lil' Kim Below
Watch Junior M.A.F.I.A.'s "Player's Anthem" Featuring The Notorious B.I.G. and Lil' Kim Below
Watch Junior M.A.F.I.A.'s "I Need You Tonight" Featuring Aaliyah Below
See 20 of the Best-Selling Hip-Hop Albums of All Time