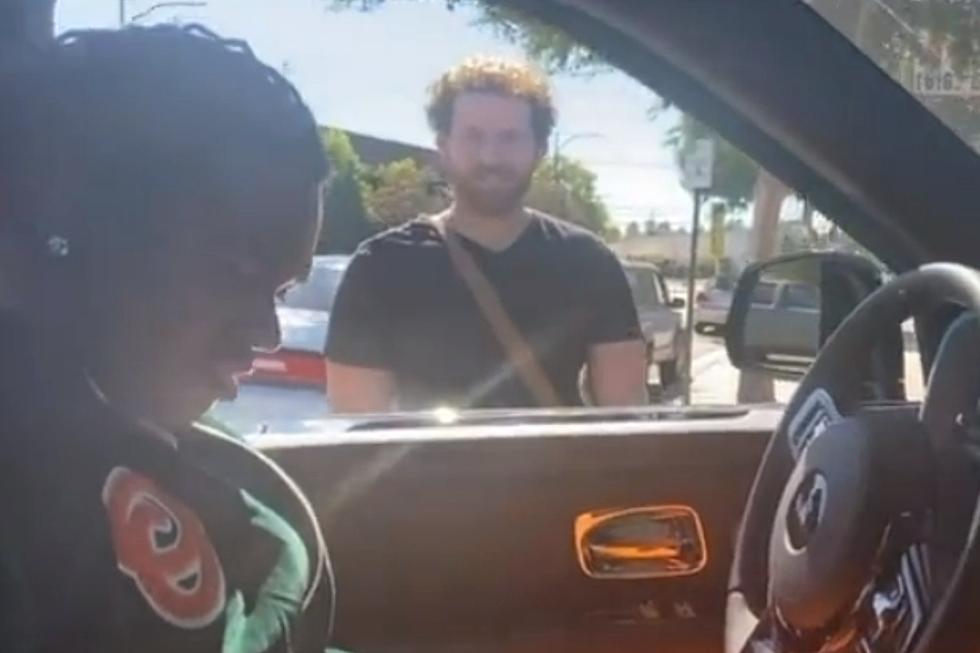 Gunna Finds Producer Waiting Outside Studio With Cardboard Sign Saying He Made Rapper's Beat – Watch
nojumper/Twitter
Gunna recently pulled up on a producer outside a studio who was holding a cardboard sign proclaiming the beat maker had made a track for the "Drip Too Hard" rapper.
Gunna Pulls Up on Producer With Cardboard Sign
Gunna is back outside following his return to music with the release of his new album A Gift & A Curse. On Wednesday (July 5), video surfaced of Gunna arriving outside a studio to work on new music only to find a man standing outside the building holding a cardboard sign that reads: "I Produced a Song for Gunna." Gunna stops to engage with the man, a producer who goes by Dunk Rock, who coproduced Wunna's 2018 song "Cooler Than a B***h."
"You produced what?" Gunna questions in the clip below.
"I produced 'Cooler Than a B***h,'" the beat maker confirms.
"You did it with TrePounds?" the passenger in Gunna's car queries. "Oh, you did the melody?"
Dunk Rock's sign appears to be an interesting marketing ploy to get more work from artists who arrive at the studio for sessions.
"Let me see your sign," Gunna's passenger adds. "That's some dedication right there. That's hard."
Gunna Returns to Rap
Gunna returned to music with the release of his new album A Gift & A Curse last month. The album debuted at No. 3 on the Billboard 200 chart after moving 85,000 units in its first week. The Atlanta rapper is trying to get back to a bit of normalcy while also facing backlash for snitching allegations in the YSL RICO case and disdain from several of his peers.
See video of Gunna finding a producer outside a studio holding a carboard sign with the rapper's name on it below.
Watch Gunna Pulling Up on a Producer Standing Outside a Studio With a Cardboard Sign Saying He Made the Rapper's Beat Below
See the Wildest Moments of Rappers Losing Their Most Valuable Belongings
Young Thug, Eminem, Kanye West and more.