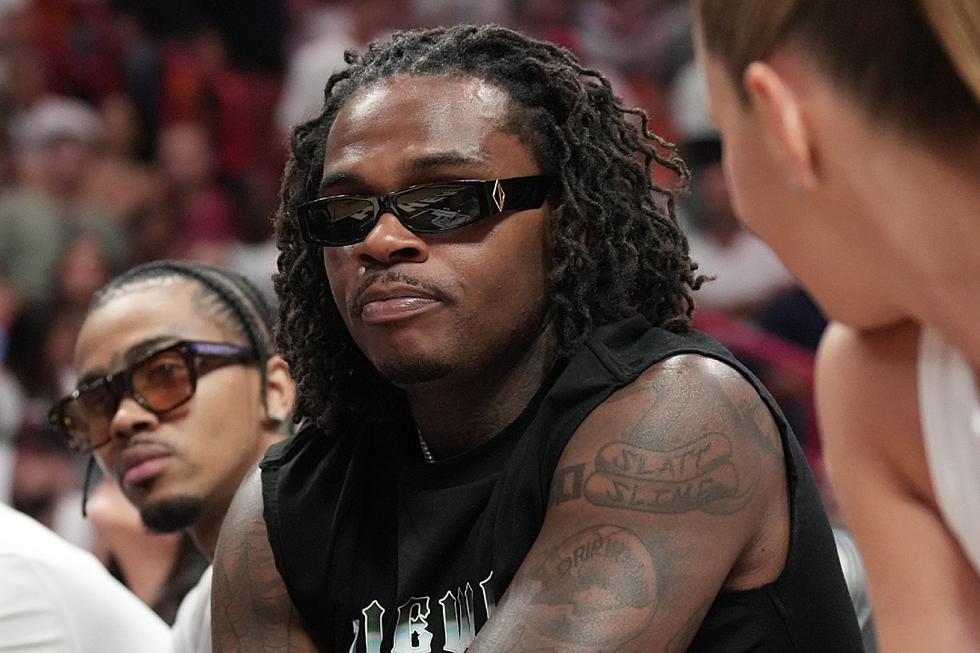 Gunna Shows Off Chiseled Physique in New Workout Photo
Jesse D. Garrabrant/NBAE via Getty Images
Gunna shows off his chiseled physique in a new workout photo this week.
Gunna Shows Off Arm Definition in New Photo
On Thursday (Aug. 30), an image of Gunna putting his chiseled physique on full display while doing a workout made its rounds online. The image can be seen below. In the side profile picture, the rapper is wearing grey athleisure and does a half lunge while using a resistance band. After the picture surfaced on social media, fans stated their opinions on Gunna's new look.
"He training for when Young Thug come out #FreeSlime," one person tweeted.
A second person typed "That's Gunner now."
"I'm sorry they cloned him," a third person commented.
Another person commended Gunna for going on a fitness journey. "Well done," they typed. "Health is wealth."
People Notice That Gunna Has Lost Weight
On April 12, Gunna's weight loss became noticeable after a picture of himself and three unidentified men surfaced on the internet. After looking at every detail of the picture, which can be seen below, fans discovered that Gunna had been shedding some pounds. The rapper seemingly kicked off his healthy lifestyle after he was released from jail following being indicted on RICO charges with Young Thug and 26 other members of YSL in May of 2022.
In May, the rapper posted another picture that showcased his progression in and out of the gym. This time, people commented on Gunna's muscle definition.
Whole new man," one person commented on the photo on Twitter.
"Lost the auntie's hips!" another Twitter user reacted. "The rest of the wide-hipped men should follow."
The new photo of Gunna comes on the heels of Trinidad James' claim about Gunna's album, A Gift and a Curse saving this summer.
Look at Gunna's gains below.
See Gunna Show Off His Chiseled Physique in New Workout Photo
See Rappers Who Beat Major Legal Cases and Walked Away With a Victory
Hip-hop came out with a win in some way in these cases.