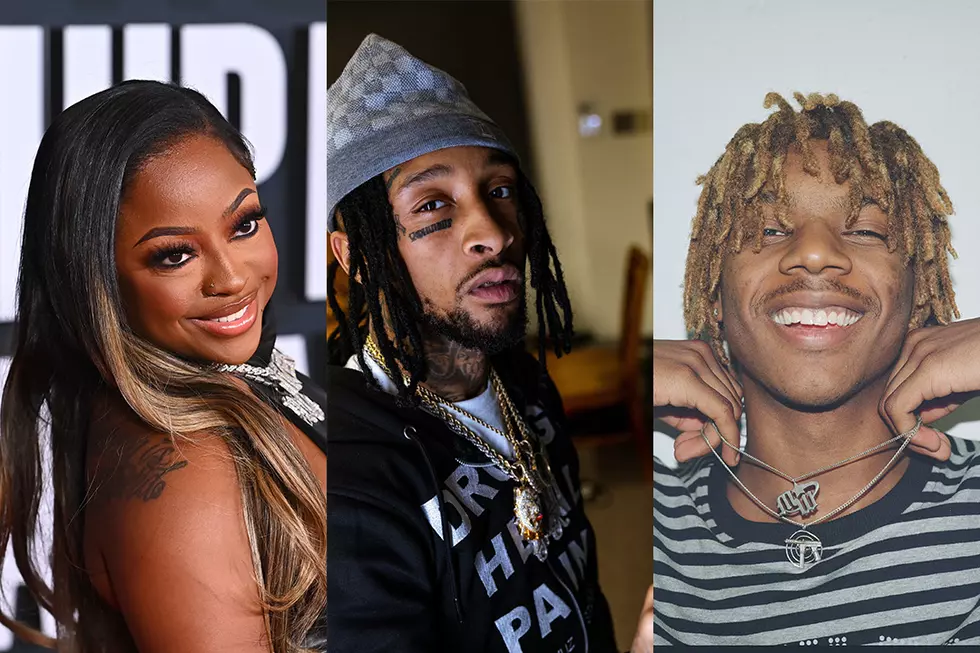 Experts and Artists Share the Ways New Rappers Are Finding Success These Days
Paras Griffin/Getty Images/Brian Chong/Gunner Stahl
Find a Way
The path to success in hip-hop is different for every rapper: quick and fast, slow and steady, up and down. How do new artists get on these days to achieve that goal? It's as easy as it is complex.
Words: Grant Rindner
Editor's Note: This story will appear in the Winter 2022 issue of XXL Magazine, on stands now.
In the decades before social media, the path to mainstream success in hip-hop wasn't easy, but it felt clearer. Rappers built meaningful fan bases in their cities and regions, breaking records with DJs and local power players before parlaying that into national attention. Today, there are seemingly infinite ways for an artist to blow up in the genre just through the internet, whether it's scoring a TikTok hit to moving a large Instagram following into actual listeners to earning placements on top streaming playlists.
Houston rapper KenTheMan has checked every box on her rise in the hip-hop world. She built a palpable buzz in her hometown through local club shows and fostered relationships with taste-making DJs who then took her tracks on the road with them. Ken became a media fixture with a relatable story—she drove for DoorDash to support her music career—and even scored a TikTok hit with "For Me," a bassy thumper made alongside Chase B and OMB Bloodbath.
It's been a methodical ascent for Ken and her manager, Melissa Keklak, one that included a record deal with Warner Music Group subsidiary Asylum Records. It's the kind of process that seems calculated, but according to Ken, it's all been pretty off-the-cuff, a reflection of the increasingly diffuse paths artists in the industry are taking to reach their success. "I swear, you wouldn't believe how unintentional my career has been," KenTheMan tells. But it all began locally, and the rest followed.
First things first, local support still matters. Coming from a hip-hop hotbed like Houston has its advantages and drawbacks. There are scores of potential fans and a storied lineage to draw on, but also lots of other fledgling rappers competing for airspace. KenTheMan recognized that if she could build support in Houston and win over the city's tastemakers, that would give her serious momentum for when she switched her focus to breaking nationally.
"My buzz just grew in Houston because it's so big that I was booked every weekend just in [Houston] alone," she recalls. "I just grabbed legs in my career to where I started flying out and doing shows in different states. I ran it up and I was able to quit my job off of Houston shows."
While an artist doesn't necessarily have to follow that plan these days and can achieve sudden online ubiquity without gaining on-the-ground fans, that's still something that A&Rs want to see from prospective signings. Longtime A&R Orlando Wharton, who is now the Capitol Music Group Executive Vice President upon leaving Atlantic Records as Senior Vice President of A&R in 2022, after eight years with the label, says many young rappers fixate too early in their careers on things like playlist placements when they should still be focused on carving out an audience.
"You shouldn't even be worried about that," advises Wharton, who signed and developed artists like Kodak Black, Fetty Wap, A Boogie Wit da Hoodie and the late PnB Rock. "You should be worried about taking over your city first and once you take over your city, people are gonna recognize you and you'll get to that point. You can't skip any steps in music."
Steven "Steve-O" Carless, Warner Records President of A&R and a key figure in the success of artists like Jeezy, Nipsey Hussle and Polo G, says he looks first for an artist's narrative, and how they're furthering it through their music primarily. He's also paying attention to their footprint on various other platforms, including social media. Carless explains it gives him "a 35,000-foot concept" of where an artist is in their career and how they connect with their audience. Today, rappers are able to tell more of their stories themselves, making it deeper into their careers without needing outside help, but they're also vying for eyes and ears in the most crowded creative economy we've ever seen.
"Back in a way when we would develop artists for two, three, four, five years before it gets there, but the market wasn't moving at [the rate it is now]," Carless says. "Now you're talking about a marketplace that has 100,000 songs a day. Where you look at 20 years ago, there were only a handful of 1,000 songs a week or even albums coming."
Wharton thinks the nature of music consumption has altered the kinds of signings that labels are making. There are still long-term development plays—like what he did with Kodak Black, who will reportedly follow him to Capitol—but also short-term deals that can constitute rereleasing an already viral independent single or dropping a single project as a kind of trial run. At this stage of his career, Wharton isn't looking to personally A&R one of these quick-strike acts, but he recognizes the value, and would be open to having someone under him bring them into the fold.
"I'd have somebody else sign them for the business," he explains. "I mean, me per se, I wouldn't sign them because I want to sign things that I can work on and make six albums with them. But as a business, I'll send somebody to sign them, absolutely." The A&Rs XXL spoke with for this story noted that there is something of a divide between the field's veterans and its up-and-comers. Both groups of people will rely on streaming data and trends, including how often an artist's songs are used to make TikToks, and their social media engagement, but Wharton believes as the industry has changed, some of the crucial soft skills of A&R work are not being properly honed.
"When I came up, an A&R was somebody who hung out with rappers and got records done and got shit done and signed people and made shit happen," Wharton expresses of the early days. "Now people get an A&R confused with somebody who does research. Everybody thinks that just because you can do research, you're an A&R and that's absolutely false."
Statistics from streaming to social media may keep some A&Rs invested in an artist they want to sign, but rappers themselves are equally invested in where they end up. Social media scouting can also be a two-way street. Famously, Lil Nas X decided to sign with Columbia Records in part after looking through the Instagram profile of label chairman Ron Perry. It's a method for an artist and their team to check a label's track record, and see whether aligning themselves is a prudent move for the future or makes sense.
Selim Bouab, a longtime A&R and current co-president of 300 Entertainment, says he's heard from artists he's scouted that they're receiving label offers without a face-to-face meeting. He believes this ultimately does a disservice to the artist and to the A&R team tasked with building them into a star.
"We spend as much time as we can with them because it's our job to give a vision to the rest of the company," Bouab explains. "As an A&R, if I signed an act and said, 'I don't know shit about them. The rest of the team will go work on it,' people aren't gonna buy that. People aren't gonna believe that. You have to really share your vision and be profound in which direction you want to go in."
There is a stigma around the industry that record labels aren't developing talent, waiting instead to swoop in once an artist has built up significant buzz themselves through social media. As with much in the music industry, that's not quite the truth. Artists can have more leverage now than they would in the past, and they're able to form a different kind of partnership. KenTheMan released one project through her deal with Asylum before she and her manager decided that they wanted to return to independence.
In another era of hip-hop, that difference between being signed and being indie would seem colossal. "I played every role," Keklak says of releasing Ken's first single as an independent artist once again. While it usually means slimmer resources and a smaller team, the optical differences feel smaller than ever before to the consumer, who is finding new tracks from superstars and unknowns in the same place: the apps on their phones.
The cache of SoundCloud isn't necessarily where it was five years ago, when it was the literal namesake of rap's most exciting underground scene, but it's still the first step for a wide array of artists due to its low barrier for entry. Shordie Shordie had already been releasing music through the service, but leaned into it heavily after an early career leak helped him build buzz and shifted consumer expectations.
"My city kind of got a hold of one of my Dropboxes, leaked all my music, so, the SoundCloud is where I had to start from," Shordie Shordie reveals. "I had to give it to you for free, and a lot of it was freestyle beats."
Wharton feels the industry has undergone a significant change since the SoundCloud glory days. In that brief era, artists could break without gatekeepers or cosigns, allowing for more singular and leftfield acts to emerge, according to Wharton. Now, he affirms there is a renewed emphasis on having established figures vouch for young acts, citing examples like Lil Baby's 4PF (Four Pockets Full), Future's Freebandz and southern powerhouse Quality Control Music.
"Now, everything sounds so redundant, everything is the same," Wharton says. "You've got the gatekeepers again and they're helping other people get on because the music isn't as different as it was where you catch superstars coming out here and there because the artist was changing and it was giving people something different to listen to." There's also YouTube, which was found to be the most popular music platform in America by a 2021 YouGov study. YouTube pays poorly even by streaming standards—although YouTube Music is better—but it's a massive site of discovery, as channels like WorldStarHipHop continue to help break acts such as Ice Spice. Established artists like YoungBoy Never Broke Again have dominated YouTube's U.S. Top Artists chart for 25 of 44 weeks in 2022, at the time this article was printed, proving the platform is still relevant with younger artists and their audience. Music reaction channels are also a key way to break artists, although, in most cases, that requires already existing momentum in the form of streaming numbers or some sort of viral hook.
These platforms and their varying freemium payment models have changed the way artists blow up because now nearly all music exists on the same platforms. As Carless explains, artists in the past could make distinctions between their non-commercial work and their official projects and really push the boundaries with the latter. However, now it's all being put in the same place next to the biggest releases from major label artists with gargantuan marketing budgets.
"[DJ] Clue would drop three, four mixtapes in a month," Carless remembers. "Kay Slay would drop a mixtape every week. The Green Lantern was dropping in whatever his cadence was. What I'm saying is none of those were commercially released and it was still an influx of music. But now, that thought process and that ingenuity now lives at the commercial level because now distribution's for all. It's kind of democratized."
SoundCloud has remained a staple resource for artists on rap's fringes, including the glitchy, post-Playboi Carti stylings of plugg rap artists like Tana, who signed to Lil Tecca's Republic Records subsidiary or Autumn!, who signed to Republic via Victor Victor Worldwide. Midwxst, signed to Simple Stupid Records/Geffen Records, describes most of the direct label and industry outreach he received as "pretty cookie-cutter" DMs to his manager on social media, but actually credits a 2021 SoundCloud initiative with helping stoke interest in the digicore scene outside of its existing fans. He, along with artists D0llywood1 and Angelus, earned new supporters as a result.
"SoundCloud leaned into the music OD and they did this thing called 'Scenes' on digicore," Midwxst recalls. "It damn near gave it a timeline and a synopsis of what it was. They studied the scene and all the artists who were in it. It was me, Dolly and Angelus as the three people in 'em. That ad played OD over and over and over, so a lot of people got drawn to the music from there."
But the platform most commonly associated with Midwxst and the greater hyperpop and digicore boom of the last two years is Discord. He first discovered the social media platform through the popular online game Roblox, joining channels dedicated to cars and video games before making musical connections and finding his way into a server called "Loser's Club" where he connected with ambitious artist-producers like D0llywood1 and Angelus. According to 300's Bouab, their A&R team is aware of what's happening on Discord but works not to make it more than what the talent offers.
"We pay attention to everything happening, because at the end of the day, we are A&Rs and we do have a research team and we want to be informed from all avenues," Bouab asserts. "But are we specifically saying, 'Let's get on Discord and keep an eye out there'? No, we're just paying attention to see what it is because we don't want to miss an opportunity on something, but we don't want to capitalize on that."
This digital community did exist prior to the Covid-19 lockdown, but really took off when its young, tech-savvy members were isolated by the virus. "If we didn't have quarantine during Covid, hyperpop wouldn't be what it is today," Midwxst expresses matter-of-factly. Discord wasn't necessarily the place the music was getting heard, that came more through DSPs, YouTube and TikTok, but it was where the songs were getting made, collaborators were meeting and a tight-knit scene fans could get invested in was forming.
"Starting out, all of us got to where we were at because we were all supporting one another as small creators," Midwxst adds. "Whenever any one of us would blow up, that would propel the entire group to come into the limelight."
Rappers moving further into hip-hop's spotlight also happens with the help of the media and streaming playlists. According to Melissa Keklak, artists often prize cosigns from legacy media outlets early in their careers, seeing that coverage as a stamp that can help them build legitimacy going forward. But in the present climate, the order of operations has shifted. The value of that kind of coverage is in deepening the awareness of an artist's story and why they warrant a deeper investment from listeners. That's where streaming playlists come in.
"For an artist, they don't really understand that [the Spotify playlist] Feelin' Myself is a huge look to get that or even to just get the New South," she says. "They know that maybe this look for this publication, that's an automatic cosign and that solidifies me. I have an outlet that's come behind me to say, 'Boom, look at this person.'"
An artist's manager locking in coveted playlists like those may seem daunting without any connections. The playlisting process can often feel opaque from the outside, with a fixation on a select few marquee placements like Spotify's RapCaviar or Apple Music's Rap Life. There's no magic to playlist success, just a lot of sleuthing, Keklak adds. While most DSP editorial staffers aren't household names, they do have an online presence, and she stresses that an artist and their team should be diligent in seeing who their peers are tagging on social media and thanking each Friday when their songs are getting on a coveted playlist.
"It's a matter of doing your homework," Keklak maintains. While there are instances of an artist finding their way into both Spotify's RapCaviar or New Music Friday and crossing over from there, the more stable path involves focusing on creating a footprint through more niche regional and subgenre-specific playlists. Apple Music's The New Chicago, before pitching the marquee ones, for example.
"You know how many times I didn't get playlisting?" Keklak admits. "How many times I didn't get a response? And that never stopped me, but that stops a lot of people."
"We talk about a playlist on streaming versus plays on radio," Steve Carless shares. "You got to remember the road that brought us here to where we are in time. When records were curated on the radio, there's 40 songs on the radio that they've curated month over month, week over week. Now, there's 100,000 a day."
Obviously, a tremendous amount of artists are getting discovered through TikTok today, which offers a relatively level playing field. But the quick success TikTok affords rappers is not desired by all. "Thank God I didn't," Midwxst admits, when asked about getting big off the video- sharing app. "That's the one thing about blowing up off of having a TikTok hit. After that, people are always gonna ask you, 'What's next? How are you gonna top this song? How are you gonna keep that shit going?' And if you don't know how to do that you're gonna crash and burn."
Some important industry figures have actively steered away from the instant gratification model of pursuing success through TikTok. Though Bouab says 300 has signed artists who gained footholds through TikTok like rising acts ASM Bopster, R3 Da Chilliman and Stoneda5th, the label looks at them as long-term developmental plays, not quick-buck opportunities. "2020, when you saw all those TikTok records flying and people would sign 'em, and you'd see this record explode for three months, four months, and then you'd be like, 'I never heard another song.' We didn't participate in that," he attests. "That wasn't our game plan. What we played in was, 'Hey, let's go see if the artist is real.' We knew about all of those records at that time. It was cool for a moment, but we also have to protect our logo."
For Wharton, it's all about the artists and their teams recognizing the consumer demand and choosing how to respond to that. The thing is, in today's industry there are more consumers than ever, and more ways to blow up in hip-hop, whether through the practices that have emerged in the last decade like TikTok and playlisting or the tried-andtrue methods of rap's past.
"If I can sell dirty shoes all day and people are gonna buy 'em, then that's what I'm gonna sell," Wharton says. "It's what people want to buy and what people are consuming. That's where the problem comes in because if people weren't consuming it, people wouldn't be making it and the record labels wouldn't be putting it out."
Food for thought for new artists.
Read the full story on how new artists get on in hip-hop these days in the winter issue of XXL magazine, on newsstands now. Check out additional interviews in the magazine, including the cover story with Pusha T as well as conversations with Chance The Rapper, Ab-Soul, Freddie Gibbs, G Herbo, DaBaby, EST Gee, Murda Beatz, Morray, Ice Spice, Jeleel!, Armani White, Destroy Lonely, producer Dez Wright, singer Kiana Ledé, actor Shameik Moore, plus a look at hip-hop's love for wrestling, the ways in which women in rap succeeded in 2022, the rapper-run podcasts the game has grown to love and a tribute to rappers we lost in 2022.
See Photos of Pusha T's XXL Winter 2022 Issue Cover Story