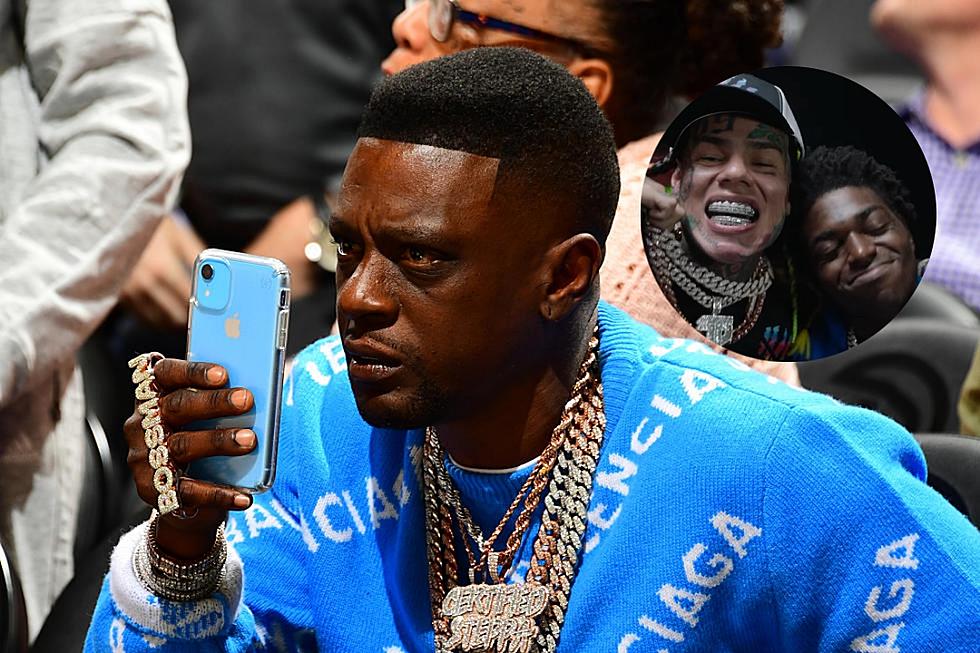 Boosie BadAzz Says Kodak Black Doesn't Have Any Morals for Doing a Song With 6ix9ine
Scott Cunningham/Getty Images/6ix9ine/Instagram
Boosie BadAzz is blasting Kodak Black for collabing on a new song with 6ix9ine.
Boosie Calls Out Kodak Black for 6ix9ine Collab
On Thursday (July 20), Boosie tapped in on Instagram Live to weigh in on news of Kodak Black releasing a new single with Brooklyn rapper-federal informant 6ix9ine.
"That n***ga Yak f**ked me up," Boosie explained in the video below. "I wonder how all them Zoes feel, dawg. I know them Zoes f**ked up right now. I know the state of Florida f**ked up right now. This n**ga ain't got no morals. No principals. Damn, I thought that little n**ga was like that. N**ga ain't no street n**a at all. Damn."
6ix9ine Announces New Song With Kodak Black
Only a few well-known rap artists have been willing to collaborate with 6ix9ine after he snitched on his former associates in the Nine Trey Gangsta Bloods gang in a federal RICO case back in 2020. Kodak Black recently threw caution in the wind when he jumped on an upcoming Tekashi track, which is supposed to be dropping on Friday (July 21). The song is 6ix9ine's first English-speaking single since 2022's "Gine." 6ix9ine teased the track in the Instagram video below on Thursday.
Boosie Sticks to the G-Code
Boosie has been an ardent advocate against snitching and uses every opportunity to voice his opinion on the matter. Recently, Gunna has been public enemy No. 1 for Boosie, who has called Wunna out numerous times due to allegations that the Atlanta rapper snitched in the YSL RICO case. Boosie recently went as far as to say he wouldn't work with Gunna for $1 billion.
Following 6ix9ine's infamous bathroom beating back in March, Boosie offered to start a GoFundMe for the men who beat up Tekashi in an LA Fitness bathroom. Yet, Boosie recently admitted he was impressed with how 6ix9ine took his bathroom beating like a man.
See Boosie BadAzz's Instagram Live video blasting Yak for collabing with Tekashi below.
Watch Boosie BadAzz Call Out Kodak Black for Working With 6ix9ine Below
See Rappers' Confusing Lyrics