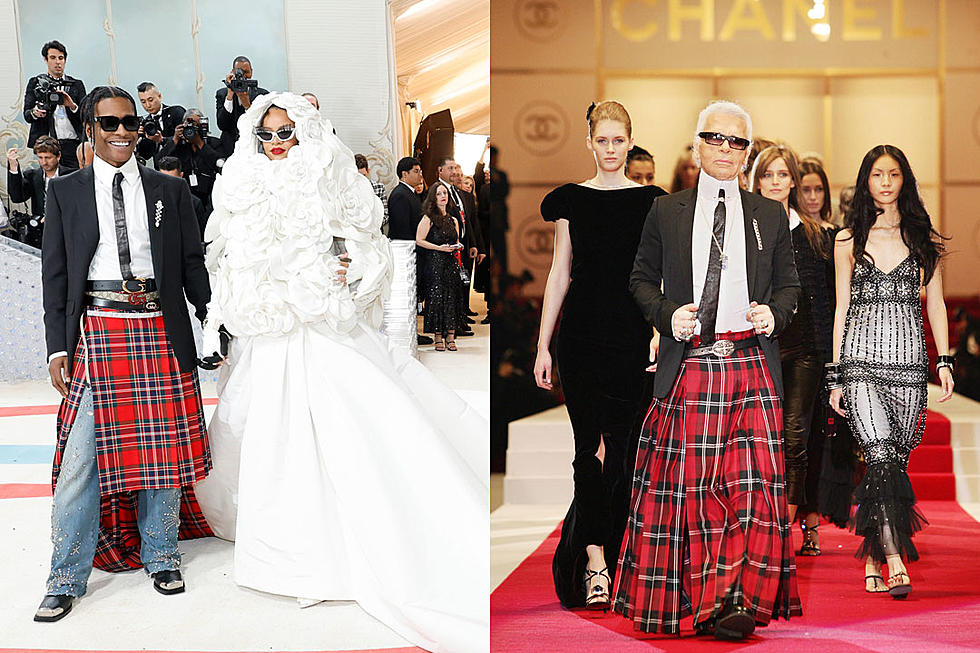 ASAP Rocky Dresses in Skirt Like Fashion Designer Karl Lagerfeld at 2023 Met Gala With Rihanna
Mike Coppola/Getty Images/Toru Yamanaka/AFP via Getty Images
As the showcase of the biggest night in fashion came to a close, the couple everyone was anxiously waiting to see, A$AP Rocky and Rihanna, hit the Met Gala red carpet, completely stealing the show.
On Monday evening (May 1), following A$AP Rocky pushing through a crowd of people and using a woman's face to climb over a barricade ahead of appearing on the most coveted fashion red carpet, Rocky and his lady Rihanna graced the event with the Harlem rapper paying homage to the late fashion icon Karl Lagerfeld. Similar to Lagerfeld's Chanel look for the 2005 spring/summer pret-a-porter collection worn in a Tokyo fashion show in December of 2004, Rocky wore a black blazer with a white shirt and tie, a red plaid skirt over bedazzled denim jeans, with three Gucci belts and black silver-toe boots.
Rihanna, who headed to the carpet in a vintage brown Fendi mink jacket, appeared on the carpet in a long-trained white gown that was completely covered in large white roses from the waist up.
Rihanna's ensemble completely covered her growing baby bump, which she unveiled during the 2023 Super Bowl halftime show. However, she later removed the rose attachment to her gown, which showed Rihanna's spaghetti strap dress with a single rose in the center.
A number of members from the hip-hop community appeared at the Karl Lagerfeld: A Line of Beauty-themed Met Gala, from Doja Cat, who used special effects prosthetics to replicate a real-life cat, an animal that Lagerfeld was quite fond of, to Ice Spice, who made her debut on the famed debonair carpet and was reportedly invited by Vogue Editor-in-Chief, Anna Wintour.
Cardi B also turned heads with two different looks, as well as Lil Nas X, who was completely covered in metallic silver paint and adornments. Diddy and Yung Miami, Lizzo, Jack Harlow, Pusha T and much more made their presence known tonight, too.
Needless to say, the evenings' fashions made quite the conversation on social media.
Watch A$AP Rocky and Rihanna Arrive at the Met Gala
See Every Rapper at the 2023 Met Gala