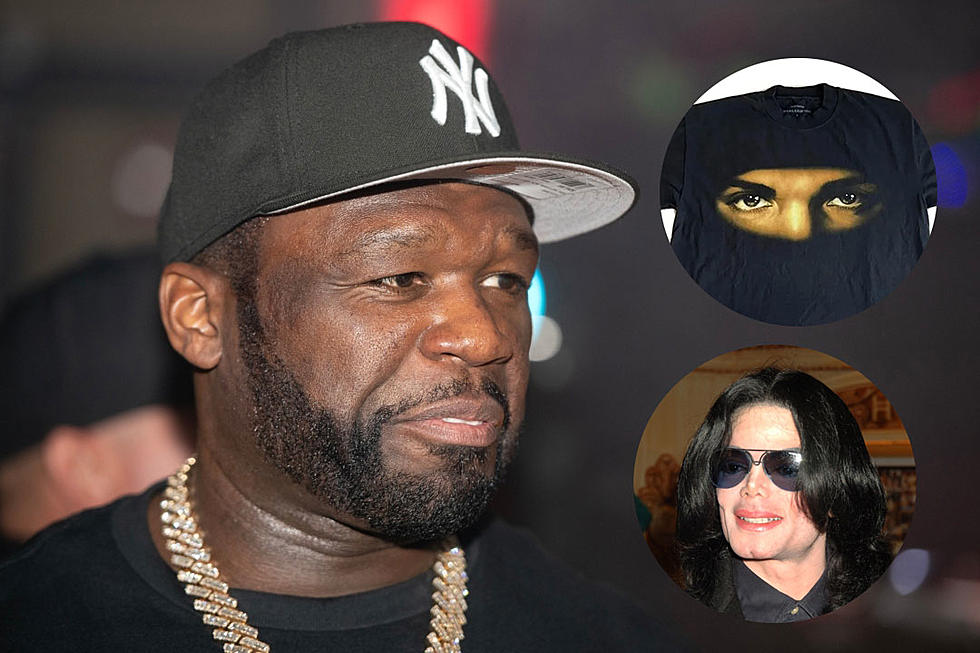 50 Cent Tells Funny Story of Drake and Michael Jackson's Mistaken Identity at the Gym
UPDATE (Oct. 17): Did Drake Buy Michael Jackson's Crystal-Studded White Glove?
ORIGINAL STORY (Sept. 15):
50 Cent said that he experienced a strange case of mistaken identity involving his clothing while he was working out at the gym. A woman mistook his Drake tour T-shirt for Michael Jackson merch.
50 Cent Tells Funny Story of Drake and Michael Jackson's Mistaken Identity at the Gym
On Friday (Sept. 15), 50 Cent hopped on X, formerly known as Twitter, to relay to his fans a funny moment he experienced while pumping iron at his local gym. The G-Unit leader was working out in Drake's current tour T-shirt, which features a pair of Drizzy's eyes on the front end with the rest of his face completely darkened. The shirt is currently on sale as part of Drake's It's All A Blur Tour with 21 Savage.
However, 50 Cent said a woman approached him and asked whether he was a fan of Michael Jackson. The woman mistook the shirt for MJ's because it appeared very similar to the Michael Jackson merch from his Dangerous World Tour. 50 assumed the woman to be confused, only to later realize after a Google search that the late King of Pop had a very similar T-shirt on sale for his Dangerous World Tour back in 1992.
"I'm in the gym working out and this girl says you like Michael Jackson?" 50 Cent wrote in the post below. "I said this a Drake shirt fool, then I googled and this popped up. WTF. I had to apologize."
Drake Isn't the Only Rapper Who Is a Fan of Michael Jackson
Drake and Michael Jackson have more in common than one might think. In fact, Drizzy even used some unreleased vocals from MJ on his Scorpion track "Don't Matter to Me" back in 2018. However, he's not the only rapper to idolize the King of Pop in recent years. Offset has honed in on MJ's Thriller era in order to promote his upcoming solo album Set It Off. Since announcing the album on Thursday (Sept. 14), Offset has mimicked Michael Jackson's fashion from the "Thriller" music video in his new visual for "Fan." He even got a massive tattoo of MJ's face on his stomach.
Check out 50 Cent's tweet about Drake and Michael Jackson below.
See 50 Cent's Tweet About Drake and Michael Jackson T-Shirt
See the Guide to Rappers Touring in 2023