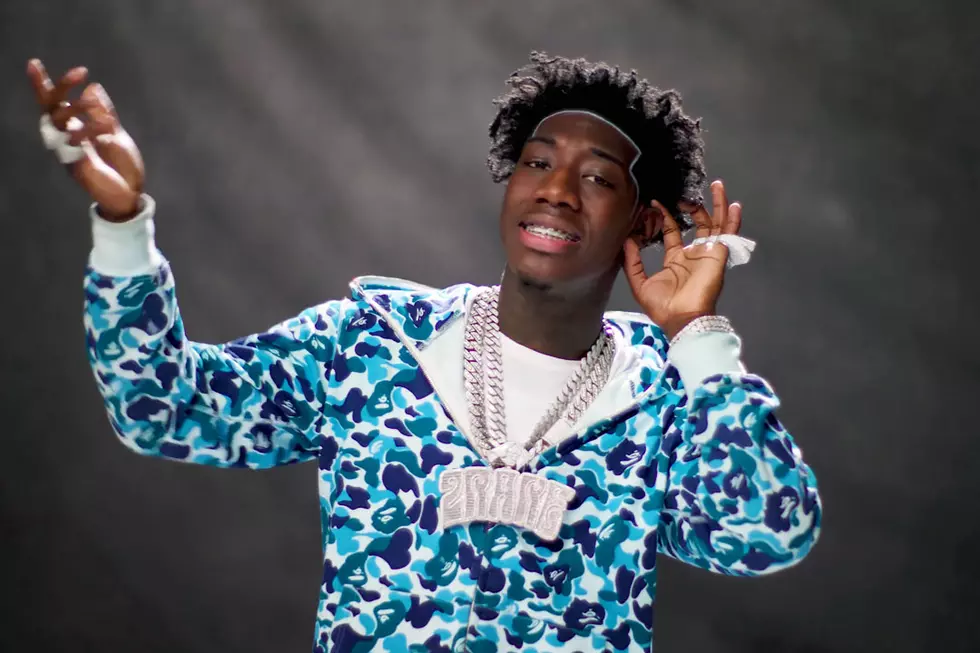 2Rare's 2023 XXL Freshman Freestyle – Watch
XXL
2Rare has been flexing his melody-driven rhymes and fun dance moves with one goal in mind: success. His fan base, affectionately dubbed Rare Steppas by the 22-year-old rapper, immediately gravitates to 2Rare's daily TikTok videos of him dancing as well as his music, like turnt-up club anthems such as 2022's "Q-Pid" with Lil Durk and this year's viral track "Rare's Room." While it may seem like all fun and games for this  Philadelphia native, 2Rare flips the script on all that with his 2023 XXL Freshman freestyle.
He leaves the celebratory-filled party vibes that tend to be all over many of his tracks behind, and instead, 2Rare gets down to business here. Don't let the pronounced white hairline take away from the fact 2Rare makes it abundantly clear in his Freshman freestyle that when it comes to bars, flows and any potential opps, he's to be taken very seriously. The freestyle, which was recorded during the 2023 XXL Freshman cover shoot in May, also found its way into a hyped-up YouTube session with On The Radar Radio that same month where Rare was joined by his fellow 2Humpy crew cohorts, Brock, Bril, Raud and JMoney.
"Red beam on his eye like the dog from Target," 2Rare raps before referencing his current XXL Freshman status. "Double X-L, I fight the largest/Been sh***in' on n***as and breakin' them toilets/If we all chasin' this money, I'm runnin' the farthest."
From there, 2Rare's cadence changes as he dances between melodic vocals and slick wordplay over double-time compound syllables. The overall message remains the same: Rare is going to talk his talk regardless of what anyone thinks.
"So sick of these n***as in my business, don't got LLCs," 2Rare spits before showing off his lyrical prowess through the fact that he knows his ABCs. "I don't give a F, b***h, 'cause I'm a G/I got keys with me, might as well keep it P/This a matte black glock in a Maybach truck, they call police, I'll flee the scenes."
Then, the rhymer puts the punchlines to work all the while using his ever-animated body language to help steer the path.
"Like that fragrance, I'll spray somethin'," 2Rare continues. "N***as try to glaze me just like donuts, in her p***y I might Dunkin/These n***as my kids, my sons/I been carrying this s**t for nine months, what the f**k, is you dumb?"
As 2Rare gears up to drop his debut project, which is scheduled to arrive this summer, the leader of the Rare Steppas looks to capitalize on the undeniable momentum he's been rolling with throughout the past year. Tracks like NLE Choppa's "Do It Again," which landed Rare his first placement on the Billboard Hot 100 singles chart in early 2023, have catapulted the rising artist to the forefront of the current wave of Jersey and Philly club-inspired hip-hop. At the same time, 2Rare's consistent social media presence has earned him nearly half a billion views on TikTok alone, solidifying the "One of One" artist's influence in hip-hop.
Peep 2Rare's hard-hitting XXL Freshman freestyle in the video below.
Watch 2Rare's 2023 XXL Freshman Freestyle
The Freshman issue of XXL magazine hits stands everywhere on July 18. See Finesse2tymes, Lola Brooke, Rob49, Fridayy, GloRilla, 2Rare, SleazyWorld Go, Central Cee, Real Boston Richey, Luh Tyler, TiaCorine and DC The Don's official Freshman pages. In addition to interviews with all 12 artists in the 2023 Class and Freshman cyphers producer Pi'erre Bourne, it includes interviews with Lil Baby, NLE Choppa, Boosie BadAzz, Toosii, DDG, Saba, producer Go Grizzly, engineer Jaycen Joshua, singer Coco Jones, SinceThe80s' President Barry "Hefner" Johnson and AEW wrestler Swerve Strickland, plus a look back at what the 2022 XXL Freshman Class is doing, hip-hop's love for golfing featuring Scarface, OMB Peezy and pro golfer Harold Varner III, conversations with 10 new artists making noise and a deep dive into A.I. hip-hop songs. You can also buy the 2023 XXL Freshman Class issue here.
See the 2023 XXL Freshman Class