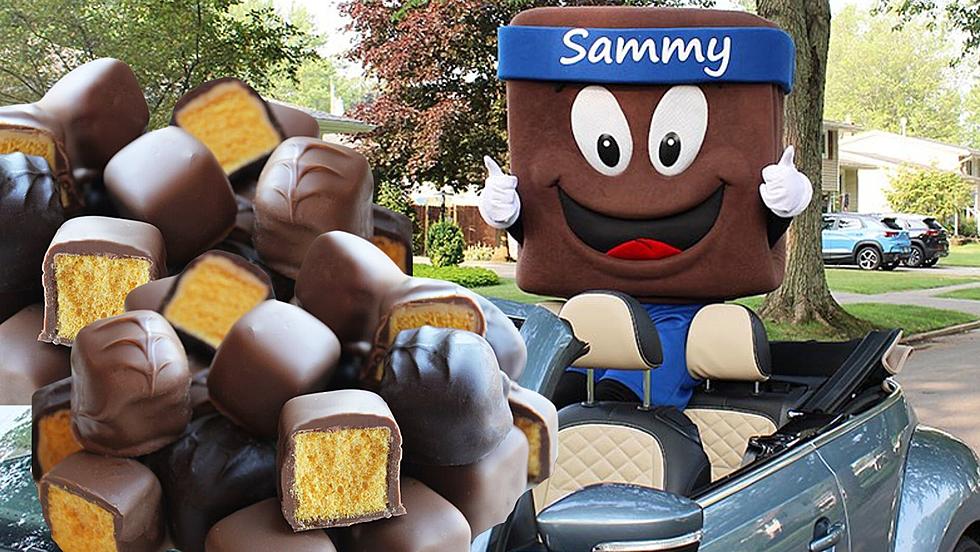 Tons Of Western New Yorkers Score Free Chocolate
Photo Credit: Platter's Chocolate Factory Public Facebook Page
Thanks to one local chocolate shop, there were some lucky individuals who received free candy to celebrate one of the most Buffalo holidays.
And that candy was...the classic Buffalo treat sponge candy. 
What Is Sponge Candy?
If you have never made it out to Buffalo, New York to try this classic treat, it can be difficult to describe – but we're going to try. 
When you bite into a piece of sponge candy, it is an airy treat that is somehow crunchy and creamy, and it seemingly melts in your mouth (or rather dissolves). 
This is how the sponge candy looks from the outside, but on the inside – it is covered with a porous yellow crunch. 
How Did Sponge Candy Originate?
Sponge candy has always been a Buffalo thing. If you go anywhere else, odds are you won't be able to find the treat. There is no specific time or place where sponge candy was first documented from, but according to the stories across generations, sponge candy originated around Buffalo, New York around the 1940s.
And while there are tons of places around Western New York to get your dose of sponge candy, there is one local shop that stands out among the rest. 
How Western New Yorkers Won Free Sponge Candy
Thanks to Platter's Chocolate Factory, a family owned and operated chocolate manufacturer in North Tonawanda, there were quite a few lucky people who received free sponge candy in honor of National Sponge Candy Day! Plus, they handed out sponge candy samples all day on Thursday, too!
Platter's Chocolate Factory is known for its delicious sweets and chocolate. After all, they were voted Best of Buffalo two years in a row (2022 & 2023) for Best Sponge Candy, so it's the best of the best! 
Here's how they won…Clay & Company gave away several gift cards on National Sponge Candy Day (Thursday, Sept. 21) from Platter's Chocolate Factory, and many would say it was a sweet prize!
Listen to Clay & Company, Every Weekday Morning On 106.5 WYRK
Clay & Company (Clay Moden, Kadie Daye, and Rob Banks) gave away tons of gift cards between 6 AM - 10 AM, so make sure you're listening to 106.5 WYRK for your chance to win big.
One Sentence That Will Immediately Enrage Buffalo Bills Fans [LIST]
Disclaimer: If you're a Buffalo Bills fan and feeling slightly annoyed today, you're about to fly off the handle.
Complete List Of Buffalo Bills Available On Cameo
How Many People In Buffalo Use A Bidet?
You'd be surprised how many people actually use a bidet in Western New York.