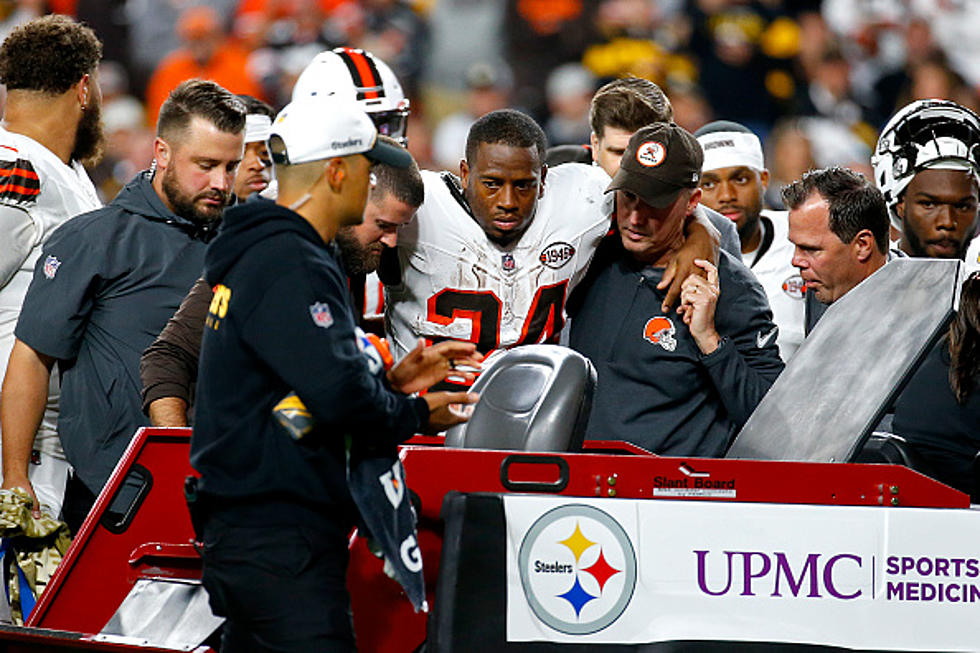 Bills Fans Donating Money to Nick Chubb's Favorite Charity
Getty Images
We're already into week 3 of the 2023 NFL season and we have a ton of storylines on  and off the field.
The Buffalo Bills ate 1-1, with a matchup against the Washington Commanders this Sunday. It's the first game between the two teams since 2019 (a win for the Bills at home).
As for the rest of the league, the injuries have been a huge talking point. There seems to be an abundance of injuries through the first two weeks of the season -- with high profile talent as well.
The latest star player to go down was last night. It was also one of the most gruesome injuries we have witnessed in the last decade.
During the second quarter of the Monday Night Football game between the Cleveland Browns and Pittsburgh Steelers, Browns running back Nick Chubb was injured on a run play inside the 10-yard-line. It was a knee injury that ESPN did not even show a replay of, because of the nature of the video.
Chubb is out for the remainder of the 2023 season.
NFL fans and media members voiced sadness and frustration over Chubb's injury on social media, and Bills fans decided to help out Chubb by donating to his favorite charity.
Bills fans are donating to First Candle, which is a charity in Georgia that spreads awareness and helps to prevent SIDS and sleep-related infant deaths. Chubb's nephew Junior died from unexpected infant death and donated proceeds of his cereal, Chubb Crunch, to the cause. Chubb is from Georgia.
Now, Bills fans are supporting it with $24 donations, referring to the number 24 jersey  that Chubb wears.
This is no new thing for Bills Mafia.
They donated to Lamar Jackson's charity after his injury in the AFC Divisional round playoff game in January of 2021. They also famously donated to the charity of Bills safety Damar Hamlin this past January, along with many of other NFL fans.
Let's help support this cause for Chubb.
15 Hilarious Buffalo-Themed Coffee Mugs For Bills Fans And More
In honor of National Coffee Day, here are fifteen sweet mugs to hold your hot cup of joe while proclaiming your love for Bufflalo.
22 Famous Buffalo Sports Phrases Every Die-Hard Bills and Sabres Fan Knows
Being a sports fan in Buffalo is sometimes like knowing a different language. Here are 22 of our favorite Buffalo sports phrases you already know if you're a huge fan! And if you're new here, here's how to catch up.
Amazing Shirts Any Bills Fan Will Love As A Gift
Whatever your style - classic, retro, funny, or chic - these shirts that you can get on Etsy are way better than the basic Bills merch in the team store.