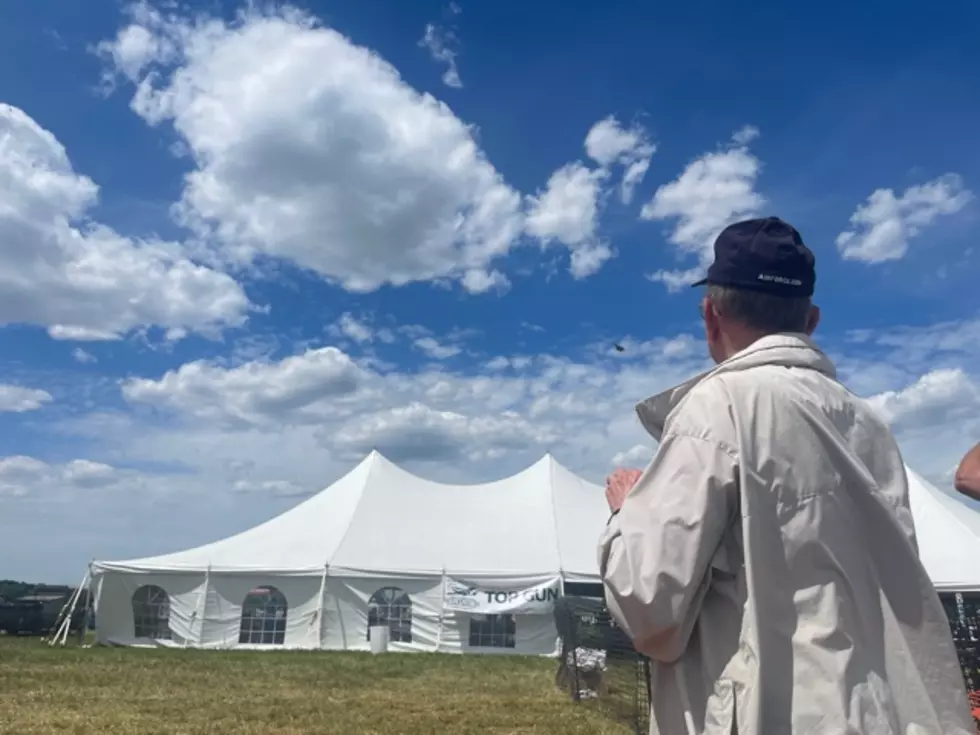 Did You See Hidden Message In The Sky At Geneseo?
Photo Credit: Kadie Daye (do not reuse this image)
The National Warplane Museum hosted the 41st annual Geneseo Airshow over the weekend, and there was a lot to take in. 
Listen to Clay and Company, Every Weekday Morning on 106.5 WYRK
The airshow lasted for two days, and while you were there, you could see historic aircrafts, such as the F-22 Raptor, P-51 Mustang, Quicksilver, Mad Max P-51, and you could see flybys with a WWI replica aircraft – just to name a few.
The F-22 Raptor demo team were the final ones to take to the sky on Sunday, and while it was much better in person, you can see the recap video below.
Watching planes that were used in WWI and WWII was a humbling experience…not only to reflect and admire the history, but just to think about how different the world is now because of that technology. 
One of my favorite parts of the airshow happened in the early afternoon on Sunday, June 5. 
The Skipper Hyle T-6 Demo started at 12:20 pm on Sunday, and the plane started to do, what appeared to be, a ribbon design in the air.
But one of the ribbons the plane ended up creating – it shifted into a heart.
I had to share the picture on Facebook. It reminded me of something an old mentor said to me once. 
"If you love life, life will love you back."
It's a saying I personally love because it reminds you that the energy and attitude you put out into the world will boomerang its way back to you.
So be kind. Love loud. Share a smile. And remember those who fought for us to have the life we are privileged to have.
12 Photos of Air Force One Landing In Buffalo
President Joe Biden and the First Lady landed at Buffalo Niagara International Airport on Tuesday, May 17.
Western New York Teacher Hall Of Fame
There are so many teachers who have done so much for our community that it goes way beyond the classroom, so the creation of the Western New York Teacher Hall of Fame is long overdue.
Please help us congratulate the following teachers for being officially inducted into the Western New York Teacher Hall Of Fame.
Buffalo Country Music Concerts in 2022
Concerts in Buffalo, NY? Here is a list of the shows coming to the Buffalo and Rochester area, such as Morgan Wallen, Keith Urban, Thomas Rhett and Luke Bryan.