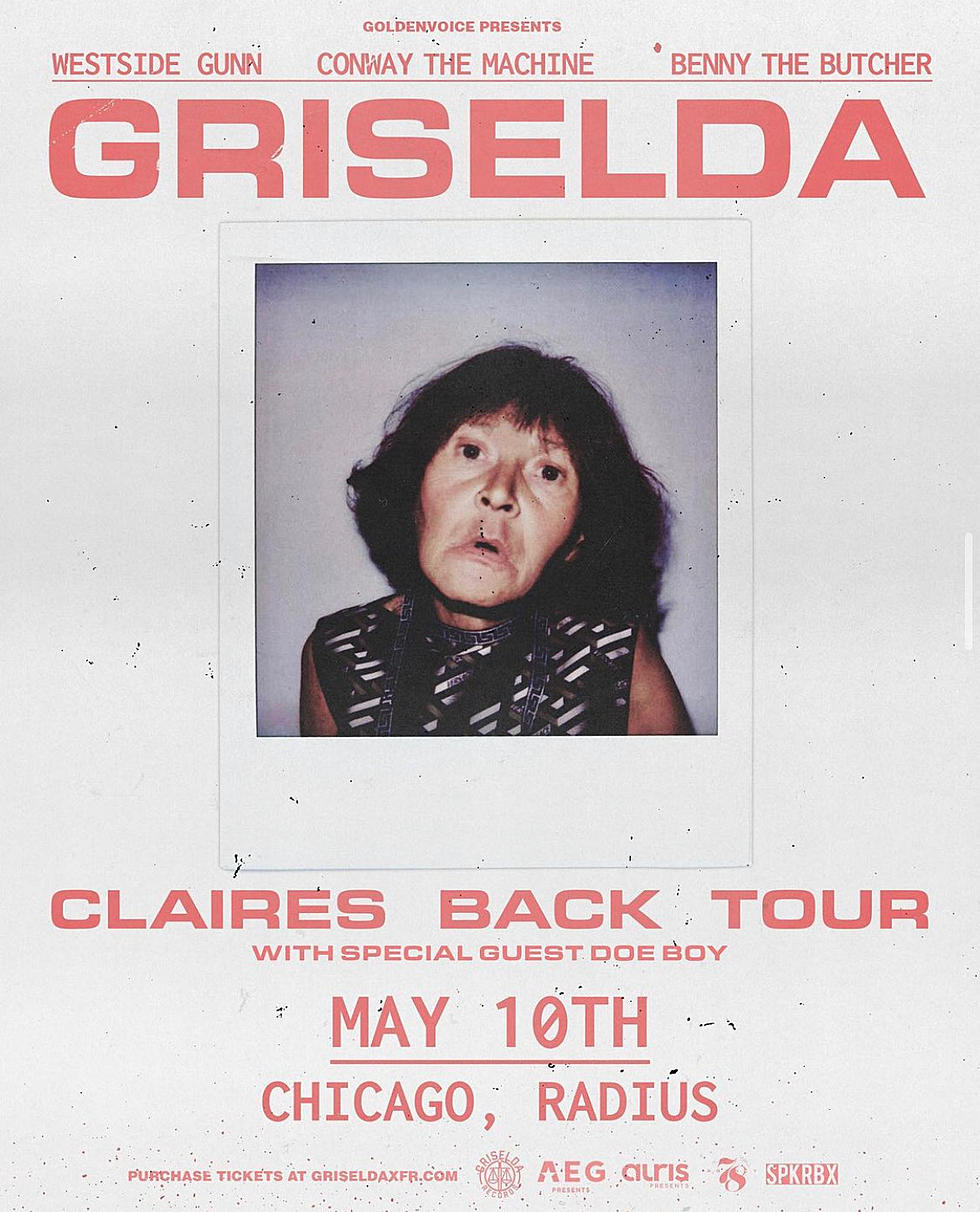 The Person Who Killed Buffalo Legend Claire Has Been Identified
Griselda / Live Nation
The person who took the life of Buffalo legend "Claire," has been identified by police. Claire was legendary in the streets of Buffalo before Griselda Records made her worldwide. A law enforcement post of Claire (which I won't post out of respect for her) says that she was 52 years old at the time and her last name was identified as Gomez, although I have seen Melendez on social media. With someone who lives the life Claire did, it's hard to know all the facts. But one thing is for sure, Claire was beloved by Buffalo.
An Instagram page dedicated to the famous Claire shared a message of sorrow,
It is with a HEAVY heart that we have to report that Claire has unfortunately passed away tonight. We will no longer be posting out of respect for her. May she never be forgotten, a true Buffalo legend!!

 
Griselda Records had a tour in Claire's name in 2022. The 'Claires Back Tour' hit major cities like Boston, Dallas, Atlanta, and New York, carrying her name and legend around the United States.
After Griselda featured her on their debut album cover, the notorious Buffalo icon, Claire, became a celebrity of sorts among music fans.
WWCD is the debut studio album by American hip hop group, Griselda. It was released on November 29, 2019, by Griselda, Shady, and Interscope.
How Did Buffalo's Infamous Claire Die?
According to Erie County District Attorney John Flynn, a man has been arrested in connection to Claire's death. A 22-year-old Buffalo man was arraigned on the afternoon of May 24, 2023, before Buffalo City Court Judge Diane Wray. Marlon D. Servance, Jr. was charged with one count of Criminal Possession of a Weapon in the Second Degree and one count of Reckless Endangerment in the First Degree.
According to the D.A.'s indictment release,
It is alleged that on Tuesday, May 23, 2023, at approximately 9:43 p.m., the defendant intentionally fired multiple shots from an illegal handgun at the victim, which created a grave risk of death to another person. The alleged crime occurred while both the defendant and the victim were driving separate vehicles on Jefferson Avenue and Best Street in the City of Buffalo. The defendant allegedly pursued the victim onto Main Street.
Claire was allegedly fatally struck by Severance's vehicle on Main Street near West Utica Street on May 23, 2023. The report says Claire was 58 years old.
Servance is scheduled to return to court on Friday, May 26, 2023, at 9:30 a.m. He is being held without bail. If he is convicted of the highest charge against him, Servance faces a maximum sentence of 15 years behind bars.
May Claire rest in power
Community Gathering for Reflection, Healing, and Hope in Buffalo
Several hundred people descended upon filled More than 16,000 people piled into the Johnnie B Wiley Amateur Athletic Sports Pavilion on Jefferson Ave to focus on reflection, healing, and hope in response to the aftermath of that terrible act of domestic terrorism. The Community Gathering for Reflection, Healing, and Hope occured on Saturday, May 13, 2023. It featured entertainment and activities to help honor the lives that were lost and impacted during the mass shooting in Buffalo 1 year ago.