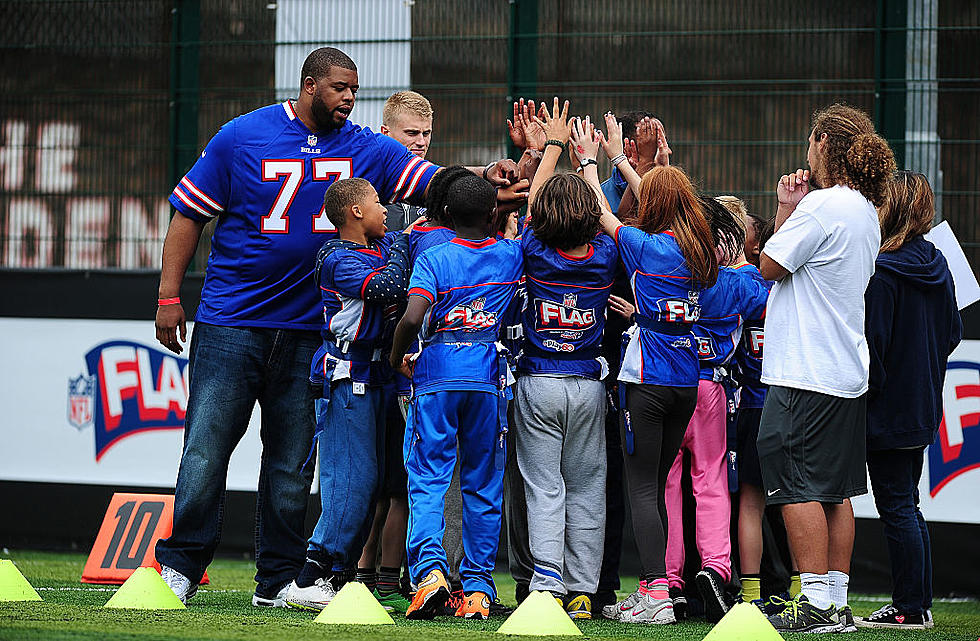 Legends From Buffalo Bills To Host Football Camp
Getty Images
One of the great things about living in Buffalo and Western New York is that we get to experience all of the seasons. From spring to summer, fall to winter, Buffalonians love when our favorite seasons come and go, and perhaps the favorite that we love the most is almost here.
Football season.
NFL Training camps have started all over the country and it's no different in Buffalo. The Bills camp is underway at St. John Fisher University in Rochester and it has football fans of all ages beyond excited.
This time of year is also key for youth football as many high school football teams and little league teams are beginning to organize for the upcoming youth football season.
Some young people will be able to start this year on the football field with some extra skills thanks to some legends from the Buffalo Bills who are teaming up to create a one-of-a-kind youth football mini-camp.
What Is The Buffalo PAL NFL Flag Football Camp
The Buffalo Police Athletic League is partnering with several Buffalo Bills Alumni Legends to teach and train 100 youth between the ages of 5 and 12 the fundamentals of football in a Flag Football Mini Camp.
During the 6-week camp, the participants will learn football from some legendary Buffalo Bills. So far JD Hill, Jerry Butler, Preston DeNnard, Mark Maddox, Greg Bell, Perry Tuttle, Frank Lewis, and Melvin Fowler have all confirmed to be participating in the mini-camp.
The mini-camp training agenda will include football fundamentals like about form, proper stretching and warmups, offensive and defensive stations, and quite a bit about the business of the game.
The former players are also planning to make sure they have some seriously meaningful discussions with youth about the importance of education and the many
consequences of drug abuse.
This sounds like a great opportunity for these young people. Let's go Buffalo
Best Bills Fan House In Buffalo
Road to a Buffalo Bills' Super Bowl Won't Be Easy with 2023 Schedule [LIST]
Led once again by star QB Josh Allen, the Buffalo Bills continue their pursuit of a Super Bowl in 2023, but their 2023 schedule has plenty of road blocks ahead.