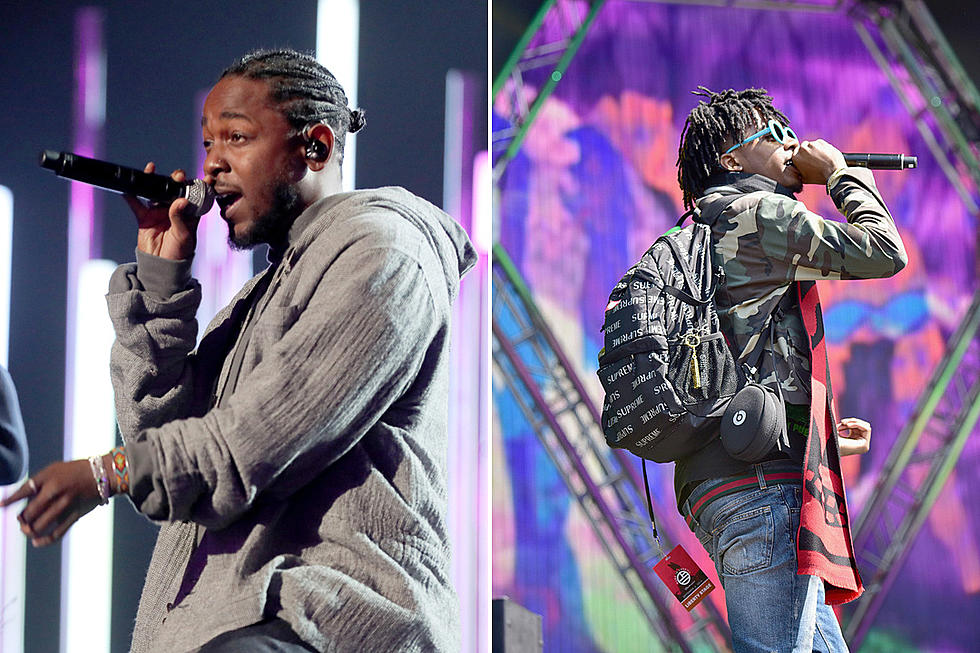 Best Songs of the Week Featuring Kendrick Lamar, Playboi Carti and More
Christopher Polk / Lisa Lake, Getty Images (2)
XXL's latest collection of the week's best songs is predictably highlighted by Kendrick Lamar. The Compton rapper's much anticipated album DAMN. dropped on Friday (April 14), so a track from the LP was a lock for our picks.
There were plenty of great songs to choose from on Kendrick's latest, but XXL ultimately went with "Element." K. Dot is in top form on the record, dropping impressive lines at every turn.
"I'm willing to die for this shit/I done cried for this shit, might take a life for this shit/Put the Bible down and go eye for an eye for this shit/D.O.T. my enemy, won't catch a vibe for this shit/I been stomped out in front of my mama/My daddy commissary made it to commas/Bitch, all my grandmas dead/So ain't nobody praying for me, I'm on your head/30 millions later, know the feds watching/Auntie on my telegram like be cautious/I be hanging out at Tam's, I be on Stockton/I don't do it for the 'Gram, I do it for Compton/I'm willing to die for this shit, nigga/I'll take your fucking life for this shit, nigga/We ain't going back to broke, family selling dope/That's why you maney-ass rap niggas better know," Kendrick raps on the opening verse.
Although Kendrick's new album commanded most of hip-hop's attention, another long awaited LP dropped on Friday. Playboi Carti's self-titled debut was finally released, and the standout cut "Magnolia" lands on this week's best songs selections. Carti lives up to the hype by commanding the listener's attention on the Pierre Bourne production.
Kap G makes the cut with his Pharrell collaboration "Icha Gicha." The Kap G meets Skateboard P track appears on the Atlanta rapper's Supa Jefe mixtape, which also dropped on Friday.
Kevin Gates rounds out this week's best songs with the catchy cut "911." The Baton Rouge rapper is still behind bars, but his latest track popped up on the Fate of the Furious soundtrack. If Gates can get out soon, this record should provide him with some momentum.
Here Are 19 Rappers Going Platinum in 2017