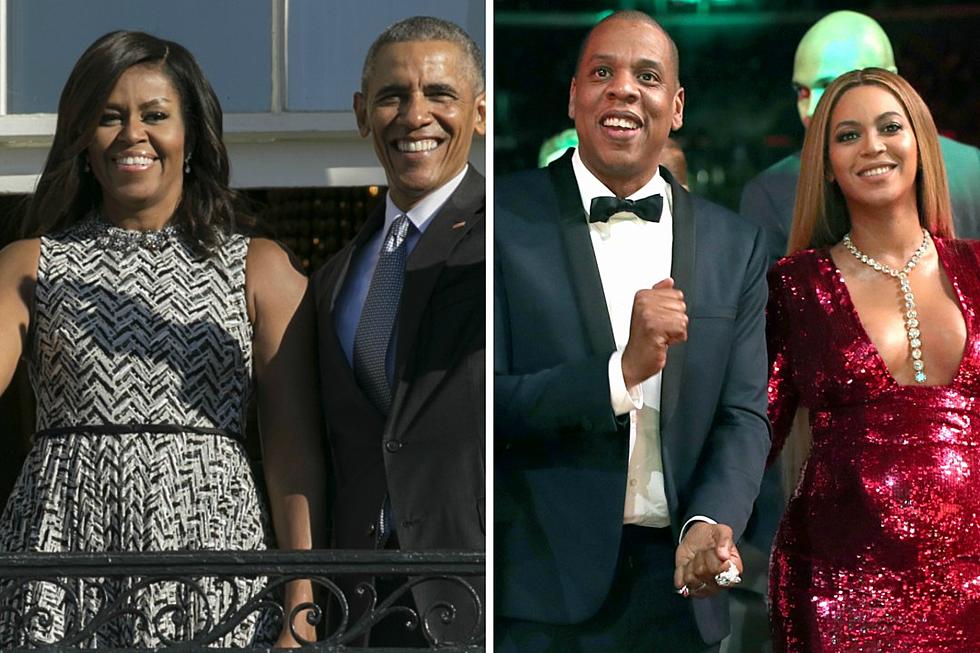 Barack Obama Compares Surprise Appearance on Michelle's Book Tour to Jay-Z Showing Up at Beyonce Shows
Shawn Thew / Christopher Polk , Getty Images (2)
Michelle Obama, who is, along with Barack, a certified hip-hop fan, was making a tour stop for her new book (Becoming) at the nation's capital yesterday (Nov. 18) when the 44th President of the United States shocked his wife with an unannounced appearance. Commenting on his surprise guest appearance, Barack invoked the names of Hov and Bey, who reign as hip-hop's pre-imminent power couple.
"This is like—you know when Jay-Z comes out during the Beyonce concert? ... 'Like, Crazy in Love?'" said Obama, who made his way onstage to gift his wife with a bouquet of pink flowers. "It's the same thing. It's just a little sample to enhance the concert."
Elsewhere during this tour stop, Michelle comments on Barack's powers of restraint even as he faces turmoil.
"There are so many times where I just want him—like, I know, all of you—to just curse them out," Michelle Obama said. "Just say these things. And he's like, 'Well, that's not the point.' You know, the president isn't the president for his own ego. The president is the president for the entire country. So we have to be very mindful of what we say and how we say it."
At another point during Michelle's stop, Barack praised his wife's book, which already sold more than 725,000 copies the day it hit bookstores making it the largest single-day total for any book published by Penguin Random House in 2018. Salute.
Watch Barack Obama liken himself and his bae to Jay and Bey below.
See 16 Hip-Hop Albums With the Shortest Rollouts Over the Years