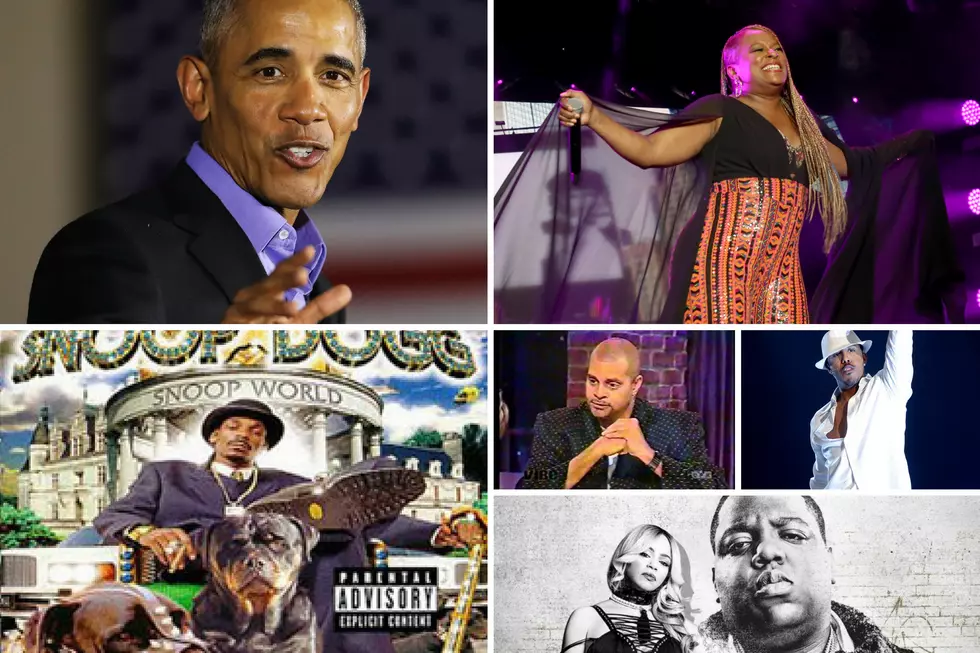 Master P. Saves Snoop From Death Row: August 4 in Hip-Hop History
Spencer Platt, Bennett Raglin, Kevin Winter/Getty Images, YouTube, iTunes
Today we're celebrating Snoop's rebirth as a No Limit Records artist, a notorious marriage, and the birthday of hip-hop's most celebrated President of the United States.
1961 – Former President Barack Obama is Born
The 44th President of the United States Barack Hussein Obama was born on this day in 1961. The former Illinois Senator became the first African-American President in 2008, beating out former Indiana Senator John McCain. During his two terms in the White House, Obama became known for bridging the gap between hip-hop and politics. From his yearly playlists to artists like Jay-Z and Beyoncé campaigning during his 2012 reelection campaign, Obama has become a large part of hip-hop culture during his eight years as president. He's been mentioned in songs from J. Cole's "Be Free" to Jay-Z's remix of Jeezy's "My President," Obama will go down as hip-hop's most celebrated president. "Obama always represents hip-hop in so many ways," DJ Khaled once said to Billboard. "His playlist is hip-hop. I've been to the White House. I'm hip-hop. It was a major key for me. He represents all cultures. That's what a president is supposed to do."
Only a decade after the birth of former President Barack Obama, Ice Cube's protégé, Yolanda Whitaker aka Yo-Yo was born. The Compton native is known for advocating women's empowerment and denouncing the everyday sexism found in hip-hop music. From Ice Cube's "It's a Man's World" and her song, "You Can't Play with My Yo-Yo," the raptress was known for not taking any mess. When she wasn't behind the mic, Yo-Yo was in front of the camera where she has made several appearances on TV and in film including the hit TV show Martin, where she played one of Sheneneh's sidekicks, Keylolo. Since putting rap on the backseat, Yo-Yo has founded the Yo-Yo School of Hip-Hop, a writing and language program for at-risk students that weaves hip-hop into the curriculum.
"People always say, 'Why don't you go back to rapping? Why don't you do another movie?'" Yo-Yo told NBC Los Angeles. "This is the best job I've ever had."
1981 – Marques Houston is Born
Just when you thought the birthdays were over, another decade later, Marques Houston was born. Some of you may remember him as Roger Evans from the television comedy Sister, Sister or Elgin from You Got Served, but most of us remember him as "Batman," the lead singer from R&B group, Immature (also known as IMx). Houston's career started at an early age of 11 years old when he founded the group Immature and landed the role of Khalil, the leader and oldest child in the animated comedy film Bébé's Kids. Following his time on Sister, Sister, Houston has appeared in House Party 3, House Party 4, Fat Albert, and several other films. In 2003 he began his successful run as a solo artist releasing the songs "Clubbin" featuring Joe Budden, "Naked," and "Favorite Girl."
1994 – The Notorious B.I.G. Marries Faith Evans
24 years before she married Stevie J., Faith Evans married her Bad Boy Records labelmate the late Christopher Wallace aka The Notorious B.I.G. The notorious couple married just a few weeks after meeting at a Bad Boy photo shoot. The turbulent marriage had its share of fights (in her memoir Keeping the Faith, the singer recalls the time she beat up a naked Lil' Kim after finding her naked in his bed) which resulted in Evans being thrown in the East Coast-West Coast rap beef after Tupac claimed he had sex with the singer following a studio session. While the two were separated they welcomed their only child together, Christopher Jordan Wallace Jr. in October 1996.
Last year, Faith released a joint album with Biggie called The King & I, which featured some classic and unreleased verses from the late rapper. "Biggie was my first true love, he will always be acknowledged as such," she reportedly told TMZ. "Everyone knows he was my husband."
1997 – Vibe Moves From Magazine to Talk Show
On this day in 1997, Vibe magazine debuts its late-night syndicated talk show. Similar to The Arsenio Hall Show, it attracted a young urban audience with primarily hip-hop and R&B artists as guests. The show was produced by Quincy Jones and hosted by Chris Spencer until  October of 1997. Spencer was fired and replaced by Sinbad, along with Big Boy as the in-house MC. The show, however, only lasted until the following summer.
1998 – Snoop Dogg releases Da Game Is to Be Sold, Not to Be Told
Following the deaths of Tupac and The Notorious B.I.G., Snoop Dogg wanted to end the beef with Bad Boy Records and finally end the longstanding East Coast vs. West Coast feud. After Suge Knight caught wind to what the rapper's plan to end the beef, he allegedly tried to have the rapper murdered for going against him. While it seemed like the entire industry was scared of Knight, Master P. stood up for Snoop and negotiated him out of his Death Row Records deal, the only thing he couldn't keep was the Snoop Doggy Dogg moniker. Reemerging as Snoop Dogg, on this day in 1997, his No Limit Records debut Da Game is to Be Sold, Not to Be Told was released. The album debut at No.1 on the Billboard 200, and was certified gold in the first week.
On top of freeing him from his Death Row contract, Snoop also said Master P. gave him a new beginning. "[He] gave me some money, got me a house in New Orleans, bought me two [Chevrolet] Suburbans, put it all in my name," Snoop told Elliott Wilson. "This is the first time anything was in my name. Everything was in Suge Knight's name," he continued. "Brought my family to New Orleans, and just showed me how to live and to slow down and to do business. 'Cause I was learning the show, but I didn't know the business. Just a stand-up guy."