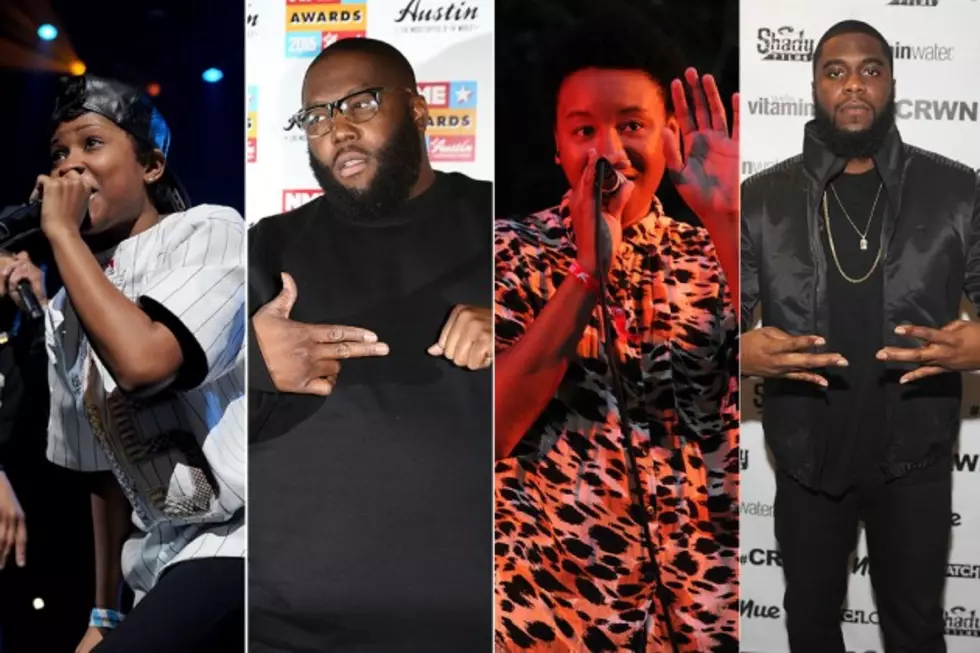 10 Most Anticipated Rappers & Singers at SXSW 2015
Bryan Bedder/Tim P. Whitby/Dana Nalbandian/Brad Barket, Getty Images
March is around the corner, which means the winter is finally ending and festival season is coming soon.
These days, festivals have grown into corporate-sponsored extravaganzas that reflect the diversification of the new generation's tastes in music (made possible by the internet putting everything within arms' reach). The South by Southwest multimedia festival in Austin, Texas is a major example. After welcoming just 150 attendees during its inaugural year in 1987, SXSW grew to over a week-long festival to celebrate the arts in the following years. This growth means hip-hop and R&B gets a bigger platform to shine.
If you keep throwing, eventually a dart is going to hit near the bullseye. SXSW has hundreds of artists, so of course the event is going to strike gold with a few scheduled acts. This year's edition finds the most anticipated acts at different stages of their careers. You have those who are going through a late career renaissance, very new faces prepping to make a name for themselves in 2015 and a number of slept-on performers.
As you might have guessed, this includes Run the Jewels and Dej Loaf, along with the likes of relatively unknown, but talented acts like Kehlani and Rochelle Jordan. There's much more to look out for beyond the following 10 -- this is just a fraction of hundreds -- but the few here do make a solid starting point of what's to come down south. Check out the 10 Most Anticipated Rappers & Singers at SXSW 2015.
2014 was the year of the comeback, and Big K.R.I.T. arguably kicked it off by having one of his own. His career stalled a bit after his debut album Live From the Underground. However, the fusillade that was "Mt. Olympus" proved the rapper still possessed lyrical greatness and he showed out on his follow-up, Cadillactica. The sophomore effort doesn't only work on traditional hip-hop paradigms; tracks like "Pay Attention" do work in a festival environment. So that helps. It also helps that prior mixtapes K.R.I.T. Wuz Here and Return of 4Eva still deserve a spin.

Action Bronson stands out on this list because of how well-documented his performance antics are. He body slams attendees for getting out of hand, and, at over 300 pounds, he will crowd surf if he's feeling the vibe. The Queens, N.Y. native will even take a bathroom break during a performance. There will likely be more of these Action Bronson moments at SXSW since the release of his sophomore solo effort, Mr. Wonderful, is coming up March 24. The world is changing and one of the only constants is Bronson staying true to himself.

There aren't many female rappers that have immediate success off one of the first songs they put out for public consumption. Dej Loaf is one of the luck ones. The Detroit native's "Try Me" was one of the best songs of 2014, and still rings. While its since fallen to No. 78 on the Billboard charts, that doesn't mean the hit song is no longer hot. "Rock that all white, when I'm feelin' godly," isn't a lyric, but a way of life. "Try Me" will definitely serve as a banger in Austin, but the win for Dej is that she gets a chance to witness which other songs from her catalog sticks.

She performs at Blackheart on March 17.

When Rae Sremmurd debuted "No Flex Zone" in 2014, they hit rap fans upside the head hard. No one was expecting these barely-legal newcomers to flourish and that's just what they did since the song was inescapable last year. Then they proved they weren't one-hit wonders with "No Type" and their debut album, SremmLife, turned out to be a pretty solid effort. Rae Sremmurd didn't stray away from their bass-rattling formula on the LP, and instead of repetition, we got a collection of bangers ("My Ex," "Unlock the Swag"). As a result of that high, every set at SXSW could turn into a wild shindig. Just watch out for "Up Like Trump."

Killer Mike and El-P's Run the Jewels 2 arrived only a few months ago, and the duo still reign as hip-hop's superhero champs. Run the Jewels' charm isn't just about the appraisal and sermonizing. Their music awakens something visceral deep within avid listeners' bones and that effect is more potent in live shows when tracks like "Oh My Darling Don't Cry" and "Lie, Cheat, Steal" are performed. Event organizers would be wise to warn fire marshals for this one.

Kelela's 2013 mixtape, Cut 4 Me, set her apart from many singers that year. Her inspirations lie in Brandy and Aaliyah, whose influences on the project are present, but the intimacy of her vocals take center stage. So maybe don't expect too much turn up in this set. Still, Kelela is overdue for some new material to follow up Cut 4 Me, which was a collection of instrumental tracks from a variety of DJs featuring her genre-blurring sounds. There's a chance the singer will premiere new music during SXSW. Two years after her last project, that's a good thing.

THEESatisfaction, a Seattle-based R&B and hip-hop duo, were introduced as features on the outstanding closer to Shabazz Palaces' 2011 album, Black Up. It makes sense that the pair -- Stas is the rapper while Cat sings -- join their Sub Pop label mates within the cosmos, as they do on EarthEE, their sophomore effort. Not only do THEESatisfaction's recordings often soothe; they're harmonious and enjoyable as live performers. If you aren't fully aware of their gems, this is a good time to get familiar at SXSW.

THEESatisfaction is scheduled to perform at Bungalow on March 21.

The HBK Gang will be represented at SXSW this year. If you're not aware, HBK, also known as the Heartbreak Gang, are a music collective out of Richmond, Calif., comprised of some names you're sure to be familiar with: Iamsu! and Sage the Gemini, among them. They've made a visible mark in the hip-hop scene but now it's time for singer Kehlani, HBK's first lady, to step to the forefront. She could be next up in the clique. Her charismatic personality and her collection of songs are highlighted by their effervescence. Listen to the Iamsu-assisted "Act a Fool" to feel the vibe. It's worth a shot to see if she could match that energy in her live performances.

One of the many slept-on R&B artists out there is Toronto's Rochelle Jordan has earned a solid following after releasing a string of good releases over the past three years. One highlight is "Lowkey," a breezy single that skillfully balances restraint and transparency. 1021, Jordan's 2014 debut, has also been received warmly by fans. Now would be a good time as any to see what the hype is about.

Rochelle Jordan performs at Cedar Street Courtyard on March 21.

Young talent still hasn't stopped breaking out of Chicago. Mick Jenkins is the latest to hit from the city's lyrical sect. With its mix of lyrical focus and tight production, The Water[s] was a highlight in hip-hop's dry spell in 2014's third quarter. Chi-Town isn't going anywhere; the city has been churning out ear-grabbing talent for the majority of a decade. At SXSW, pay attention to Mick, who's at the higher echelon of the city's rising talents.