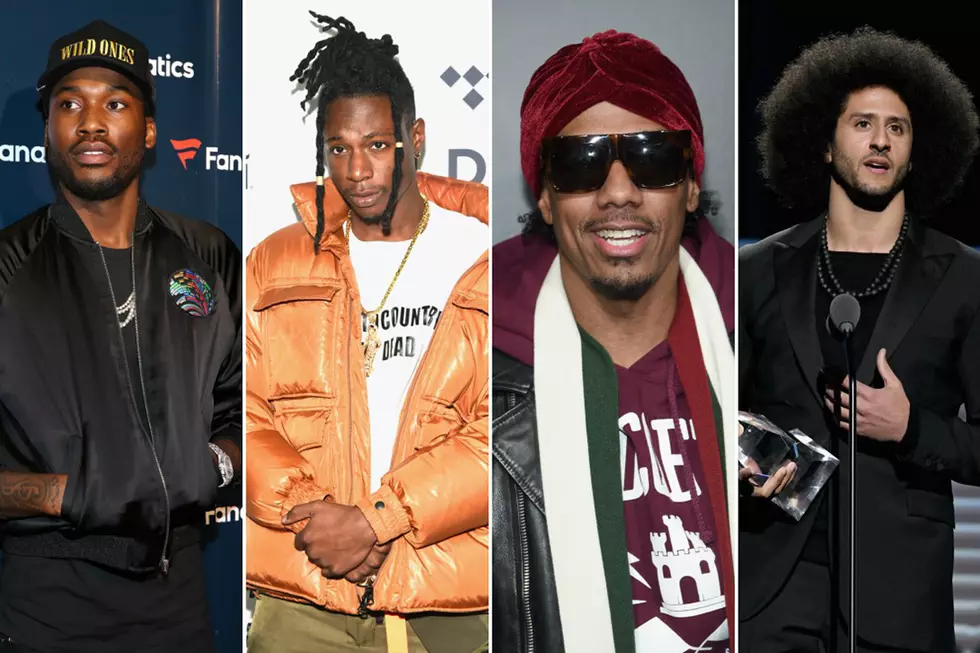 Meek Mill, Joey Badass and Nick Cannon Donate $10,000 to Colin Kaepernick's Charity Campaign
Coppola / Jamie McCarthy / Slaven Vlasic, Getty Images (4)
Meek Mill may still be behind bars, but the Philadelphia rapper is doing his best to be an upstanding citizen.
Following in the footsteps of Snoop Dogg, T.I., Chris Brown, Jhene Aiko and more, Meek has donated $10,000 to Colin Kaepernick's million-dollar pledge campaign. The rapper chose to make his donation for Youth Services Inc., an organization that works with families, children and at-risk teenagers.
"Despite my brother @meekmill's current circumstances, he continues to stay connected in the community of Philly," Kaepernick tweeted. "He pledged to go 10for10 on my MillionDollarPledge. We're both donating $10k for a combined $20k to Youth Service Inc. Keep staying strong Meek, we love you brother!"
Along with Meek, Joey Bada$$ and Nick Cannon also made $10,000 donations to Communities United for Police Reform in New York City. Like he has done with everyone else's donations, Kaepernick also matched the rapper's donations for a total of $30,000.
In related Meek Mill news, the rapper recently suffered a minor setback when it was proven that Judge Genece Brinkley did not advocate for the rapper to leave Roc Nation for manager Charlie Mack, an alleged friend of hers.
According to court documents obtained by TMZ, it was actually Meek's probation officer who pushed for the artist to leave Roc Nation and hire Mack, arguing he would be a good influence on the rapper.
Check out Kaepernick giving a shoutout to Meek Mill on Twitter below.
See Photos of Meek Mill's Different Looks Over the Years