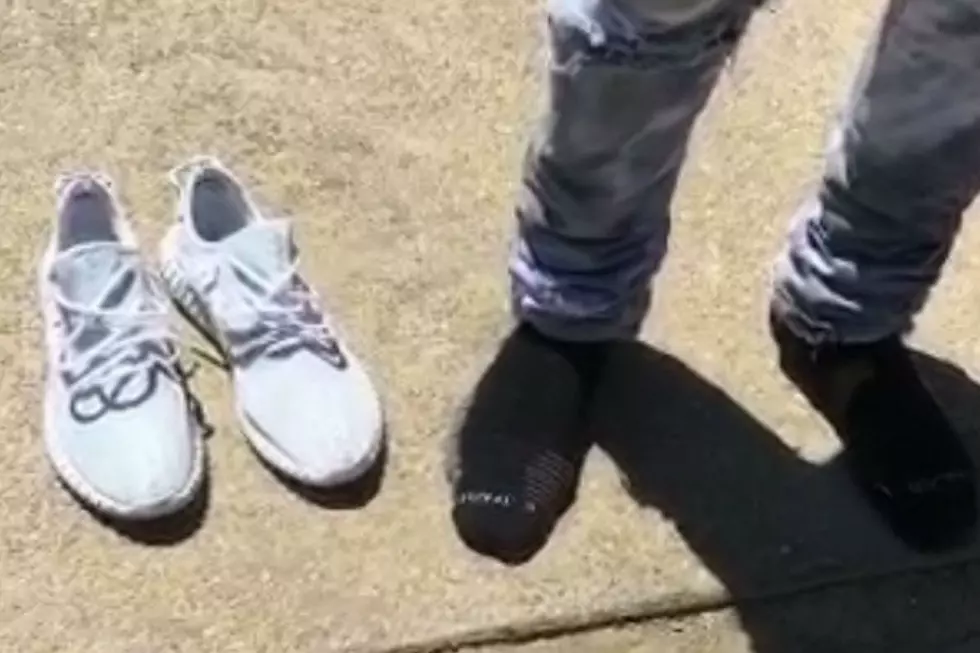 Kanye West Refuses to Risk Getting His White Yeezy 350 Boost Sneakers Dirty
Snapchat
Sneakerheads are known for taking extremely good care of their footwear and superstar rapper Kanye West is no exception. The man behind the coveted adidas Yeezy Boost footwear line, recently rocked a pair of unreleased 350s and to avoid any damage to his shoes, 'Ye did what a typical sneaker head would do.
In a Snapchat video shared by Kim Kardashian yesterday, a shoeless Kanye is seen standing next to a pair of his unreleased all-white Yeezy Boost 350s. The reason behind the G.O.O.D. Music rapper being shoeless at the time was because construction work was being done at their house, so to avoid the risk of his shoes getting dirty or damaged, 'Ye decided to take off his kicks and walk in black socks -a true sneakerhead move.
While the next adidas Boost release won't happen until June 11th, many folks have been speculating about the iteration that is set to drop this summer. With the all white 350 Boost seen often on the feet of Kanye as of late, many sneakerheads point at the all-white low top silhouette as the next shoe to be released form Kanye and adidas. However, sneakerheads will have to wait for the Three Stripes to make their announcement release. In the meantime, check out sneakerhead Kanye talking care of his kicks.
The Top 5 Sneakers Coming Out This Weekend Including Air Jordan10 Retro City Pack, Nike Flyknit Racer Rainbow and More